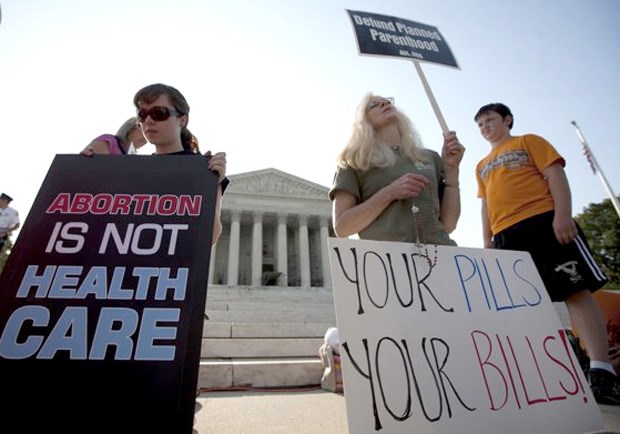 Image: Photo by AP
The U.S. Supreme Court upheld today the entire Patient Protection and Affordable Care Act (which some have termed Obamacare). In a case unprecedented in its scope, the court said Congress may require citizens to purchase health insurance because it is a form of taxation. Most evangelicals will likely be unhappy with the ruling, according to a recent survey.
In a 5-4 decision, the court said Congress acted within its power when it passed the law. Chief Justice John Roberts wrote for the majority that the health care mandate for individuals acted like a tax, not a requirement to purchase a product. Congress could not impose a mandate under its power to regulate commerce, but it could raise taxes on those who do not buy insurance.
"Those subject to the individual mandate may lawfully forgo health insurance and pay higher taxes, or buy health insurance and pay lower taxes," Roberts wrote. "The only thing they may not lawfully do is not buy health insurance and not pay the resulting tax."
Evangelicals, more than any other religious group, wanted the entire health care law scrapped, according to a June poll by the Pew Research Center for the People & the Press. In poll results given to Christianity Today, three-quarters of evangelicals disapprove of the law, a number higher than any other religious tradition. Catholics and those unaffiliated with religion were evenly split. African-American Protestants were the most supportive religious group, with 81 percent approving of the law.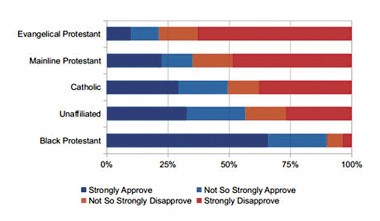 Pew also asked respondents if they would be "happy" or "unhappy" with three possible Supreme Court scenarios. Overall, the court's ruling was unlikely to please many, regardless of the decision. About 50 percent of all Americans said they would be unhappy with a decision to uphold the law. But 48 percent said they would unhappy if the act were thrown out.
Among evangelicals, just one in five wanted the entire law upheld, and 62 percent of evangelicals said they would be happy if the court threw out the entire law. They would have been split over a ruling that took out only the individual mandate, leaving other parts of the law intact.
African-American Protestants were nearly the mirror image of white evangelicals. Two-thirds wanted the Supreme Court to uphold the entire law. Only 17 percent would have approved of overturning the entire law.
Catholics and mainline Protestants were more divided within their religious traditions over the court's possible ruling. The reasons for these differences may not necessarily be due to religion. The opinions of evangelicals and others could be influenced by partisanship, ideology, or regional differences.
The decision is the end of a long legal fight, but it is not the end of the political battle over the law. In their electoral campaigns, presidential candidate Mitt Romney and other Republicans have promised to try to repeal the law before it is fully implemented in 2014. President Obama and other Democrats are campaigning on the promise to block any attempt at repeal. (Even if Romney and the Republicans win in November, they are unlikely to be able to stop the law because they will not have enough Senators to block a certain filibuster by Democrats.)
The decision will also not end the lawsuits over contraception coverage. Under the act, Health and Human Services (HHS) defined what qualified as basic health insurance coverage. This does not include abortion procedures (though some pro-life groups argue that some of the drugs covered can act as abortifacients). HHS regulations do, however, include contraception and other reproductive health services.
Hospitals, colleges, and other nonprofits run by evangelicals and Catholics balked at the ruling. Catholic leaders said the mandate requires them to fund procedures that go against Catholic doctrine. Evangelicals opposed what they saw as the Obama administration's narrow religious exemption of churches.
Evangelical institutions Colorado Christian University, Louisiana College, and Geneva College have joined several Catholic institutions in filing lawsuits to challenge the rule.
The court cases opposing HHS regulations are based on a different set of arguments and a different part of the law than those in today's ruling. The Supreme Court decision means that the HHS will continue to be able to make decisions on contraception coverage and other health care requirements.
HHS may change its policies to accommodate religious organizations that object to particular forms of coverage, or it may wait for a second round of lawsuits against the act.
Catholic bishops began a "Fortnight for Freedom" on June 21, during which dioceses across the country will devote two weeks to prayer, study, teaching, and public action on the contraception requirement and religious liberty.
A number of evangelical leaders have joined others in various statements in the past six months. In a June 11 letter to HHS Secretary Kathleen Sebelius, 149 religious leaders who hold a wide range of views on contraception said that they disapproved of the HHS mandate because it creates a two-tier approach to religious groups.
"This two-class scheme protects those religious organizations focused on activities directed inward to a worship community while offering little religious freedom protection to the many religious organizations that engage in service directed outward," the letter said.
Groups that litigate on religious liberty anticipate they will file more lawsuits in the coming months. Next year, the Supreme Court will likely to consider the question of what types of religious groups should be exempt from specific requirements.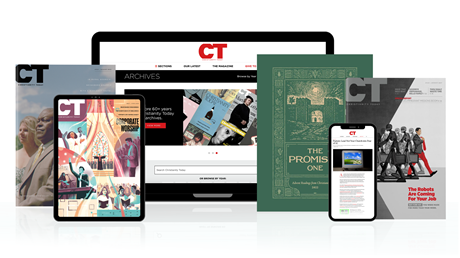 Annual & Monthly subscriptions available.
Print & Digital Issues of CT magazine
Complete access to every article on ChristianityToday.com
Unlimited access to 65+ years of CT's online archives
Member-only special issues
Subscribe
Most Evangelicals Likely to Lament Supreme Court Healthcare Ruling
Most Evangelicals Likely to Lament Supreme Court ...