Reviews

|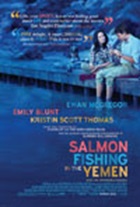 The premise is preposterous. A Yemeni sheikh (Amr Waked) thinks his favorite pastime of salmon fishing—which he enjoys when staying at his palatial manor in Scotland—would bring peace and unity to the embattled people of his homeland. His arid homeland.
So he hires a consulting firm to coordinate the project of bringing thousands of fish and even more thousands of gallons of water to the desert. Enter the lovely Harriet (Emily Blunt), who with her quiet optimism attempts to guide the project to its unlikely conclusion. Harriet approaches Fred (Ewan McGregor), one of Britain's leading fisheries experts, who quickly and curtly writes back that the proposal is "fundamentally unfeasible."
The project would be dead in the water—or lack thereof—if it weren't for the fact that the Prime Minister's deliciously hyperactive press secretary Patricia (Kristin Scott Thomas) catches wind of the project. Desperate to cover "Anglo-Arab news about stuff that doesn't explode" and to appeal to the 2 million salmon fishers she discovers are residing in the UK, she puts all the weight of the Prime Minister's office behind the project, basically blackmailing Fred into taking the job.
So Fred leaves his well-ordered London home and his increasingly more distant wife for the Scottish highlands and the Yemeni desert. He's joined by Harriet, whose army boyfriend has just been called to Afghanistan. This unlikely pair finds needed distraction in the Herculean task—and eventually, comforting company in each other.
Fred also works closely with the sheikh, a man who is the yin to his yang, faith vs. Fred's science. The sheikh finds spiritual significance in the patience, persistence, and humility that fishing requires. Fred ...
1