A 2008 Pew Research Center survey found that, when it comes to the character traits deemed most important for political and corporate leadership, most people rate women superior to men, surpassing the latter in the areas of intelligence, honesty, creativity, compassion, and friendliness. Out of the eight traits given, respondents ranked men as superior only in the trait of decision-making.
Of course, the Pew survey is less scientific than one might hope. But still, assuming that leadership gifts aren't doled out along gender lines, and that many women possess the key traits needed for top-notch leadership, what might this mean for Christian dating and marriage—in which many Christians believe the man should lead?
Students often ask me and my husband, Shawn, to walk them through premarital counseling or mentoring as part of a program offered at our university. Most of the time, we're happy to oblige. Not all of the couples are engaged; some are merely contemplating marriage. And after completing the program, some students decide to break off their engagements.
Some time ago in the school cafeteria, we ran into a young woman we knew well. Shawn and I had counseled her and her boyfriend the year prior. I asked her about their relationship. "I broke up with him a month or so ago," she said sheepishly. Shawn and I tried to veil our shock.
A few minutes later, I asked her why. "He's just not a spiritual leader," she answered. After we parted ways, Shawn turned to me and said, "I can't help wondering how many otherwise beautiful relationships have ended due to misconceptions about spiritual leadership."
As we processed the news and recalled some of our conversations with the couple, we remembered her saying that he had a patient nature, was intelligent, a hard worker, and of peaceful demeanor, complementing her quite well. But she also mentioned that he rarely initiated prayer or Bible study. For her, in the end, not initiating in those areas was a deal-breaker, even though we found them a highly compatible couple that simply needed to iron out a few wrinkles. (I realize there could've been more going on, and I certainly don't recommend ignoring red flags.)
It wasn't the first time I'd heard the complaint: "He's not a spiritual leader." It seems that initiating prayer, Bible study, and other similar devotional activities is a litmus test for male spiritual leadership in some branches of the American church. And the common complaint by women on our campus is that men are failing in spiritual leadership; they aren't passing the litmus test. They aren't initiating.
But after Shawn's comment that day, I started wondering about all the godly men who may have other spiritual gifts—just not the ones traditionally considered "male" spiritual gifts. For example, what about men who have the gift of mercy or hospitality or service or encouragement, and who are full of the fruits of the Spirit? Do we devalue them simply because they're not at the helm or out in front but rather operating alongside their partner? Is initiating devotional activities within a relationship really what it means to lead?
I wonder whether part of the disappointment and tension among Christian women stems from the fact that they have teaching or pastoral gifts, while their boyfriends or husbands possess other gifts wrongly considered "feminine." Is it really contradicting God's will when a woman initiates prayer and Bible study with her significant other? What if her partner models a life characterized by love, joy, peace, patience, kindness, goodness, faith, gentleness, and self-control? Is this not the Jesus life? Is such a man being derelict in his spiritual duties to wife and family?
I've heard plenty of stories about men who dutifully initiate family devotions—men who appear to be spiritual leaders (if initiation in these contexts counts as leadership)—but lack the fruits of the Spirit. I've heard their wives and children use words and phrases like "hypocrite" and "he has anger issues" to describe them. I also know plenty of men who patiently lay down their lives for their families and friends and sometimes even their enemies—even if they don't initiate family devotions. These men are concretely others-referenced—men who, based on the testimony of their wives, far surpass them when it comes to patience, kindness, and selflessness etc. These men embody love.
And I believe they are spiritual leaders.
A spiritual leader is someone who is full of the Holy Spirit—someone who evidences the fruits of the Spirit in increasing measure. Some women prefer that their partners initiate prayer and Bible study. Of course, they're free to have such preferences, and even to believe that such initiation is a "male" spiritual gift. But we, as the larger Christian community, should find ways to recognize the men who don't initiate devotional activities and yet model Christlike leadership because they display the fruits of the Spirit. And likewise, we need to consider whether men who display the more visible pastoral and teaching gifts are truly leading in Christlike ways.
Further, those of us who are married ought to examine what litmus tests we are using when deciding whether or not our husbands are leading. Our husbands' leadership styles/gifts and our own may be different. If we give thanks for and honor the gifts and fruits of the Spirit we observe in our husbands, we just might see they are more like Jesus than we imagined.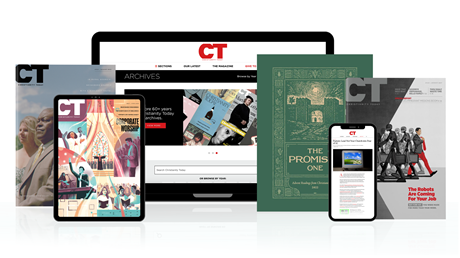 Annual & Monthly subscriptions available.
Print & Digital Issues of CT magazine
Complete access to every article on ChristianityToday.com
Unlimited access to 65+ years of CT's online archives
Member-only special issues
Subscribe
'He's Just Not a Spiritual Leader,' and Other Christian Dating Myths
'He's Just Not a Spiritual Leader,' and Other ...