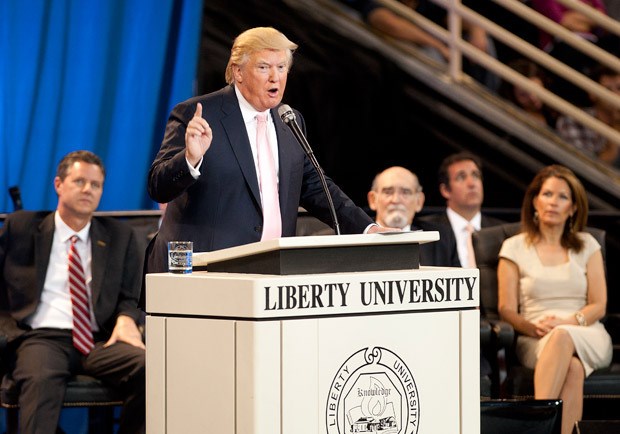 Image: Parker Michels-Boyce / AP
Liberty University hosted Donald Trump at its campus-wide convocation last week, marking the second time this year the school made national headlines for hosting a prominent conservative who falls outside the institution's evangelical Christian identity. Following a nationally-covered commencement speech by presidential nominee Mitt Romney in May, the school's invitation to Donald Trump might have seemed mere fodder for a slow news day. However, when Trump hedgingly suggested to over 10,000 students in attendance to "get even" in order to succeed, a controversy was born, and the outcries came from both ends of the religious spectrum, from People for the American Way to ultraconservative Christian bloggers.
The furor began with the Associated Press coverage of the event by a journalist who did not attend the convocation but reported from live-streaming video of the speech. The AP story was picked up by numerous news outlets, including The Washington Post and The Wall Street Journal. By asserting at the start of its story that Trump's comment is at odds with Christian teaching, AP—not generally known for teaching Sunday school lessons—was seemingly picking a fight: "It may not be what Jesus would do but billionaire developer and reality TV star Donald Trump counseled students Monday at the Falwell family's Liberty University not to turn the other cheek but to 'get even' with adversaries."
If the story was spun so as to insert a wedge between two strong advocates of the free enterprise system—the issue that unites Liberty University and Trump—neither party took the bait. But when Liberty University spokesman Johnnie Moore, Vice President of Executive Projects and Spiritual Programs, affirmed in follow-up press coverage that Jesus would indeed "get even," the next headline, from ABC, suggested that Trump had started a "holy war."
Moore and Chancellor Jerry Falwell explained in numerous follow-up interviews that in the context of Trump's address, they saw the "get even" remark as expressive of the "tough" side of Christian doctrine and the ministry of Christ. Falwell told Moody Radio that from within a 45-minute long speech ranging from foreign policy to the global economy to business success, he took Trump's advice to mean, "Give it your all, be the best you can be in your profession. I think that sometimes means being tough." Even if one disagreed with Trump's views, Falwell explained:
At Liberty we like to think we have a free exchange of ideas. [Students are] going to hear from people who don't necessarily represent exactly what they should be when they leave or what they should become. It's their job to eat the fish and spit out the bones and to discern what is good advice and what is not. If you don't learn that in college, when do you learn it?
Some questioned the choice to invite Trump, a man known for his worldly wealth and success, in the first place, including two mothers of Liberty students who called in to the Moody Radio show. While both expressed initial reservations over the decision, ultimately they were satisfied that hosting such a speaker was part of the university's mission of education and world evangelization and called in to the radio show to say so.
Liberty student Isaac Alexander Eder took issue with Trump's "get even" remark. "Jesus was not looking to 'get even' for himself; he was standing up for truth and for those who lacked the power to stand up for themselves," Eder said. "The Christian life requires that we shed the broken definition of 'justice' that the darkness in this world peddles," Eder argued.
Janna Barber, another student who attended Trump's talk, was troubled by the entirety of the speech, saying, "Trump attempted to blend the philosophies of the world with Christianity, and that didn't resonate well with me."
Despite some students' expressed disappointment, the overall student response at convocation was enthusiastic and included at least two standing ovations. One student even told a local television reporter that it was the "best day" in the student's life. Adding to the significance of the event was the presence onstage of another former presidential contender, Michele Bachmann, who was on campus to visit her daughter, a student at Liberty.
Ultimately, said Moore, Trump's visit offered a valuable experience that advanced the university's mission. In his interview with Moody Radio, Moore explained that all Liberty University students are required to take courses in the Bible, theology, and philosophy, thereby developing their abilities to think from a Christian worldview perspective and equipping them to evaluate biblically the variety of speakers that the university brings in regularly. "It started a very profitable conversation on campus among students that are trying to figure out how to integrate their orthodox Christian beliefs and the real world that they're going to walk into," Moore told Moody Radio. "When it's all said and done, I can't think of a better and safer place for these types of questions to be asked and answered than Liberty University."
Karen Swallow Prior is chair of the department of English and Modern Languages at Liberty University and a frequent contributor to Her.meneutics.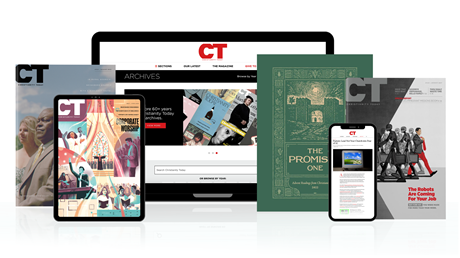 Subscribe to Christianity Today and get access to this article plus 65+ years of archives.
Home delivery of CT magazine
Complete access to articles on ChristianityToday.com
Over 120 years of magazine archives plus full access to all of CT's online archives
Subscribe Now
The Fake 'Holy War' Over Donald Trump's 'Get Even' Advice
The Fake 'Holy War' Over Donald Trump's 'Get Even' Advice