Watch Women Are Not the Problem, They Are the Solution on PBS. See more from Independent Lens.
When my church began reading World Vision president Rich Stearns's book The Hole in Our Gospel—a book about our gospel call to seek justice worldwide—I thought something was wrong with me. While other church members spoke of needing to "pause for cry breaks" or feeling "wrecked" after reading a chapter, I felt none of that. Yes, I was angered and saddened in parts, but my life just didn't seem as affected as others' seemed to be.
I confessed this to a woman at my church, wondering aloud what sort of stone-hearted monster I was for not being "wrecked." She shook her head.
"Of course you're not as affected, Caryn," she said. "You've read Half the Sky. You've already been wrecked."
She had a point. While I had long understood the travesty and tragedies brought about by brutal patriarchies throughout the world, reading the heartbreaking specifics of fistulas and enslaved girls in Nicholas Kristof and Sheryl WuDunn's Half the Sky: Turning Oppression into Opportunity for Women Worldwide rocked my world. The book didn't just make me want to cry—it ignited something closer to rampage. The book ultimately offers hope by contending that educating women will free them. But the horrors offset that hope enough that once I finished the book, I sat with an intense anger from which I wasn't sure I would recover.
When I first heard that PBS's Independent Lens film channel was developing a documentary based on the book, I was leery. Not only did I wonder whether filmmakers could capture the spirit of the book for TV, I also wondered what watching some of the horrors described in the book would do to me.
But this special presentation, which debuted this week, proves that sometimes the movie is actually better than the book. There are scenes of a girl being cast out of her family for accusing her cousin, a pastor, of raping her. There's the woman who refuses to stop her female genital mutilation (FGM) trade because it's so lucrative. Then there's the scene where onlookers watch a video of a girl undergoing FGM. These and other scenes boiled my blood and brought tears to my eyes, a kind of clutching to my heart. But these women and girls also became real—became in-the-flesh bearers of the image of God. And they stirred not so much rage but rather a brokenhearted, sisterly longing to make things right on behalf of God's female creations.
In its beautifully shot and eloquently executed coverage of the book, the four-hour, two-night broadcast series does what the book couldn't do: lets us see the faces, hear the voices, nearly smell the scents and feel the texture of the hurt and of the hope that exists for women around the globe.
The two-part broadcast (now available online) breaks up into three segments. Episode One features actress Eva Mendes and Kristof investigating gender-based violence in Sierra Leone, where most rape and abuses against women go unreported and unprosecuted. Later, we travel to Cambodia, where Meg Ryan and Kristof introduce viewers to Somaly Mam, a fearless hero who used the horrors of her past as a sex-trafficked girl to launch an organization to rescue and rehabilitate other enslaved girls. The episode concludes with Gabrielle Union and Kristof visiting Room to Read, an organization started by former Microsoft executive John Wood to promote literacy and education for girls in Vietnam, where many are kept home while their brothers are sent off to school.
Episode Two takes viewers to Somaliland, where actress Diane Lane and Kristof investigate maternal mortality in Somaliland, a country where 1 in 12 women die in childbirth. America Ferrera and Kristof then take us to Kolkata, India, where we meet Urmi Basu, a woman working to end the tradition of forced prostitution, a horrible inheritance passed down from mothers to daughters through the generations. The series concludes with a visit to Kenya with actress Olivia Wilde and Kristof as they see how women thrive under economic empowerment and cooperation.
Not surprisingly, each episode is packed with disturbing images and information. While watching Half the Sky may leave Christian viewers wondering why God has seemingly forsaken so many, the next moment we encounter flashes of hope and grace and peace that—though not formally recognized in the program—we know come from God alone.
The documentary is not without fault. As endearing as some moments with the various celebrities were, their presence doesn't add much. In the opening of the broadcast, George Clooney explains that the celebrities serve to "bring attention" to the cause. I think the series would've been better served by allowing the beautiful and bright and brave women whose stories are told to be the true celebrities. It is these women—the Somaly Mams, the Urmi Basus, the girls delighted at learning to read—whom we can't take our eyes off of. We don't need Western fame to add sparkle.
And of course, the Christian set may be uneasy that education alone is offered as the rescue to the world's endangered women and girls. Education is big, no doubt. But Jesus is bigger—as he was and is in the business of setting women free, of restoring our dignity. Of course, the program doesn't mention him. Not outright. But even if filmmakers don't see him there—or don't give him credit—still, we viewers see the hand of God at work throughout this beautiful story.
The full Half the Sky series is viewable for free at PBS.com/IndependentLens.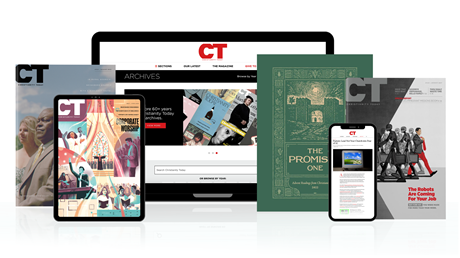 Subscribe to Christianity Today and get access to this article plus 65+ years of archives.
Home delivery of CT magazine
Complete access to articles on ChristianityToday.com
Over 120 years of magazine archives plus full access to all of CT's online archives
Subscribe Now
'Half the Sky' Brings Gender-Based Horrors to Documentary Film
'Half the Sky' Brings Gender-Based Horrors to Documentary Film