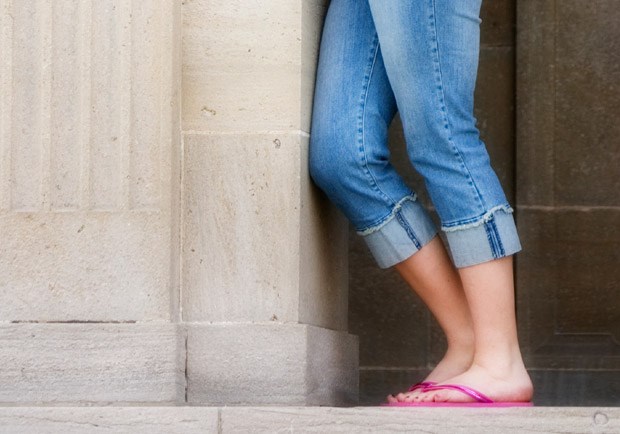 Perhaps nothing better symbolizes the political maturity of Liberty University than its flip-flops.
In the summer of 2005, the Lynchburg, Virginia, school made national news when it announced the most drastic change in a slowly evolving dress code: Flip-flops would be permitted in class. It was a watershed moment for the university. Severe side parts, collared dress shirts, and ties for men; knee-length skirts, lace-panel dresses, and poufy hair for women were out. Flip-flops, jeans, and capris were in.
The symbols reflected substance: since the school's inception, its business-attire dress code had been as much a part of its identity as its controversial founder, Jerry Falwell, and its rules against drinking, dancing, and (according to legend) going to the movies. Notably, along with flip-flops, "movement" and movies are allowed now. (The teetotaling stands.) Clearly, there was more afoot at the university than a simple sartorial rule.
Administrators knew that the university couldn't meet the goal of its founder of becoming a "world class" evangelical university by requiring its students to dress like Mormons on mission. More important, it was clear that changing the world for Christ would require more than a handful of well-placed politicians from among its graduates. Instead, it would take an infusion of "Champions for Christ," as the school calls its students, working in every vocation. The flip-flops, then, exemplified the late Jerry Falwell's ability to leverage politics to achieve greater aims.
Falwell's national and international reputation stemmed from his political activism, but his real focus was both narrower and broader: his heart always lay with the local church he founded and with the university begun as a ministry of that church. Yet his political activism—and the media attention that accompanied it—allowed his dream for the university to come to fruition.
When he organized the Moral Majority in 1979, Falwell was catapulted into the limelight. With the momentum gained from its endorsement of Ronald Reagan in 1980, the Moral Majority registered millions of new voters and mobilized 80 million American conservatives during its 10-year life span. As a result, one small-town fundamentalist preacher changed American politics forever.
Ronald Godwin, onetime executive director of the Moral Majority and now provost at Liberty University, explained in a recent interview that Falwell was a "pioneer in cultivating among conservative Christians the mindset that they had not only the right but a biblically based obligation to be politically involved." Godwin echoes the pundits' consensus in crediting Falwell for "awakening the evangelical voting bloc."
Falwell's son, Jerry Falwell Jr., succeeded his father as the university's chancellor. He noted in the same interview that as a result of the senior Falwell's mobilization of conservative Christian voters, now "every politician has to include this voting bloc" in campaign strategies.
Indeed, The New York Times stated in its obituary following Falwell's unexpected death in 2007:
As much as anyone, he helped create the religious right as a political force, defined the issues that would energize it for decades and cemented its ties to the Republican Party. Behind the controversies was a shrewd, savvy operator with an original vision for effecting political and moral change. He rallied religious conservatives to the political arena at a time when most fundamentalists and other conservative religious leaders were inclined to stay away. And he helped pulled off what had once seemed an impossible task: uniting religious conservatives from many faiths and doctrines by emphasizing what they had in common.
But while the Moral Majority was garnering media attention, Falwell knew that the college he had started a few years before, in 1971, was the surer bet for maintaining that political legacy into perpetuity. And he was right: The Moral Majority lasted for 10 years, while the college is now the world's largest evangelical university, with 12,750 residential students and 82,000 more online. And, as Falwell Jr., recently announced, it will soon be the youngest college to achieve $1 billion in net assets, spurring more campus growth.
A considerable measure of such success owes to the spotlight shone on Falwell's ministries by his political activism. During the Moral Majority years, students donned in gowns and suits accompanied Falwell around the country to sing in "I Love America" rallies on the front steps of government buildings. Those were the days when attending Liberty generally meant being passionately political, and being passionately political meant being a diehard Republican—despite Falwell's own refusal to formally affiliate with one party. During those years, says Falwell Jr., Liberty students were "flocking" to Washington, D.C., for internships and post-graduation jobs.
But the Millennials are a new generation, who have ushered in a new era at the university.
By the time the class that entered wearing flip-flops began their senior year in 2008, while still a largely conservative student population, enough Obama supporters were among the students to lend a palpable tension as results rolled in at the campus election night party—and an air of victory when the election was called for their candidate.
By the end of the 2008–09 school year, the growing presence of Democratic students at Liberty prompted an internal political hiccup. The event served as a tipping point in the slow swell of the school's gradual broadening from an institution identified in the mind of the public with the narrower political focus of the Moral Majority, to what Falwell Jr. calls a "more sophisticated," all-encompassing approach to politics.
The hiccup was a controversy over the fledgling student Democratic Club. Administrators said that in supporting the Democratic Party, the club was at odds with core values of the university, whose mission includes opposition to abortion and gay marriage. Following several attempts at resolution that ultimately involved state politicians and party officials, in the end, the university implemented a new policy: No longer would any student political clubs—including the student Republican Club—receive official school recognition or funding, although such clubs could still use school facilities for meetings and functions.
Like the flip-flop announcement, the event was laden with significant symbolic substance.
Jan Michael Dervish, a Liberty student majoring in Business Management Information Systems, was one of the Democratic Club officers during the controversy. Of party politics he says, "My experience with College Democrats was challenging; campaigning for what I believed in politically was not always easy while striving to stay within my own moral framework. I'm sure that the College Republicans felt the same way about issues in their platform." Even as someone in the political minority at the school, Dervish says the institution's political focus is "on the moral issues."
One student who arrived on campus that year came with conservative Republican leanings that deepened during her time at Liberty. Bethany Davis was the first female president of Liberty University's Student Government Association. A 2011 graduate, Davis says that "Liberty University's political legacy is grounded on promoting conservatism. Although there are College Democrats and College Libertarians clubs on campus, College Republicans traditionally have the greatest voice on campus." She notes that the school's official pro-Israel and pro-life causes particularly distinguish its conservative character, and she served as vice president of the school's Stand With Israel club. She credits"Liberty's emphasis on student involvement in politics" for cultivating her political involvement even after graduation.
Interestingly, the student body now includes a deep pocket of Libertarianism. Because of student votes, Ron Paul won the vote of the surrounding city's precinct in the primary election. In leaning Libertarian, these students (and some faculty) reflect a growing disenchantment with traditional politics altogether, one that parallels the national mood. Falwell Jr., whose leadership style keeps him closely connected to students, observes that they have grown "disillusioned with politicians" that they see as guilty of "too much compromise" in failing to "stay true to principles."
So whether Republican, Democrat, or Libertarian, Liberty students seem to recognize that none of the political parties aligns consistently with their faith. And so, they seem less willing than preceding generations of students to put their faith in politics. While Liberty's schools of government and law remain among its strongest programs, other students are eschewing political involvement in favor of service and entrepreneurship. Students want to see the intersection of their faith and the real world. They no longer see politics as able to accomplish this as is buying a pair of TOMS Shoes, sponsoring a child through Compassion International, raising awareness on human trafficking, or volunteering with humanitarian efforts like Invisible Children. In other words, Liberty students are more likely to don Tevas and T-shirts for missions trips to India or Guatemala than to stand on the front steps of capital buildings, singing earnestly in formal attire. Indeed, according to at least one accounting, the number of Liberty students who have gone on to work in professional sports is several times those who have become political representatives.
Katie Smith, an English major who will begin graduate studies at a state school this fall, is less sure of politics than when she arrived as a freshman. "The professors' commitment to excellence is what changes our lives as students, not the myriad of social and political agendas," Smith says. "While politics may seem like the most accessible way to influence the contemporary culture, it is not the best. Politics forces us to see people in one dimension: rich, poor, gay, straight, Republican, Democrat. In doing so, we fail to see the complexity of our neighbors as people, not merely statistics."
"The real goal of a university," Smith says, "is to educate its students by cultivating in them a philosophical mind."
Does this shift away from the political mind to a more philosophical mind represent a growing out of or growing into the founder's original vision?
It is definitely a growing into the vision, Falwell Jr. says. Just as his father folded up the Moral Majority in order to focus more attention on the school, the students have, over the years, come to put politics into a more proportionate place within the broader cultural context. If the political activism of decades ago gave birth to an evangelical bloc that had been nestling in the womb of separatism, then perhaps it is an indication of that bloc's maturity that its understanding of activism and influence has broadened.
According to Falwell Jr., students in the past viewed "politics and ministry as the only two ways they could really impact the culture. Now they look at every profession as a way to influence the culture."
Falwell Jr. is well-qualified to speak to this maturation. He graduated from Liberty University in its earlier years, then went on to law school at the University of Virginia. Yet, it is telling of his father's real vision that neither he nor his two siblings pursued political careers. Instead, Falwell Jr. took his father's place as the university's chancellor, his brother took over as pastor of the church his father had founded, and their sister is chief surgeon at a metropolitan hospital.
If Liberty University—or even the Falwell family—can serve as any kind of microcosm for American evangelicalism, it would seem that what constitutes the political is now understood as not only what happens in the privacy of the voting booth, but also what transpires in every corner of the public square: the marketplace, the sports arena, the silver screen, the place of business, the third world, and every place in between. Working on social issues such as sex trafficking, environmental problems, and racial inequality, liberal and conservative students are able to find common ground.Indeed it is in these areas that the polarizing tendencies of politics can be transcended and overcome. Such befits not only the "Champions for Christ" but the body of Christ, too.
When asked what he thought the political legacy of the university to be, Falwell, Jr., replied, "I hope our legacy is to influence Christians to stay engaged from the inside of culture, as salt."
And when asked, in the spirit of Her.meneutics, what the university's legacy for women might be, he said instantly, "I wasn't making any distinction. Everything I said included them."
It's the women, after all, who, for the most part, wear the flip-flops.
Karen Swallow Prior is chair of the English Department at Liberty University. This article comes from the new Her.meneutics ebook, "What Christian Women Want This Election Season." Subscribe to CT by Friday and get it free, along with our special "50 Women to Watch" issue.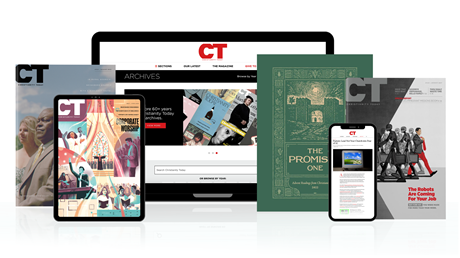 Subscribe to Christianity Today and get access to this article plus 65+ years of archives.
Home delivery of CT magazine
Complete access to articles on ChristianityToday.com
Over 120 years of magazine archives plus full access to all of CT's online archives
Subscribe Now
Liberty University's Flip-Flop Moment
Liberty University's Flip-Flop Moment