true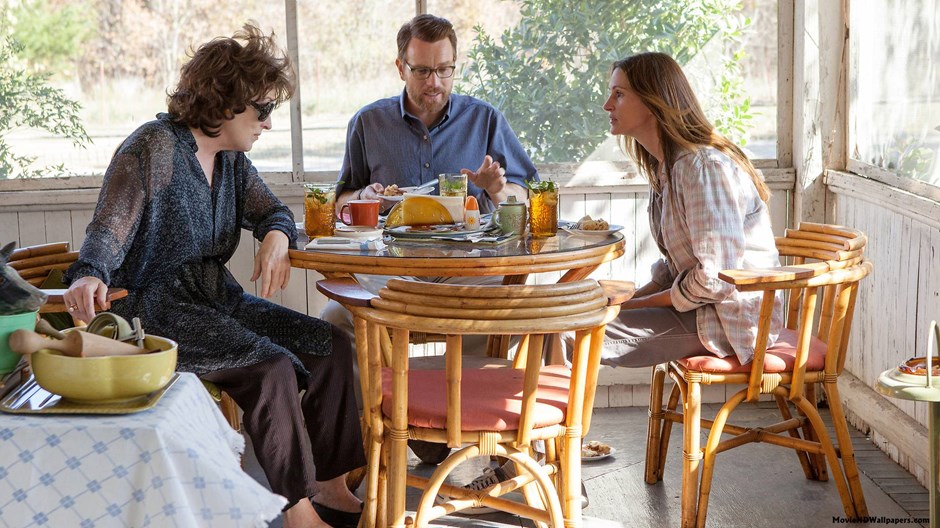 Image: The Weinstein Company
When Tracy Letts's Pulitzer-winning play August: Osage County was on Broadway, the entire play was set in a house—a sprawling house with an open front, three floors, a big porch, and many bedrooms—that fills the stage. Everything happens in that house, and the result? Claustrophobia, which mirrors the characters' own suffocation. They're boxed in by their family's secrets, and history, and vituperation.
John Wells's film adaptation (with a screenplay by Letts) trades about half that suffocation for the wide-open plains of Oklahoma, golden and lovely in the sunset. But all the familial smothering is still there. The Weston family isn't what you'd call tight-knit, but when the family patriarch disappears, the family—three daughters; an aunt, uncle, and cousin; and an assortment of offspring and significant others—comes together at the family home on the Oklahoma plains. With them they bring all their baggage, from old wounds and bitterness to addictions and secrets. The pressure cooker gets switched on.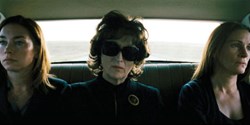 Image: The Weinstein Company
This setup is as old as the plains themselves, with variations written by playwrights as eminent as Chekhov and Shakespeare. Letts's play won a Pulitzer and a Tony largely because it's a compelling, heartbreaking portrayal of life in an often-overlooked part of America—and also a very true play about the ways that many families love one another, but can't stop hurting one another, either.
(Trivia: Letts is on Homeland Season 3, and won a Tony for his acting in Who's Afraid of Virginia Woolf; he also wrote and adapted Bug.)
The film cast of August: Osage County is almost too obviously stacked with stars: Meryl Streep, Julia Roberts, Ewan MacGregor, Sam Shepard, Abigail Breslin, Margot Martindale, Chris Cooper, Julianne Moore, Juliette Lewis, Misty Upham, Dermot Mulroney, and Benedict Cumberbatch (whose sweet loser is a nice contrast to all the villains and dragons he's been playing lately).
As many have noted, this cast is acting their socks off—Streep especially, as the drug-ravaged, razor-tongued mother with mouth cancer. You can't help but think of Gloria Swanson playing Norma Desmond in Sunset Boulevard; both are theatrical with a capital T, but it's okay, because the women they're playing have been so loudly dramatic for so long that they're reduced to being larger-than-life in order to get anyone to pay attention to them.
So if you're looking to study some of our greatest talents working at the height of their game, here's your movie. But it's not one I'd want to watch again.
Part of this is because this film struggles with the same problem many stage-to-screen adaptations have—the adaptation problem. Theater is a marvel to me; even the greatest, most epic theatrical productions still are space-bound, with audience members who can't get up close to see subtle reactions, and with sets that must be physically carried around. Playwrights have to figure out how to get all that drama and character development to work in a constricted space, and stage actors must pull off their performances night after night.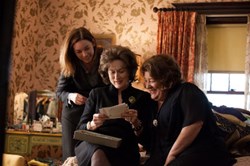 Image: The Weinstein Company
Because of this, most great plays are very talk-y, relying on dialogue to move things along. It's tough to imagine a car chase on a stage being anything other than comical.
Film (and television), by contrast, have some flexibility in how they shoot. They can more easily move around and employ other means (like action and locations) to move the story along. It's tricky to get a stage play shifted over to this medium in a way that viewers will enjoy, and though August: Osage County comes a whole lot closer to succeeding than many others (Doubt and Sweeney Todd spring to mind), it's still so reliant on talk that it's hard not to drift away mentally sometimes, or to grow weary and wish they'd all just go out for a walk for a bit.
But really, it's just difficult to watch a family eat itself alive for two and a half hours, though Letts's screenplay admirably balances comedy and tragedy and the film is often ruefully funny. Family dysfunction is all over the movies—it's Noah Baumbach's specialty, in films like The Squid and the Whale and Margot at the Wedding—but the Westons' dysfunction is particularly exquisitely rendered. Their tongues are sharp. They know exactly how to hurt one another. They're not afraid to kick the ones who are down, and the men, especially, are taking the brunt of it. It's hard to watch; even viewers who have relatively good families will find something here that hits a sore point.

Image: The Weinstein Company
It's probably not an altogether bad thing to watch a movie like this at the holidays—if nothing else, it may help us all feel a little more grateful for our own families. But if you're looking for a film about family that isn't quite as painful, you might check out Alexander Payne's Nebraska, another movie featuring sharp-tongued dysfunction and long-buried secrets, but one in which love, however flawed, seems like it's going to win out.
Caveat Spectator
There are lots of f-bombs and a handful of crass references to female genitalia. The family matriarch is addicted to pills; several others smoke weed (including a teenager) or habitually drink to excess. Two characters are said to have had an affair. Another one has recently cheated on his wife. Characters discuss both a long-ago affair and borderline incest. A grown man attempts to seduce a teenager. One character hits another forcefully with a shovel several times. Family members are very mean to each other at times, and the vitriolic arguments and discussion of various characters' childhoods may cause problems for those with a family history of abuse.
Alissa Wilkinson is Christianity Today's chief film critic and assistant professor of English and humanities at The King's College in New York City. She tweets at @alissamarie.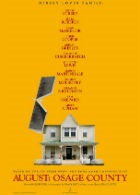 Browse All Movie Reviews By: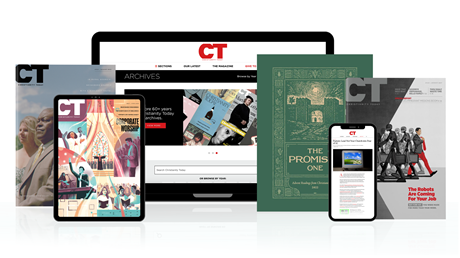 Subscribe to Christianity Today and get access to this article plus 65+ years of archives.
Home delivery of CT magazine
Complete access to articles on ChristianityToday.com
Over 120 years of magazine archives plus full access to all of CT's online archives
Subscribe Now
August: Osage County
August: Osage County