true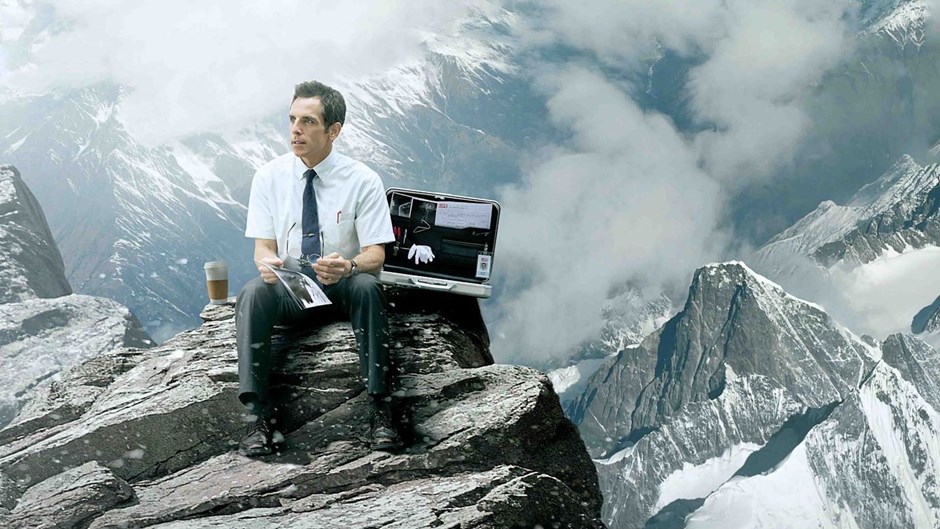 Image: Twentieth Century Fox Film Corporation
The Secret Life of Walter Mitty confronts that age-old question—does a movie get its drama through its plot or its characters? Its answer is to shrug indifferently, try to do both, and do neither.
It's the complete opposite of Robert Frost's "The Road Not Taken": two potential movies diverged from a famous short story. Ben Stiller took the one most travelled by. Then he changed his mind and tried to go back and take the other one, but by then it was too late.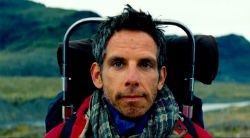 Image: Twentieth Century Fox Film Corporation
The plot first. Walter works as a "negative asset manager" for Life magazine (product placement). He develops pictures taken by ace photographer Sean O'Connell (Sean Penn). When the magazine decides to become an Internet-only publication, his job is in jeopardy. Then he can't find a key photograph from Sean intended for the cover of the last print issue of the magazine. Meanwhile, his newly created eHarmony (product placement) account won't allow him to "wink" at his coworker, Cheryl (Kristen Wiig, looking and acting more like Jennifer Aniston than Kristen Wiig).
At this point Walter does what any middle-aged American worker facing a layoff from his job of 16 years would do: he jumps on a plane to Greenland in hopes of finding Sean and the missing film negative. This is where the movie proverbially and literally loses its way. Walter's fantasy sequences (from whence the story derives its title) disappear, replaced by a strangely unsatisfying mashup of The Amazing Race and Sherlock.
The film lost me for good in a sequence in which Walter skateboards from one Icelandic village to another just in time to see a volcano erupt and then hop in a car for the ride he rejected in the first place, narrowly outpacing the lethal ash. Walter calls Cheryl from Papa John's (product placement) in Iceland to check in. She reminds him that Iceland and Greenland are not the same place. Such romantic, witty repartee. Who needs Nick and Nora Charles when these two are around?
The plot, particularly in the latter half, is about transitioning from fantasy to reality. But the film can't seem to decide between two different script treatments. On the one hand, Walter is not a Jason Bourne type super-agent. His adventures—helicoptering, skateboarding, mountain climbing—come second to the emotional difficulty of asking the pretty girl on a date.
On the other hand, we get ridiculous flights from reality in service of cheap jokes, like when Walter manages to get past Afghani warlords by offering them his mom's cake, or appeases a suspicious customs/immigration team by having someone from eHarmony (product placement) vouch for him. The plot circles back on itself, with Walter heading off to the nether worlds, coming home, then heading out again, then coming home again. Where is he getting the money for all this? Has he saved a bundle by living a boring life? Is he putting it on Life's expense account? (No wonder print magazines are all going broke.)
Walter's situation changes, but does his character develop? The original short story by James Thurber is about a hen-pecked husband who retreats to a fantasy world as a defense against his own feelings of inadequacy. We've already had two films this season—Inside Llewyn Davis and Enough Said—in which women are brutally verbally abusive in their speech to and about men, so I was glad enough to see that plot point go by the boards.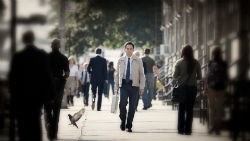 Image: Twentieth Century Fox Film Corporation
But the film wants to have it both ways. It celebrates Walter coming out of his shell, with the eHarmony (product placement) profile going from bland to exotic in order to show his character develop. At the same time, Sean, the film's swashbuckling adventurer, endorses as "the very quintessence of life" the normalcy that Walter is trying to leave behind. At the end of the movie, Walter is celebrated for the life he broke away from, not for breaking away from it.
Perhaps the strangest element of The Secret Life of Walter Mitty is how beautifully it is filmed. The first half of the film could be a tourist commercial for Iceland, with the winter landscapes looking like they came straight out of Life (product placement) or National Geographic. Early scenes have some long shots of the urban environment, reinforcing how small a person is in society and in nature.
But the movie's form rarely merges with its content. Neither the playfulness of the opening credits and fantasy sequences in the first act, nor the grandeur of the landscapes in the second and third, are matched by any kind of visual spark or flair when Walter is in the real world—the world he, and we, are supposed to choose over Sean's jet-setting existence. Wiig is full of charm and energy, but the movie grinds to a halt every time Cheryl is on the screen. Maybe the script was reaching for something tender in Walter's tentativeness towards her, but visually and structurally, it ends up conveying just indifference. Scenes between Walter and Cheryl play like an afterthought, not a culmination.
2013 was a great year for quality films. But it also yielded few positive, encouraging, or heart-warming tales. Christmas usually brings at least one "fun for the whole family" kind of a film for those who want to go out to see something and not have to sit through three hours of The Wolf of Wall Street or one second of Anchorman 2. And The Secret Life of Walter Mitty could have been that something, but it ends up being a compromise film—the one nobody really wants to see but everyone can at least agree on when the other choices are sold out.
Or, of course, we could just all stay home and watch It's a Wonderful Life.
Caveat Spectator
The Secret Life of Walter Mitty is rated PG for some mild action violence and language. Although the romance between Walter and Cheryl is chaste, there is some ambiguity as to whether she is actually divorced or just separated. Walter's new boss engages in some office bullying that could be traumatic for some kids who could relate. Walter drinks in a bar, and one gag is about him riding in a helicopter with a pilot who is obviously impaired by alcohol.
Kenneth R. Morefield is an Associate Professor of English at Campbell University. He is the editor of Faith and Spirituality in Masters of World Cinema, Volumes I & II, and the founder of 1More Film Blog.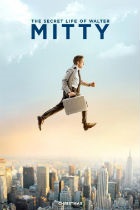 Browse All Movie Reviews By: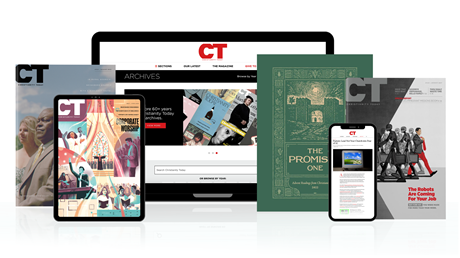 Subscribe to Christianity Today and get access to this article plus 65+ years of archives.
Home delivery of CT magazine
Complete access to articles on ChristianityToday.com
Over 120 years of magazine archives plus full access to all of CT's online archives
Subscribe Now
The Secret Life of Walter Mitty
The Secret Life of Walter Mitty