Thinking about making a resolution for the new year? How about a motto that will last all year?
That's what rapper Drake did in 2012 with YOLO, the ubiquitous, often grating acronym (and noun/verb/adjective) that made it onto Oxford's shortlist for word of the year.
You only live once/That's the motto, he sang way back in 2011, setting a cultural touchstone: The New York Times called it "the new LOL," and Katie Couric attempted to turn it into the new "bucket list". Eventually YOLO started popping up, often ironically, im the Twitter feeds of people my age around the middle of 2012.
My first reaction: confusion. Then irritation, at the mysterious and ludicrous origins of cultural shorthand. Apparently, correct application of YOLO is at the user's discretion. As the anti-YOLO campaign points out, the phrase seems best and most often suited to excuse foolish mistakes or offer logic for poor life choices.
Or, in a quote typically attributed to comedian Jack Black but actually sourced to a parody Twitter account: "I am fairly certain that 'YOLO' is 'Carpe diem' for stupid people."
But I tend to err on the side of appropriating cultural themes rather than strictly condemning them, and so while I can't admire the profanity-laced origins of YOLO or its more common use to excuse drunken parties, I can envision some good from the appropriation of such a snappy and social media-friendly word.
Maybe YOLO deserved to be one of the worst words of 2012, but it can have a new life in 2013, one that doesn't emphasize the experiential over the valuable.
As an example, a tweet: Inviting strangers to dinner twice this week. #YOLO
Or: Whole family turning off cell phones & going to the zoo today; back online Monday. #YOLO
Or even: Still no job offers as of today, but praising God anyway because #YOLO.
After all, the Bible has a lot to say about not putting off for tomorrow what should be done today. Paul urges us to temper opportunity with wisdom, but links the two as well in Eph. 5:16: "Look carefully then how you walk, not as unwise but as wise, making the best use of the time, because the days are evil."
Often, it is wisdom to grab opportunity (recognizing this is the greatest wisdom of all, as I rediscover yearly, and almost daily). You needn't be a teenager or immersed in a pop radio playlist about dying young to understand that time is not returnable like a Christmas gift.
According to the singer Ke$ha, in an interview with SPIN, YOLO is the best response to uncertainty:
"You may or may not only live once, who knows if the world is going to explode in two days. Why would we sit around … and be mean to each other? Why don't you just love each other, love yourself, live in the moment, and … party? That's kind of my message."
Would Jesus YOLO? After all, Jesus only lived (on earth) once, and that was all he needed to change the course of human history, "living in the moment" as he healed the sick, loved the outcast, and obeyed his Father's will minute by minute.
While he didn't take every opportunity—his ministry only lasted three years, a time during which he retreated often to rest—he set the example for wisely taking the opportunity to fulfill his purpose in the world.
Of course, Jesus' motives were nothing like those of today's pop musicians. Instead, he had an eye on eternity—and how the minutes would affect it. When Jesus refused the offer of "all the kingdoms of the world," we know he was not missing a chance to live life to its fullest. But what did he know that made him turn down such an opportunity?
Jesus knew the Word, which gave him his "why not." Faith told him that God had better opportunities planned for his purpose on Earth than those offered by Satan.
To take every opportunity is often to miss the most important ones that come your way. But I believe that we can also fail to fulfill our purpose in this world by passing up chances, avoiding risks, or putting off what we have a heart-level urge to do (as Paul said elsewhere, let peace be your guide) because we are formulating a good "reason" to convince ourselves or others.
I must admit that I have some uncertainty about eternity—not over its existence, but about what it will be like. So perhaps the wisest course is to spend every day asking: What would you do if you knew this was your last life before eternity?
I would spend it acknowledging more strangers, communicating love more deliberately, and remembering to give God the glory before he shows himself in my life, like Daniel and Joseph did in the Bible.
Those are my resolutions for 2013. While they might seem broad or abstract, I think they can be lived daily in a #YOLO kind of way.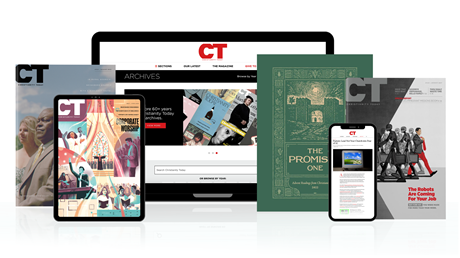 Subscribe to Christianity Today and get access to this article plus 65+ years of archives.
Home delivery of CT magazine
Complete access to articles on ChristianityToday.com
Over 120 years of magazine archives plus full access to all of CT's online archives
Subscribe Now
Why YOLO Is the New WWJD
Why YOLO Is the New WWJD