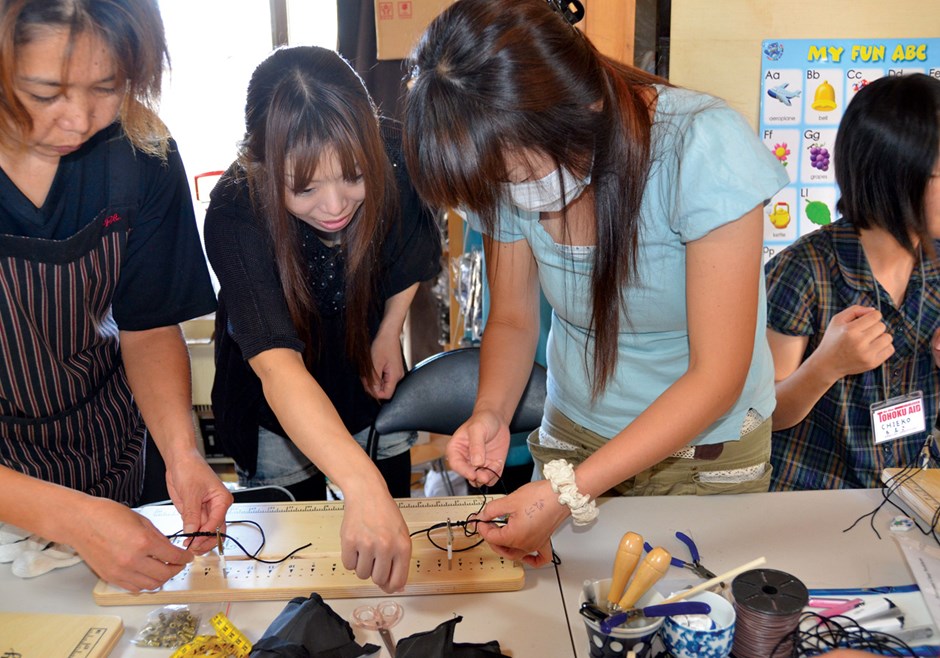 Image: Courtesy the Nozomi project
As Sue Plumb Takamoto helped to clear a field of debris in the coastal city of Ishinomaki after the March 2011 tsunami, colorful shards of broken pottery kept catching her eye everywhere she stepped. The shards were all that remained of tearooms and kitchens swept out to sea.
Takamoto and her friends decided to gather the shards and wash them. As volunteers with a new house church network, Be One, they are building friendships and hope, with survivors of the tsunami that took nearly 20,000 lives.
While aid agencies provided basic shelter, food, and health care throughout Ishinomaki, Be One found that there was tremendous need among single mothers for employment. Thus, a creative spark brought to life the Nozomi Project, launched in 2012.
At Nozomi, a Japanese word for hope, mothers and grandmothers create rings, necklaces, and earrings from rice bowl and teacup shards, then sell their jewelry through the Nozomi website and Christian mission agencies. Each woman names her line of jewelry, sometimes after a loved one who perished in the disaster.
Takamoto, who moved with her family to Ishinomaki a year ago, says, "Many of them lost their community—their neighbors are all gone. Their homes are washed away, and they're all living in scattered places across Ishinomaki.
"God can take broken pottery and broken women who think that life is over for them and do anything he wants. We are in the midst of seeing God do amazing things."
Shifting Gears
Both Christian and non-Christian Japanese are experiencing Jesus differently since the 2011 disaster. Indigenous church leaders and missionaries told Christianity Today that change is bubbling up amid practical ministry to a nation struggling to find its footing after trauma.
"God has shifted the gears in Japan," says mission strategist Mitsuo Fukuda, founder of the Rethinking Authentic Christianity Network. Some 1 million buildings, including many churches, were damaged or destroyed in the disaster, leading church leaders to hold worship services and minister wherever evacuees gathered for shelter.
Some local Christians, including H. Yamashita, a former missionary who returned to Japan, reached out to the parents of children with special needs. On the day of the tsunami, a group of children with special needs were on a school bus. When the warning sirens went off, the bus driver returned to the school, saving their lives. But for two days the children were stranded at the school, their parents unable to reach them.
Once the children reunited with their families, they took shelter in evacuation centers. The break in routine more than turned their world upside down. Some became violent, while others shut down emotionally. One mother was asked to take her son out of the evacuation center because he was disruptive. For several days she lived with him in a car.
After receiving a request for help, Yamashita started raising funds for a new daycare center for the children. Yamashita spent hours listening to family members. "In the evenings, we talk about all kinds of things. I don't have to start a conversation about God," she says. "It always comes up. So there, in a house, we bring 'church' to the people.
"What is church, really? It's a place where people know Jesus is alive. It's a way to experience Jesus and take him to your family and your neighbors."
Many other churches and Christian agencies have also started new postdisaster efforts:
• Love On Japan, the new outreach that CRASH Japan (Christian Relief, Assistance, Support, and Hope) began shortly after the disaster, has drawn more than 2,300 volunteers from around the world to minister in the quake zone.
• The Miyagi Mission Network, led by pastor Ichio Kishinami, has started 33 house churches in the disaster zone. Kishinami listened to the stories of survivors and taught them how to pray to the "Creator God" of the Bible in the name of Jesus.
• World Relief in Japan is partnering with Wheaton College's Humanitarian Disaster Institute to develop new rapid response programs to help church leaders meet needs quickly after tragedy.
Blended Model
When the Be One team started the Nozomi Project, they made intimate Christian community their centerpiece.
"I cherish this place, not just as work but as community," says Yuko Aizawa, a jewelry artisan. "I lost my mother and my sister in the tsunami. Another woman lost her child. Most of us lost our homes. It really feels like God has led us here."
Yuko Sasaki, the manager at Nozomi, says, "We each have wounds. We recognize this place to be where we can share these hurts with one another."
This kind of Christian outreach blends vocational work, spiritual discipleship around Bible study, and new relationships. Yamashita says, "There's a phrase that keeps coming to mind when I think about evangelism in Japan now—'paradigm shift.'
"Christians here realize that we've hit a wall. We copy models from other countries, do a survey trip, come back, and put these systems in place that have worked in other countries and they may work for a while, but we always end up in the same place."
Traditionally, Japanese have always been spiritual, Fukuda says. "We need to say, 'You already believe in the supernatural watching over you. Now discover what it means to have a personal relationship' and transform the focus on spirituality to a focus on faith in Christ." Fukuda noted the two primary means for growing the church are Bible study and community. "We must read Scripture together and stand on the foundation of believer fellowship," he said.
As a society, the Japanese cherish living and working together. Each work day, the women break from making jewelry to share an afternoon meal. The women then read the Bible together, discuss the text, and pray. Once a month, the women at Nozomi receive a share of the profits from jewelry sales. They recently launched a Facebook page, hired four new jewelry makers, and started making men's cufflinks. One new worker is Nobuko Kimura, who was hospitalized for 100 days after the tsunami due to severe injuries. She now creates necklaces. Kimura said, "I'm thankful for having a place where I can belong."
Alanna Foxwell-Barajas is a freelance journalist based in Atlanta.
Have something to add about this? See something we missed? Share your feedback here.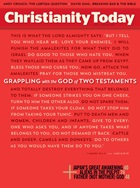 This article is from the Jul/Aug 2013 issue.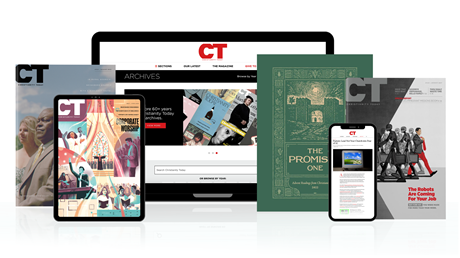 Annual & Monthly subscriptions available.
Print & Digital Issues of CT magazine
Complete access to every article on ChristianityToday.com
Unlimited access to 65+ years of CT's online archives
Member-only special issues
Subscribe
Beauty From Broken Things
Beauty From Broken Things