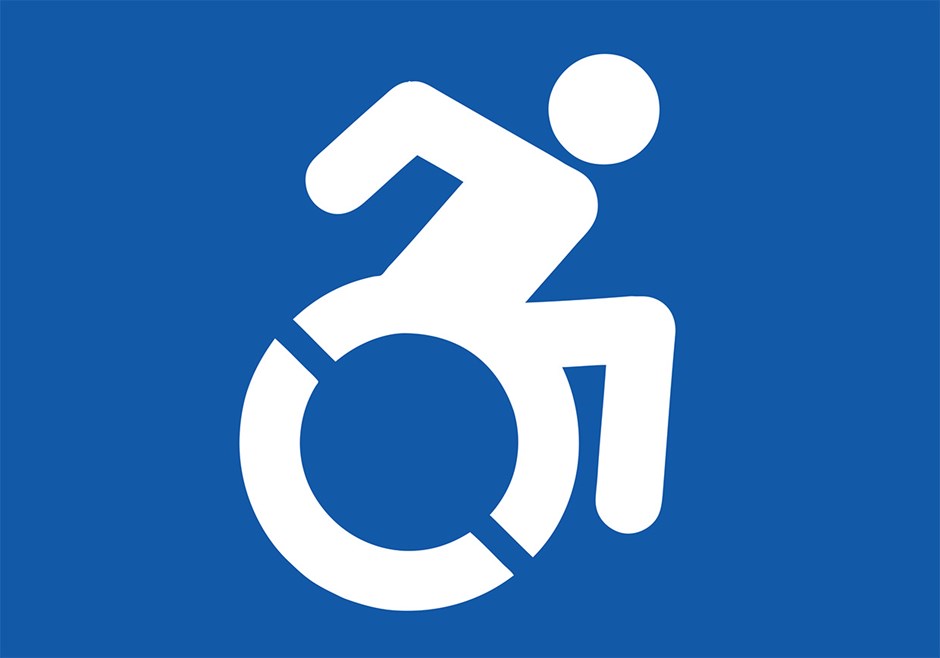 Symbols shape our perceptions. A large swoosh on a stranger's T-shirt lets us, in a fraction of a moment, decode the logo to make an almost-instantaneous assessment of its wearer. Symbols are instinctually familiar, whether the contemporary shapes of the Playboy bunny or Hello Kitty or the traditional Christian cross.
The power of symbols to affect the way we perceive others drove Gordon College professor Brian Glenney to revisit the decades-old "handicap icon" we all recognize from parking spaces and bathroom stalls.
Glenney, 39, teaches philosophy at the Wenham, Mass., school and teamed up with Cambridge-based artist and researcher Sara Hendren for The Accessible Icon Project. (Hendren happens to be my sister-in-law.) Starting in 2009, they worked together to design and promote a new symbol of access that—unlike its predecessor—depicts people with disabilities as dynamic and forward-moving. The new icon made national news in May, when the city of New York adopted it as its official symbol of access.
In a recent interview, Glenney and I talked about our culture's perceptions of people with disabilities, the power of symbol, and why these issues matter for Christians.
Talk about how you became involved in this initiative. Do you have a personal connection to someone who lives with a disability?
I'm not a self-advocate or a parent advocate. I do not have a close relationship with someone who self-identifies as "disabled," but I get angry when I see people being stigmatized and disempowered, period. The Accessible Icon Project is the result of an urgent feeling of anger at a society that de-humanizes people with disabilities. Our new symbol is a conversation starter about how we really think about people with disabilities and what we need to do to change our thinking.
You've described the old symbol as depicting a passive, almost robotic figure whereas the people with disabilities you've met advocate for themselves and are "forward moving." I remember looking at the old symbol as a child and wondering whether the arms were the person's physical arms or the built-in arms of the chair.
Awesome point. Are the arms in the old symbol those of the person or the chair? I think that ambiguity is dangerous in shaping our unconscious attitudes about people with disabilities.
A powerful example comes from my colleague Brendon Hildreth who co-directs our project in North Carolina. Because of cerebral palsy he must speak using a talk machine, but it is not the machine that talks. There is no ambiguity in distinguishing between Brendon and the machine that he speaks through. For Brendon, our new symbol provides a means of self-advocacy—it expresses a complex emotion of: "Stop looking at me as if I'm weird just because my muscles work in a different way from yours…I'm just as active and embodied as you!"
We commonly refer to the old symbol as "the handicap sign." What would you like the new one to be called?
It is a "symbol of access." What is a "handicap"? It is a legal cheat that allows bad golfers to play with good golfers and save face. I worry that the term "handicap" reflects society's view of people with disabilities, and this just shows how important it is to change this view. I hope that our new symbol looks more like something that signifies access and less like a bad golf game—less like a "handicap" symbol.
"Handicap" is a dishonest way of thinking about people with disabilities who are not physically "worse" but physically different. My deepest hope is that our symbol, however widely distributed, helps people confront their unconscious attitudes about people with disabilities and awaken their conscience about the importance of advocating for both social and physical access to all.
How did it come about that New York City is adopting the symbol?
Our project is a collaborative and evolving work. It started at Gordon College as a street-level public art project and evolved to a local advocacy project when we started interacting with Jeff Gentry and Jeff Lafata at Triangle Inc. Our senior publicist, Cyndi McMahon, who works at Gordon in media communications, thought that this advocacy project merited national attention, and used her networking skills to get us a conference call at Triangle with Victor Calise, the Disabilities Commissioner for NYC. In that conversation, Victor recognized the potential for NYC to lead the nation in addressing how society views people with disabilities in adopting our symbol.
Has revisiting the old "handicap symbol," which Sara Hendren has said has "the invisibility of the obvious," made you see any other (perhaps often overlooked) symbols in new ways?
I was raised in the counter-culture world of graffiti, skateboarding, and punk rock, where society's symbols and architecture exist to be manipulated and re-imagined. I've never looked at a handrail as a handrail, but as a skateboarding obstacle. Wheelchair ramps were never medicalized, but afforded novel points of access for skateboarding. This transcends popular culture where familiar symbols have lost their meaning and power.
What Christian symbols hold meaning for you? Are there any that could use a fresh coat of paint or radical revision?
Religious symbols are static, pretentious, and institutionalized. They have no power for me. Symbols hold meaning for me only insofar as they are available for manipulation and defamation—only insofar as they are available for interaction. Unfortunately, there are no religious symbols that are accessible to me in this way. The only symbols that stimulate my religious thought are anti-religious symbols: upside down crosses and negation signs. These symbols provoke me out of my evangelical slumber.
I like to see religious symbols, like the cross and the dove, manipulated: turned upside down or painted with drips and other deformations – anything to defamiliarize the familiar. Banksy, the London stencil street artist, creates very simple and powerful symbols of advocacy. These are my new religious icons—these are the symbols that generate advocacy for the poor and disenfranchised.
Tell us why, as Christians, we should care about the way people with disabilities are represented in our culture.
When I was a graduate student at USC working with Dallas Willard, I once asked him if he was a conservative. He looked at me with confusion, shocked at my naiveté, and responded, "I'm a radical, like Jesus." The life of Jesus, and icons like Dallas Willard, show me that I'm part of a community of advocates for the poor and disenfranchised. They give me inspiration as I make my own attempt to self-authenticate my religious belief through advocacy and love. The power of Christ's message is one of total access: the ability for anyone to realize and authenticate their greatest desire and potentiality.
This project integrates many of my otherwise disparate interests and has become a focal lens for my identity as a graffiti artist, skateboarder, and activist. My political radicalism and Christian belief motives advocacy and action for disenfranchised populations.
Learn more about The Accessible Icon Project. Learn more about co-founders Brian Glenney and Sara Hendren.
Jennifer Grant is a regular contributor to Her.meneutics, the author of Love You More and MOMumental, and is currently at work on two new book projects. Learn more at jennifergrant.com.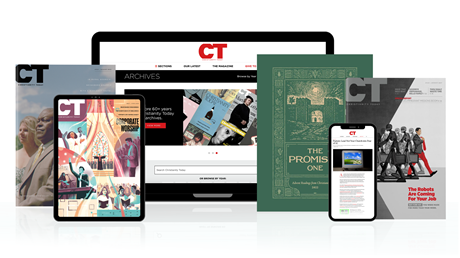 Subscribe to Christianity Today and get access to this article plus 65+ years of archives.
Home delivery of CT magazine
Complete access to articles on ChristianityToday.com
Over 120 years of magazine archives plus full access to all of CT's online archives
Subscribe Now
The 'Handicap Icon' Gets New Life
The 'Handicap Icon' Gets New Life