true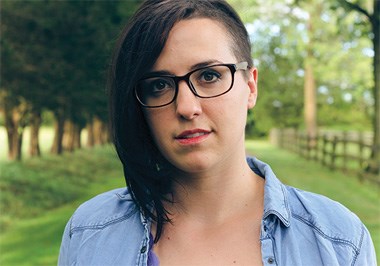 Image: Ellie Arciaga / Darling Felicity Photography
Audrey Assad was in her early 20s when her parents told her they were considering divorce. An hour later she was at a sound check for a church worship service. Be happy, she was told. Smile!
"They wanted us to be bright-eyed. To smile and be perky," she says. "I just wanted to throw the microphone down and shout the f word."
That reaction forms the pillar of Assad's career as a Christian musician. The ever-present need to be "positive," she contends, is a distraction. Her music is made in direct—often conscious—opposition to that expectation.
Assad has had one of the more successful debuts in Christian music in the past few years. Her piano-based, introspective music has sold 100,000 albums on two records from Sparrow and won her the iTunes Christian Breakthrough Album award in 2010, along with several Dove nominations. She appears as a named artist on Chris Tomlin's Christmas record.
Apparently you can still succeed in the genre of contemporary Christian music (CCM) even if you dissent from its ethos: reassuring, upbeat, and "safe for the whole family." Those sentiments weren't enough when Assad's parents divorced and they weren't enough when her husband was diagnosed with cancer six months after their wedding.
"I don't think the words positive and encouraging have ever historically been adequate to describe Christian life," she says. "Yet these are the words being thrown around now as the two main characteristics of music made by Christian people."
Assad's music, echoing the thoughtful, melodic arrangements of Sara Groves and Brooke Fraser (who shares a producer with Assad), is intensely personal, seasoned with deft musical and literary references. Her lyrics can be stark, like these from "Show Me," the final track of her debut album: "Bind up these broken bones / mercy bend and bring me back to life / but not before you show me how to die." Pain, sorrow, and regret—a sense that the world is not as it should be—pulse beneath the beauty.
Just as honest offstage as on, Assad has forthrightly discussed her addiction to pornography as a teenager—including on Twitter. "There were specific people who told me I shouldn't talk about that, and I listened to them for a long time. But I felt I was doing a disservice if I didn't," she says. Her fans were listening, and they responded.
"It's been overwhelming how many people, especially young girls, have said the same thing. They had no idea that a woman could struggle with something like this."
Assad shows life as the broken pieces of a stained glass window—beautiful, but fractured all the same.
Yet Assad's acknowledgment of her flaws doesn't become an excuse to shun piety or virtue. If the first striking point about Assad's music is its clear-eyed honesty, the second is its religious source. Assad is a devout Catholic, having converted at age 19 after growing up in the Plymouth Brethren church, a conservative Protestant movement. The decision was a shock to family and friends.
Assad's music is not narrowly Catholic. Yet recently, when she posted a picture of the newly elected Pope Francis on Twitter, it received a hostile reaction from some erstwhile fans. "I'm continually surprised not just by the opposition but by the revulsion," she says. "It's an exception, not the rule. … I'm truly brokenhearted over it."
Assad's Catholicism isn't a CCM trend. She says songwriter Matt Maher forms the other half of their small club. But the resistance to her faith is a small reminder that CCM can be just as exclusive as the secular realm.
From CCM to Crowdfunding
"My songs are born from suffering," Assad says. "I try really hard not to shy away from those feelings or boil them down to a more acceptable reaction to life."
So Assad sings of hope in light of struggle. "What if the seasons help us realize / some things are only proven over time?" she asks in "Even the Winter," an exploration of marriage. Her own has certainly been filled with turmoil. Assad's husband, William, has recovered from his cancer, but its lingering effects are clear in Assad's sophomore effort, Heart. On a website dedicated to an EP that Assad and friends recorded to help pay for William's treatment, he describes the experience as one "marked by the unity of joy and suffering"—a succinct description of Assad's approach.
This unity is the deepest sign of the admirable maturity in Assad's music, whose lyrics are sprinkled with references to Simon and Garfunkel, Augustine, and Gerard Manley Hopkins. It's the kind of cultural depth that gives homeschooling—which Assad requested herself as a child—a good name, and it partakes in a long obedience in the same direction. "Faith is not a fire," she sings, implicitly critiquing anthems of naive passion, "as much as it's a glow."
When nuance like this is successful, we can all be grateful. But after 100,000 albums sold, Sparrow and Assad decided to part ways. Assad is unfailingly polite about the record label, and she is reticent to declare who left whom, but it seems that one wanted more success and the other wanted more freedom.
So as an independent musician, Assad has a new plan: to create albums of worship music to be used by the church. Without the backing of a major label, it's a risky move. Yet Assad's fan base has been supportive. When she asked them to help fund the worship project through the crowdfunding site Kickstarter, the pledges exceeded the campaign goal of $40,000 after just three days. The final tally exceeded $70,000.
The transition would have been a financial sacrifice two decades ago, when there was far more money in CCM pop than in worship music. But that relationship has been turned on its head with the rise of worship music megastars like Chris Tomlin and David Crowder. The audience for CCM is waning, and the audience for singable anthems that can fill stadiums, and bring in recurring royalties from use week after week in thousands of church services, is burgeoning. Consciously or not, Assad could do worse than by aligning herself with this trend, even though she says her biggest fear is becoming a careerist worship leader.
"I don't know how to avoid it, but I know I don't want to go there," she says. "There is enough of a struggle when you're singing to remain focused on what you're actually doing, without adding millions of dollars." (The juxtaposition of worship music and "millions of dollars" is both unsettling and entirely realistic.)
But this is not how Assad sees the move. For her it is a lifeline to a more authentic relationship with her audience, and with God.
"I've encountered a lot of cynicism, even from [artists] who are the poster children for Christian pop. And I sensed myself moving in that direction … partially because I didn't love what I was doing any more."
It's a mark of the perils of CCM that an artist finds herself descending into cynicism after just two albums. And since the genre of worship music is not much more tolerant of nuance and introspection than Christian radio, one wonders how successful Assad will be. But the beauty of crowdfunding is that it may not matter. If fans are willing to part with their money to support Assad before hearing a single note, it may be possible to build the next phase of her career on making exactly the music she wants to make.
These backers form a "tribe," she says, a band of dedicated followers who understand who she is and what she stands for—and allow her to be the same person both on and offstage.
"I'd rather have a smaller number of followers and have them be clued in," she says, "than a million people who simply don't get it."
Patrick Stafford is a professional journalist from Australia who writes about business and entertainment. A separate interview with Assad appeared earlier on our site.
Have something to add about this? See something we missed? Share your feedback here.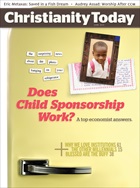 This article is from the June 2013 issue.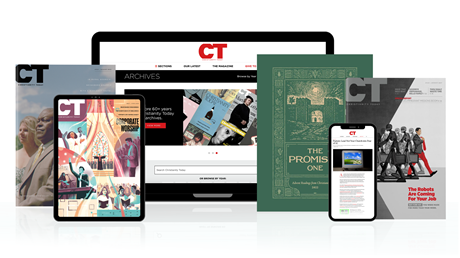 Annual & Monthly subscriptions available.
Print & Digital Issues of CT magazine
Complete access to every article on ChristianityToday.com
Unlimited access to 65+ years of CT's online archives
Member-only special issues
Subscribe
A Fractured and Beautiful Faith
A Fractured and Beautiful Faith