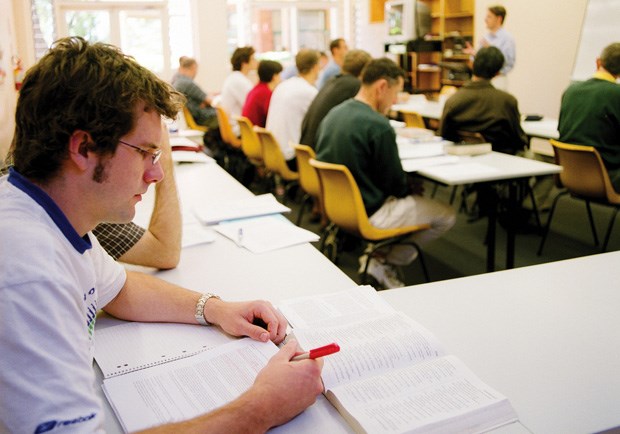 Image: Sydney Missionary Bible College / Flickr
In the last several years, news outlets have drawn attention to a major cultural shift on college campuses: For the first time in our nation's history, the majority of university students are female.
This gender revolution gained attention after the 2010 U.S. Census found that women outnumbered men in their possession of bachelor's degrees, and a study published by The Chronicle of Higher Education announced that women outnumber men at every degree level of higher education.
Despite the influx of women into the American academy, some fields have resisted the trend. Most notably, women continue to be a minority in math and science fields, constituting only 20 percent of graduates with bachelor's degrees in science and engineering. The second field that defies the shifting gender ratio, one that has received much less attention, is theological education.
According to the Association of Theological Schools, during the 2012-2013 school year women accounted for approximately 37 percent of Protestant seminary students. However this statistic is somewhat misleading, as it includes fields of study outside of the Master of Divinity (M.Div.) degree, such as a master's in counseling, in which women outnumber men. Among M.Div. students, women represented about 1 in 3 enrolled. At evangelical seminaries, they make up just 1 in 5.
Due to the dearth of research on the topic, we are left to hypothesize why so few women enroll in seminary. Perhaps the lack of job prospects is a deterrent: Why pay the tuition if you are not guaranteed a job afterwards? Or perhaps it is a matter of theology since some traditions discourage women from the pastorate on biblical grounds. Still, other churches support the idea of female leaders in principle, but simply fail to take the steps necessary to cultivate women's gifts.
Combined, these factors produce a persistent minority of female, evangelical seminarians with a rather tumultuous seminary experience. Evangelical women who discern a call to seminary often find themselves without much community and without many resources. Whether or not they are seeking ordination, women report feeling ostracized by male classmates. Among the evangelical women I have interviewed, most experienced little interaction with the men in their classes, and were even treated as a sexual temptation.
Here I should add that my own seminary experience was much easier. With a passion for ministering to women, I had originally planned to attend an evangelical seminary. However, God intervened in an only-God-can-do-that kind of way, and called me to a mainline school (that's another story!). While there, the gender ratio was rather balanced, so I never felt isolated, and I enjoyed positive relationships with my male classmates.
Since then, my doctoral studies have focused on the experience of women in evangelical seminaries, and I soon discovered that they had a different story to tell. Though the callings of evangelical women differ—some desire to be pastors, while others aspire to be ministry directors, professors, or non-profit workers—their stories share a common theme: they have persevered in stewarding their gifts, despite many obstacles in their way.
No matter where one stands on the issue of women in ministry, I hope we can agree on this: It is the task of the church to steward the gifts of its members. 1 Corinthians 12:7 tells us that each member of the body of Christ is bestowed with talents for the sake of the common good. The Apostle Paul explains this idea further, emphasizing our profound inter-dependence upon one another. Since we need one another in order to be the whole body of Christ, we must diligently nurture our own gifts and the gifts of those around us.
Granted, not every woman is called to seminary—no more than every man is called. But if we believe that theological education is an important way to train leaders and guard the integrity of Christian belief, then the skewed gender ratio at evangelical seminaries should give us pause. Are churches intentionally cultivating the gifts of women to the extent that they should? Within our churches, are there systems or programs in place for the stewardship of women's talents? Are church leaders encouraging women who have the gifts of teaching and leading to pursue formal training?
I once heard of a megachurch pastor who said he would willingly mentor female leaders, but he rarely encounters women with strong leadership abilities. This logic is a catch-22 of sorts, like saying you will only invest in start-up companies that already belong to the Forbes Fortune 500. Companies require time and energy to grow and flourish, and the same is true of people. Men and women alike will struggle to maximize their God-given talents if they do so in isolation from the investment of other believers.
In Matthew 25, Jesus tells a parable about three servants left to steward the talents of their master. Two servants invested their talents and grew their master's fortune; the third servant simply buried his in the ground. When the master returned, he praised the first two servants but rebuked the third. The servant protested, "'Master, I knew you to be a hard man, reaping where you did not sow, and gathering where you scattered no seed, so I was afraid, and I went and hid your talent in the ground. Here you have what is yours.'"
This parable has many implications for how Christians steward our resources, and one surely speaks to our investment in members of the body of Christ. As the church, we can bury the gifts of women—or simply allow their talents to lie fallow—or we can initiate the cultivation of women (and men!) and their essential gifts, as God commands us to do.
For some this will mean going to seminary, and for others it will not, but the agenda is the same. When the church trains and equips its members according to their gifts, the Kingdom only stands to benefit, for the greater glory of God.
This article is the third in a weekly series on women in leadership, appearing on Thursdays on Her.meneutics. Last week, we discussed women in undergrad. Next week, the topic will be women's involvement in the church and ministry.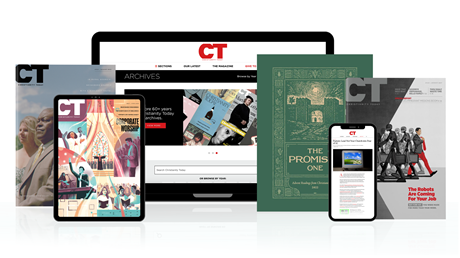 Annual & Monthly subscriptions available.
Print & Digital Issues of CT magazine
Complete access to every article on ChristianityToday.com
Unlimited access to 65+ years of CT's online archives
Member-only special issues
Subscribe
The Seminary Gender Gap
The Seminary Gender Gap