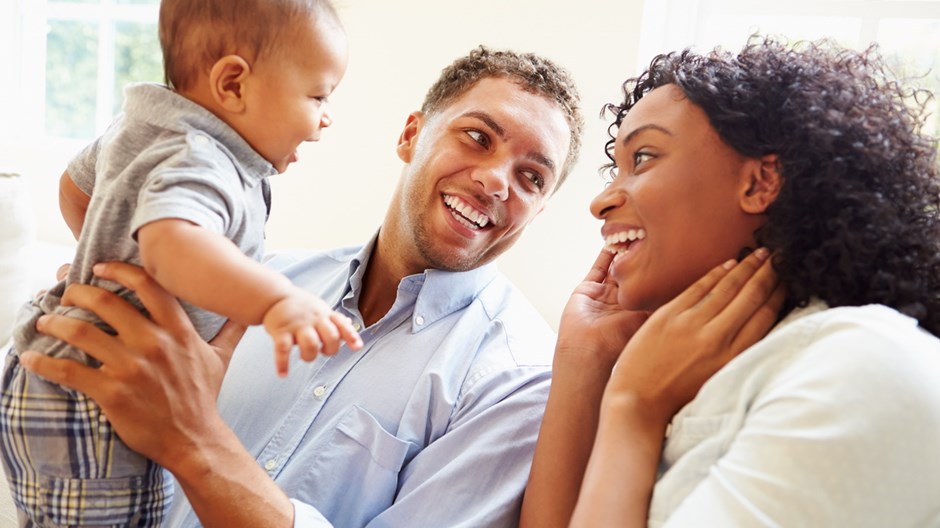 Working in ministry can be exciting, inspiring, and exhausting. So it's no surprise that in ministry's everyday details there's often one question that occupies our thoughts and, frankly, drives us to our knees: How do I make family life work in all this?
Marriage. Sermon preparation. Homework. Pastoral care. Activities. Project management. Groceries. Emails. Sleep. Housework. Emergency phone calls.
Time. To. Breathe.
When you combine the responsibilities of ministry life and family life, it seems like the perfect recipe for burnout or breakdown . . . or both.
My husband and I have two amazing daughters, ages seven and nine, and they are our ministry. We're also pastors; we've served in the inner city and in the suburbs. I have written books and sometimes speak at conferences.
During both the calm and the crazy seasons, we work hard to establish predictable patterns that cultivate a sense of security and stability.
As our life and ministry change, and as our children grow, we've had to continually explore how to make family life work well. It's been valuable to learn from friends and colleagues who've been trying to answer this question for decades with their children and grandchildren. My longtime friend Sally, mom of three and grandma of one, co-authored the book Family on Mission with her husband, Mike. In this book, they reflect on their lessons learned from 35 years of ministry:
We knew choosing between family or mission was not an option for us. But family and mission was exhausting as we tirelessly tried to keep family and our ministry in separate containers. Over the years we discovered what it means to be a family on mission, a covenant family moving as a pack with a kingdom purpose.
Family on Mission is more than a play on words. It's the pattern of family life in ministry demonstrated by the greatest leader in human history.
What did Jesus Do?
What can a single man without children teach us about how to do ministry and family life? If his name is Jesus, then everything.
The Gospels illustrate that Jesus didn't do ministry alone, but instead he built an extended family on mission that was diverse and multi-generational. This family included the 12 disciples and the women who traveled with them (Luke 8). This circle also included key households, like Lazarus, Martha, and Mary's home. Jesus led this extended family by establishing purpose and critical family patterns, and together they changed the world.
Exploring Jesus' model as a family on mission reveals three key principles that help us answer the question of how to make family life work when you're in ministry:
1. Build an extended family
The African proverb rings true: it really does take a village to raise a child. We've embraced the high value the Bible places on family, but we've forgotten the biblical context of family does not directly translate to today's nuclear family model (a more recent and largely western phenomenon) but actually refers to the extended family. We see it in Old Testament communities, in Jesus' ministry, and in the eclectic New Testament households Paul greets in his letters.
Perhaps we feel the strain of juggling family and ministry because our understanding of family is too narrow. Over the years my husband and I have learned to build our extended family because we simply aren't designed to do it all! Young adults we've discipled have become our babysitters and attended our kids' soccer games and recitals. Other moms have become sisters, sharing an extra Crock-Pot or providing a meal when strep throat has attacked our home with a vengeance. These friends have become family, and they have enriched our lives with wisdom and love, strengthened our marriage, and helped us raise our daughters.
We've embraced the high value the Bible places on family, but we've forgotten the biblical context of family does not directly translate to today's nuclear family model.
One day we asked our girls to draw our family tree. They listed their relatives, but then wrote the names of the young adults, my stay-at-home mom sisters, and our friends who are "extra" grandparents. That's our family.
But it's costly. It will cost you the ministry leader façade that you have it all together. It's hard to build an extended family and be Superwoman! My extended family has seen my messy home, my messy life, even my darkest hours. I've needed to choose to be transparent and vulnerable, and I've had to let people get close enough to look after me, bless me, serve me, and help me. Leaders aren't always good at that.
Who makes up your village, and what do you need to do to build it up?
2. Develop predictable patterns for your family
Jesus led his extended family with predictable patterns: meal times, synagogue attendance, traveling and teaching, and prayer. Jesus also led them in regular patterns of rest and retreat, even when crowds were desperate to see him. These patterns equipped his disciples to be strong in their walks with God, and subsequently the New Testament churches (households) adopted similar patterns and rhythms as they grew, shaping their identity and purpose in turbulent times (see Acts 2).
What predictable patterns shape your family? Are they the patterns you want, or are your family rhythms (and sanity) controlled by the tyranny of e-mails, calls, and meetings?
During both the calm and the crazy seasons, we work hard to establish predictable patterns that cultivate a sense of security and stability. They help us stay close to God, connected in our marriage, and present with our children. Here are some examples:
Daily patterns: At family meals we share our highs and lows from the day and say nighttime prayers.
Weekly patterns: Every Friday we have family movie night, and Daddy makes pancakes on Saturday mornings. We also work in a "day off," date nights, family chores, and cooking together.
Seasons and holidays: Depending on our budget, we take vacations or staycations, where we disconnect from all our tasks and just be.
We needed different rhythms when I traveled to speak at conferences more regularly. During the preschool years, each daughter chose a small toy to send with me on my trip. I'd take pictures of these toys in odd places and blog about their toys' "adventures" for their bedtime story. The kids loved it, and I loved being part of the bedtime routine, even from far away. Now they're older and "too cool" for that, but FaceTime dates help us connect, share highs and lows, and pray together just as we do at home.
Still, in order to say yes to healthy, predictable patterns, we need to say no to something else. Jamie Bowman—an author, speaker, pastor's wife, and mom of two—notes: "In each season I've re-evaluated where my kids were at and how much ministry fit in with our family's rhythms. Some seasons, I've needed to pull back to be there for my kids. In other seasons, they've enjoyed being involved in what I was doing."
Take a long, honest look at your family's weekly schedule, and consider these questions:
What healthy, predictable patterns do you see?
What patterns would you like to break?
What new patterns would you like to introduce, and what do you need to do to make these ideas reality?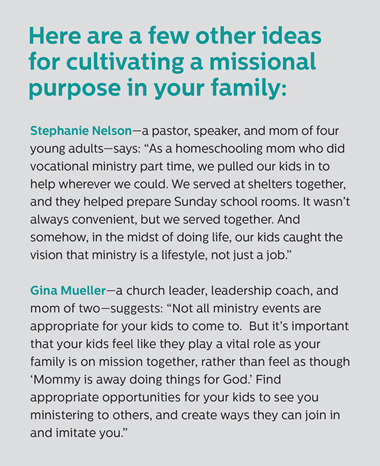 3. Cultivate your family's missional purpose
Jesus knew his purpose was to seek and save the lost. His extended family members were not passive bystanders in this mission: Jesus invited, equipped, and commissioned them to impact the world (Matthew 28:18-20, Acts 1:8).
My husband and I responded to God's call because he brings good news and he's on the move in our world! We want our kids to experience God's work in and through their own lives. As a result, they've joined in local service projects and accompanied us on missionary adventures. We have a special family meal and communion at the start of each school year where we pray for their friends and commission each other into the year ahead. As parents, we look for ways to get involved in their school so we can participate in God's mission there.
Now it's your turn. As you consider these three strategies—building an extended family, establishing predictable patterns, and living with a missional purpose—what next steps might God be calling you to take with your family?
Jo Saxton is a TCW advisor, a director in 3DM, and the author of More than Enchanting. Jo and her husband Chris have two amazing daughters. Follow her on Twitter at @josaxton.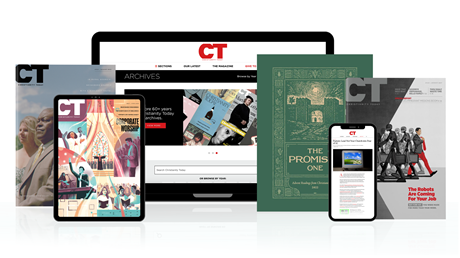 Annual & Monthly subscriptions available.
Print & Digital Issues of CT magazine
Complete access to every article on ChristianityToday.com
Unlimited access to 65+ years of CT's online archives
Member-only special issues
Subscribe
Balancing Ministry and Family
Balancing Ministry and Family