Image: Willow Creek D/CH / Flickr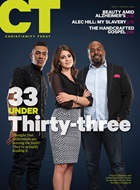 This article is from the July/August 2014 issue. Subscribers can read all of CT's digital archives.
It's time to stop saying, "the Bible says." At least that's what Andy Stanley says.
At Exponential, a church-planting conference attended by 5,000 in late spring (with another 20,000 watching via video), the senior pastor of North Point Community Church in Alpharetta, Georgia, said pastors should instead use phrases like "Paul says" and "Jesus says" when citing Scripture.
Stanley (who also made the case in his 2012 book Deep & Wide) told CT the main reason for his injunction is "to keep people who are skeptical of the Bible's authority engaged in the sermon." It's a question of evangelism, not theology, he says. "The goal is to lead [people] to the place where they acknowledge Jesus to be who he claimed to be. They don't have to believe Noah built an ark and put animals on it to get there. … To get a person to the point where they believe the Bible is authoritative, they first have to believe that Jesus is the Son of God. The reason Christians take the Old Testament seriously is because Jesus did."
But Stanley adds that the approach has "helped Christians in our congregation have a greater appreciation for the historicity of the New Testament, that these were actual people who said these things." (An edited transcript of our interview with Stanley appears today on our website.)
It's hard to know how many preachers today use "the Bible says" rather than more specific citations. But Paul Gutjahr, professor of American and religious studies at Indiana University–Bloomington, said the phrase "gained its popularity in the early 20th century with revivalists like Billy Sunday and later Billy Graham."
Grant Wacker, ...
1
Should Pastors Stop Saying, 'the Bible Says'?
Should Pastors Stop Saying, 'the Bible Says'?