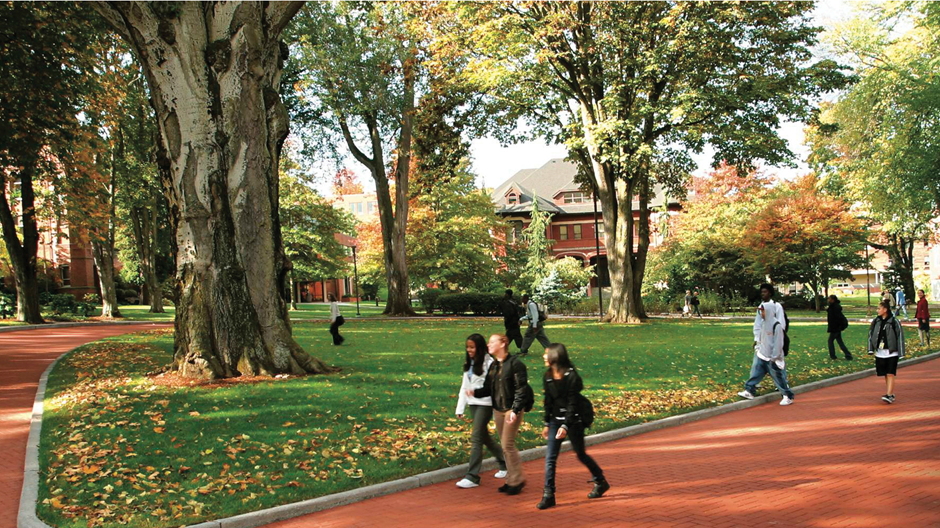 Image: Campus photo / Seattle Pacific University
A few years ago, an Orthodox professor extended an invitation from his priest to come and bless our office—the University Communications office at Seattle Pacific University. We're both an evangelical and an ecumenical university, which means all our faculty and staff share faith and unity in Christ, but we differ in the particulars of that faith. I was a little bit nervous when the priest showed up in a big beard and black robe, holding a bowl of water and a brush. He then proceeded to fling water everywhere with the brush, all over the paper and computers, while speaking words of blessing around the office. I thought, Couldn't we bless the office by bowing our heads and closing our eyes? Or at least something less messy?
I spent last Thursday afternoon on lockdown in that same office with my coworkers. We sat around our conference table in a room with no windows. We prayed, tense and silent, as we waited for news about the shooting that had happened on our campus. We texted and called family and friends to let them know we were safe. We watched and waited, as ambulances carried injured students to the hospital and helicopters hovered overhead.
In those awful moments, which I never want to live through again, the memory of the priest blessing our office was what popped into my head. I remembered the physical blessing that took place in the physical space of a basement office on a university campus. I remembered how the priest prayed for us and told us our work was sacred. I remembered his wet, physical blessing.
"Our sacred place has been desecrated," I kept thinking. "What a desecration."
I was born and have lived most of my life in college towns, and I've always thought of the university campus as a sacred place. When you step onto a campus, you step off the regular grid of city streets, designed for cars, and into spaces designed for a holy purpose: for people to study and learn. The architecture of an ancient university such as Oxford calls to mind gothic cathedrals, hearkening to sacred space and reminding us of the original purpose of universities as places for study, reflection, and prayer in the service of God. The grand spires point to heaven.
Seattle Pacific is just 123 years old compared to Oxford's 918 years. But we too hold a sacred purpose, reflected in our origins among sturdy Free Methodist pioneers. Nils Peterson, who donated his garden for the campus' land, intended the then-stump-filled acres to be "a Christian school where pupils are to be trained and educated for the work of proclaiming the Gospel of the Lord Jesus Christ in foreign countries." Today, this sacred purpose continues, as SPU grads go into Christian service in a huge variety of fields.
Over the decades, this sacredness has been honored through acts of selfless service, large and small. For instance, Otto Miller, a bespectacled fellow who spent more than 50 years working at SPU, served as physics professor, dean, and student financial officer. More than once, he reached into his own pocket to help students pay their loans. The memory of his holy service was honored in the naming of Otto Miller Hall, the academic building home to many classrooms and our math, computer science, physics, and engineering programs.
A sacred place, named after a holy man, has been desecrated, and the building is now a crime scene. A student has lost his life, and others are injured. At the same time, this place has also been blessed by selfless actions. Blessed by a student who acted without concern for his own safety to save lives. Blessed by many other students and faculty who protected their peers. Blessed by counselors offering psychological first aid. Blessed by gifts from friends and strangers. Blessed by the first responders, ambulance drivers, surgeons, nurses, and many others doing their jobs. Blessed by prayers of lament and mourning. Blessed by the studying and learning that continues as students sit for final exams.
We continue to feel the real effects of trauma. People are still having nightmares, working long hours, experiencing fear, pain, and shame. They are grieving and mourning. It is physical. It is messy. To pretend this is not happening denies the sacred work of lament that we have to do. God does not deny us this opportunity in the Scriptures. As bothWalter Brueggemann and N.T. Wright have pointed out on recent visits to our campus, we need the psalms of lament to speak our prayers just as much as we need the psalms of praise. God has graciously provided those Scriptures to speak our prayers, and "the Spirit himself intercedes for us through wordless groans" (Romans 8:26).
I hope that, sometime before the new school year begins, we can invite the priest back to our office. I'm not quite ready for it now, but do I hope that we can be blessed, and that it is a little messy. I don't even mind if the priest flings some water on my MacBook, or on my piles of magazine proofs. We will be blessed, and that will be what we need.
Hannah Faith Notess is managing editor of Seattle Pacific University's Response magazine.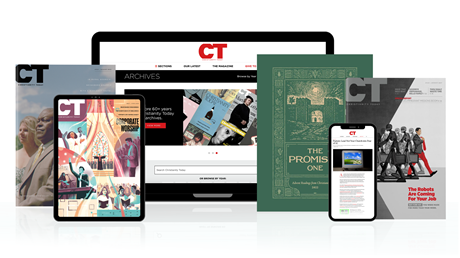 Subscribe to Christianity Today and get access to this article plus 65+ years of archives.
Home delivery of CT magazine
Complete access to articles on ChristianityToday.com
Over 120 years of magazine archives plus full access to all of CT's online archives
Subscribe Now
A Shooting on Sacred Ground
A Shooting on Sacred Ground