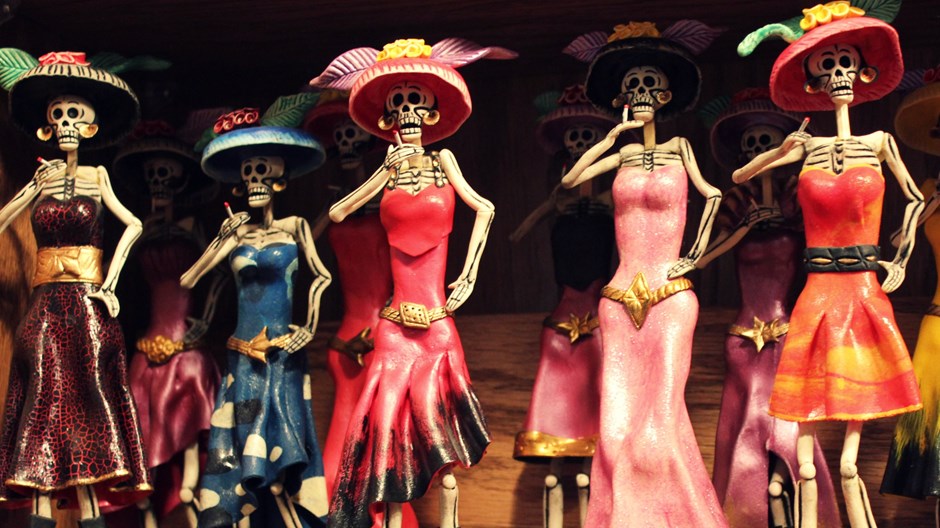 Image: Elena Foulis
A local store near my home in Ohio carries an assortment of handcrafted items for El Día de los Muertos, the Day of the Dead. There are dressed-up skeleton dolls called Catrinas, candles, and colorful paper cutouts, all traditional decorations for altars built to honor loved ones on this holiday. The owner explains that each item is made by Mexican artists, like her, who dedicate their work to the importance of this holiday.
Now, shoppers can find cheap, mass-produced versions of these items sold everywhere from World Market to Oriental Trading Company. With festivities held October 31 to November 2 each year, El Día de los Muertos has become commercialized and marketed along with Halloween. Catrinas printed on paper plates, cups and napkins—basically a fiesta kit—removes the intended meaning of the celebration.
The over-commercialization is disappointing for traditional observers, who hold on to the holiday as a sacred time of remembrance for the dead. Those of us who care about the cultural integrity of the many diverse groups who have found a home in the U.S. can mourn its over-commercialization too. (A similar thing has happened around Christmas—where retailers' emphasis on Santa, gifts, and decorations distracts from its real meaning.)
But perhaps such hybridization of Halloween and El Día de Los Muertos is not all bad. The new movie The Book of Life, which also celebrates this Mexican holiday, can be used as an example of the way Hispanic culture is being shaped by and is shaping mainstream American society.
In the U.S., El Día de los Muertos has been widely celebrated for decades in the Southwest and other areas with a large Mexican American population. But in recent years, festivities have spread across the country. Celebrations in places like Holland, Michigan, and Dayton, Ohio, point to the rapid growth of Latinos in the Midwest and their desire to continue this tradition. Though the focus of the Day of the Dead is often personal and familial—with remembrances to honor loved ones—community parades, public altars, and art pieces introduce other members of the community to this unique holiday.
El Día de los Muertos—which originated in Mexico and is also observed in other Latin American countries—people gather to re-live experiences and share memories of those no longer with us. Though it focuses on the dead, it is not morbid, but rather the kind of "celebration of life" we might hold at a contemporary funeral or on the anniversary of someone's death.
An important element of the Day of the Dead is the creation of altars. Award-winning Chicana author Sandra Cisneros built an altar for her mother that is currently on display at the Smithsonian museum in Washington DC. Altars include photos and other ofrendas, offerings of items identified with the deceased person such as favorite foods and drinks, pan de muerto (traditional pastries), and cempasuchitl (marigold flowers). In my family, we never had loved one die when I was growing up, so we never built altars. After my grandmother died, my mother began to light a candle and say a prayer in her memory on this day and the anniversary of her death.
Christians may associate El Día de los Muertos with paganism because some folklore suggests that during this holiday, the dead visit among the living—on the night of October 31, the spirits of babies and children that have died come visit; on November 2, the spirits of adults come. The holiday blends indigenous and Catholic beliefs (with its timing around All Saints Day). Although some people might still believe that communion with spirits happens, most that engage in this celebration simply use the day as an occasion to remember—akin to Memorial Day.
The holiday has also taken on carnivalesque side, mocking death. The Day of Dead employs humor, calling death la calaca (skeleton) or la flaca (skinny). Paintings and figurines depict skeletons in everyday life. Stories and cartoons how humans have cheated or defeated death. There are even witty satirical poems called Calaveras that are constructed about the living—often important and controversial political and intellectual figures—and published in newspapers. In my view, this practice is a testament to the Mexican spirit of perseverance, attitude towards life and a vibrant representation of Mexican folk-art.
The tradition of the Day of the Dead and the interest in the celebration from mainstream American culture shows that we all continue to be compelled by death and the question of what happens when we die. While demonstrated colorfully and ritually by Mexican Americans in our communities, this desire to remember our loved ones and our human longing to mock death is something that transcends culture. As Christians, we can remember the One who did beat death and secured for us a place in forever communion with the family of God.
Elena Foulis teaches Spanish and Latino Studies at The Ohio State University, loves to read and write book reviews, and is a member of Vineyard Christian Fellowship in Columbus, Ohio.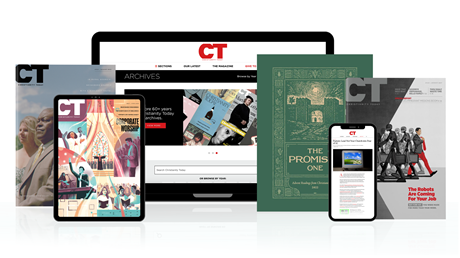 Subscribe to Christianity Today and get access to this article plus 65+ years of archives.
Home delivery of CT magazine
Complete access to articles on ChristianityToday.com
Over 120 years of magazine archives plus full access to all of CT's online archives
Subscribe Now
Day of the Dead Gets New Life
Day of the Dead Gets New Life