true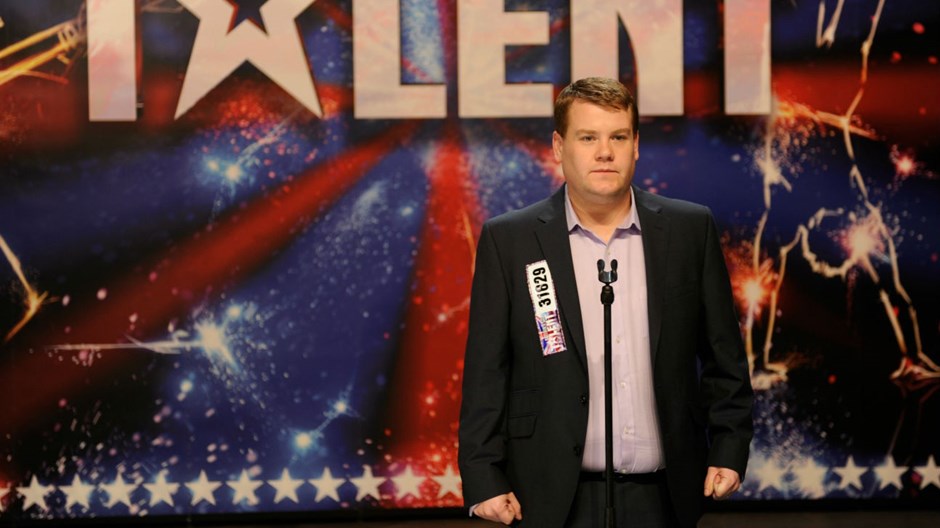 Image: Liam Daniel / The Weinstein Company
We all have our favorite lines from The Princess Bride: "Inconceivable!" "As you wish." And, of course, "Hello! My name is Inigo Montoya. You killed my father. Prepare to die!"
Much less frequently quoted is an exchange at the beginning of the movie, when Peter Falk's character comes in to read to his sick grandson. The boy, who had been playing a video game, rolls his eyes at the very idea: "A book?"
"That's right," says Grandpa. "When I was your age, television was called books. This is a special book."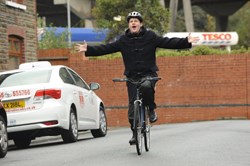 Image: Liam Daniel / The Weinstein Co.
"Has it got any sports in it?"
"Are you kidding? Fencing. Fighting. Torture. Revenge. Giants. Monsters. Chases. Escapes. True love. Miracles."
"That doesn't sound too bad. I'll try and stay awake."
The kid settles back to listen, and Grandpa begins to read aloud:
"Buttercup was raised on a small farm in the country of Florin. Her favorite pastimes were riding her horse and tormenting the farm boy who worked there. His name was Westley, but she never called him that . . .
"Isn't that a wonderful beginning?"
Yes it is. And so is the fairy tale that ensues.
I could say the same thing about One Chance, now playing in limited theaters and, until November 8, for free on Yahoo Screen (which is where I watched it).
It's a fairy tale of sorts . . . only it's a true one. One Chance is the story of Paul Potts, the shy mobile phone salesman from South Wales who in 2007 stunned the world by winning Britain's Got Talent with his exquisite operatic voice.
Like The Princess Bride, the beginning of this charming movie features a narrative voiceover—from the protagonist—that sets the scene for the magic that follows.
The film opens with Potts beaming while singing in a boys choir at the age of 9, and then being chased down the street by a gang of young thugs who regularly beat him up.
"The more they bullied me, the more I sang," says Potts, played by James Corden (Begin Again). "The more I sang, the more they bullied me. Singing. Bullying. Bullying and singing. It was a scene in the endless drama full of music and violence and romance and comedy, kind of like an opera. The opera of my life."
When it's all said and done, One Chance is a fairly typical rags-to-riches tale, and fairly cheerful from beginning to end. It's the feel-good movie of the fall so far, and one of the more delightful films I've seen all year. Directed by David Frankel (The Devil Wears Prada, Marley & Me), One Chance is the kind of dram-rom-com (part drama, part romantic comedy, all inspirational) that might have you trying to sing Puccini's "Nessun Dorna" on your way out of the theatre.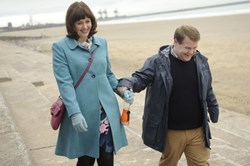 Image: Liam Daniel / The Weinstein Co.
Corden is ebullient and affable in the lead role, probably more so than the real Potts, who doesn't quite strike me as much of either. Corden honed his comic chops as co-writer and star of the BBC's award-winning sitcom Gavin & Stacey, and has been tapped by CBS to replace the retiring Craig Ferguson as host of The Late Late Show in early 2015. He has won awards for both TV and stage, and he's well suited to light, comic roles in film.
Corden owns this film, and he's the main reason it's such fun. But he's surrounded by a fantastic supporting cast: the fabulous Julie Walters (Molly Weasley in the Harry Potter films) as his supportive mum, Colm Meaney as his stern-and-not-so-supportive dad, and the enchanting Alexandra Roach as his girlfriend. Plus a shout-out to veteran Irish actor Stanley Townsend, who steals a scene—with very few words—as opera star Luciano Pavarotti.
You don't have to like opera to enjoy this gem, but you'll appreciate how One Chance conveys the way music can invade and inhabit one's being. That's clearly the case with Potts, who overflows with ecstasy every time he's singing or listening to opera. Great art does that to people; for me, it's Bach's Jesu, Joy of Man Desiring, or Michelangelo's Pietà, or the ceiling of the Sistine Chapel. Such things do more than merely bring passing pleasure; they pierce the very soul, breaking the heart and putting it back together, better than before, all at once. I have wept with joy at all three of those things, and I have a feeling that's what opera does for Potts. One Chance captures that nicely.
The film also depicts how Potts overcame multiple hardships, but only scratches the surface. One Chance shows that he was teased and bullied as a child, and that his gruff father wanted him to grow up and be a real man. Some of these scenes are played with gravitas, but many are handled lightly, even comically. That's understandable in a fable-like film that's meant to inspire, but in real life, Potts had a harrowing background. Schoolmates called him "loser" and beat him up daily on his way home from school. Potts has said the bullying started when he was 7, and continued until he was 18. Three boys once tried to throw him through a glass window; another once whipped him with a bicycle chain.
Potts told London's Daily Mail that he thought he was bullied because "I wasn't good enough in some shape or form. I remember, when I was 12, someone shouting out, 'Paul Potts is dead,' and the whole class cheering. That was very difficult . . . I'd think, 'Why me? Why does everybody pick on me?' I asked them once and they just laughed at me and said, 'It's because you're you.' That confirmed my fears. It was because of who I was . . . I didn't think I was good enough to be alive."
Away from school, things were even worse. As a member of the Sea Cadets, a youth organization under the British Royal Navy, Potts was sexually abused—for two years—by his group leader, Victor Burton-Barri. Now 77, Burton-Barri is in jail after pleading guilty to 39 charges, including indecent assault and taking obscene pictures of children.
Additionally, Potts' father, Roland, is portrayed as merely stern and gruff in the film. But in Roland Potts had a hot temper, and Paul says he incurred his father's wrath on many occasions.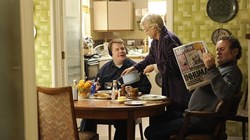 Image: Liam Daniel / The Weinstein Co.
While studying theology at Plymouth's University College of St. Mark & St. John, Potts would write a dissertation on the problem of evil and suffering in a God-created world. "My conclusion was that there was no answer," Potts told the Daily Mail. "Sometimes, you just can't blame anybody. Things happen. I look back on my childhood and wonder why people hated me so much, and I can't come up with an answer."
No wonder that when Potts made his debut on Britain's Got Talent, he introduced himself as a guy who lacked in confidence.
While One Chance steers clear of the worst parts of Potts' past, it beautifully portrays the power of encouragement from those who love him—especially his girlfriend Julz, who would later become his wife. She is the epitome of kindness and praise, which kept Potts going on days he'd rather give up. She's even the one who urged him to audition for Britain's Got Talent, which got this whole party started. Paul also gets his share of pep talks from his boss at work, played by a hilarious Mackenzie Crook, who delivers the funniest line of the film. Hint: It begins with the words, "Screw Pavarotti." Wait for it.
The real Paul Potts actually provided the singing parts One Chance, but Corden's lip-synching is spot on all the way through . . . including the finale, when he stands on stage in front of those three judges in BTG. It's fun to watch the editing here, as the film cuts from Corden playing Potts to actual footage of judges Simon Cowell, Amanda Holden, and Piers Morgan. (That actual footage, by the way, comes from one of the most-watched videos in YouTube history, with over 128 million page views.)
The verdict? Well, if you've seen that video, you know how it turns out. And isn't that a wonderful ending?
Caveat Spectator
One Chance is rated PG-13 for some language and sexual material, but it's a very soft PG-13 that might well have gotten a PG rating. There is very little bad language, and the "sexual material" is barely worth mentioning; Potts and his wife engage in some playful banter on their wedding night, and she strips down to relatively modest lingerie. There are also a few scenes of mild violence and injuries.
Mark Moring is a CT Editor at Large and a writer at Grizzard Communications in Atlanta.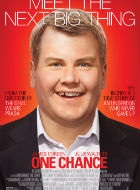 Browse All Movie Reviews By: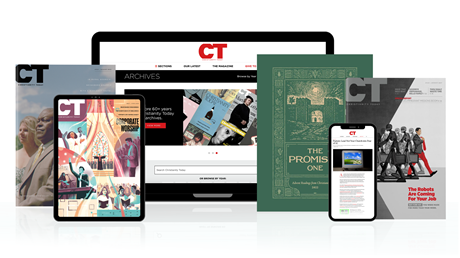 Subscribe to Christianity Today and get access to this article plus 65+ years of archives.
Home delivery of CT magazine
Complete access to articles on ChristianityToday.com
Over 120 years of magazine archives plus full access to all of CT's online archives
Subscribe Now
One Chance
One Chance