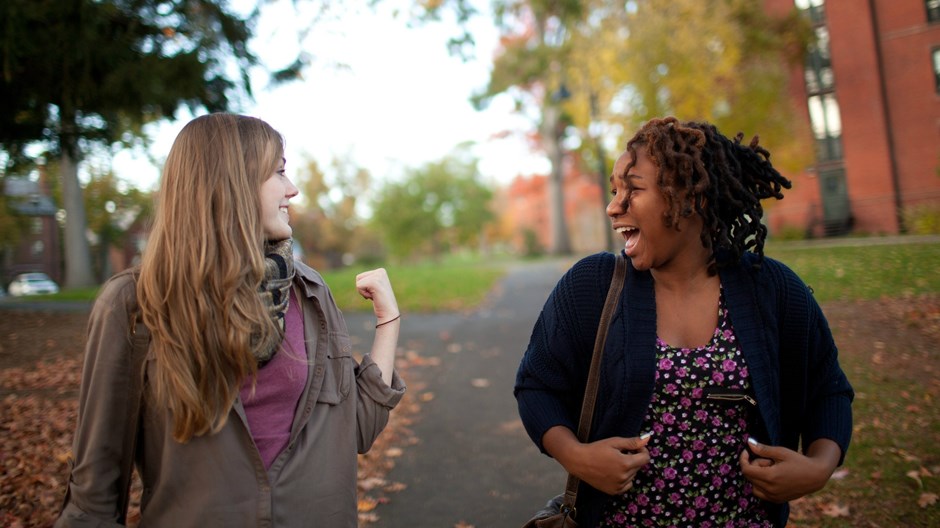 Image: masstravel / Flickr
Every fall an extraordinarily stressful ritual takes place in colleges across the country. Eighteen-year-olds embark on a journey of leaving the watchful eyes of parents, to move into a building with hundreds of strangers. Some travel blocks while others cross the country or even an ocean. No matter the distance, all have volunteered to leave their homes, their nests, their tribe. It's exhilarating to be so free, but also terrifying.
With that terror comes a natural inclination to recreate home, to surround oneself with people that are familiar, perhaps friends from high school or folks from summer camp. In the overwhelming chaos that is the first week of school, it's not uncommon to shut oneself off to newness.
But in many schools, there is another ritual working against the desire to make all things familiar—the randomly selected roommate—one of the only times in our lives where we are forced to live with someone potentially entirely unlike us. Talk about scary.
I am a member of the random roommate club. During my freshman year, I remember my roommate made a surprising confession. "I was really upset when I found out I had a black roommate," she told me. "I am biracial, black and white, but as a child my black family members basically disowned my brother and me because we were not fully black. So my experience of other African Americans has not been the best. When I first saw you, I just knew I'd be repeating a long history of rejection, and I was really mad about it."
Though we both laugh at this story now, the truth is she was not alone in feeling uneasy. Before I met her, I was nervous about the high probability of having a white roommate. Would she would laugh when I put my headscarf on at night? Would she think I was dirty because I don't wash my hair everyday? Would her friends fill our space with insensitive questions and racially charged jokes? Would our room reflect disconnection, with Calvin Klein posters on her side and a black power fist on mine?
We did what 18-year-olds do: we avoided it for the first semester. Rarely finding ourselves in our room at the same time, it turned out we were quite capable of remaining kind and respectful by sticking to our own group of friends and generally not mean to each other. It was fine, but it was also shallow.
According to social psychologist Christena Cleveland, our reaction was not unusual. In her book, Disunity in Christ, she writes, "Cultural isolation is natural and comforting; we tend to cling to like-minded group members and keep others at bay." This was happening even in a 13.5-square-foot dorm room.
And then something extraordinary happened. We met. I mean really met. There was the introduction that happened at the beginning of the year in the holy mess of move-in day. There was the exchange of niceties when passing in the hallway. There was a quick, "How was your day?" before burying back in homework. It took almost an entire semester for us to stop self-protecting and risk displaying our true selves.
Turns out there was much for us to bond over—musicals and romantic comedies, cheesecake and chocolate, gospel music and books. We continued to move deeper. A boy broke my heart. She was worried about her brother. Someone called me a nigger. Classmates played guessing games abut her race. Our daily wounds had a place to sit between us. We determined to hold them together. Though our racial realities differed, our ability to whisper these experiences to one another often became our lifeline to God.
If it wasn't for the random roommate selection, we never would have found one another. There is no question, we each would have opted for familiarity; we would have chosen anything that felt like home. Yet, more than ten years later, our emails often begin affectionately with, "Hi Roomie" because the ways we were stretched and the ways we were healed by our relationship continue to reverberate in our lives.
Just weeks ago, I watched freshman fill a Calvin College dormitory, now members of the random roommate club. They, too, have been introduced to one another, but are working on truly meeting each other. Over the next year, they will learn to navigate differences and make compromises. They will have a deeper appreciation for another's language and cultural norms.
Those most open to the experience will commit to sustained conversations until the uncomfortable becomes familiar. They will redefine what it means to come "home" to their shared space. They will embrace the newness, stretch into the unknown, challenge their sense of normal. They may not become best friends, but they will certainly leave one another as more mature adults, ready to engage an increasingly diverse world. And after all, isn't that what college is all about?
Austin is a resident director and multicultural liaison at Calvin College. She writes regularly about racial reconciliation on her personal blog austinchanning.com. Follow her on Twitter @austinchanning.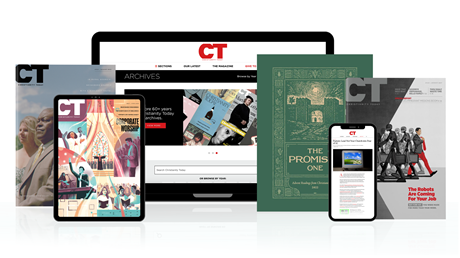 Annual & Monthly subscriptions available.
Print & Digital Issues of CT magazine
Complete access to every article on ChristianityToday.com
Unlimited access to 65+ years of CT's online archives
Member-only special issues
Subscribe
Diversity in the Dorm Room
Diversity in the Dorm Room