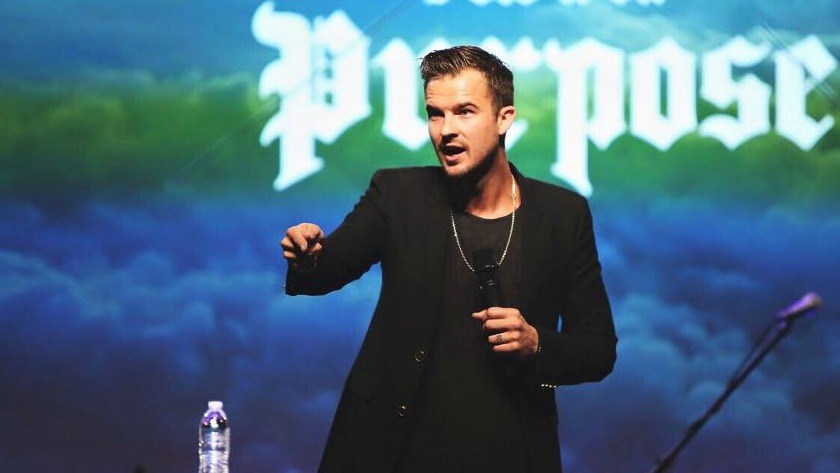 Image: Vous Church
People magazine and E! Network dubbed 31-year-old Rich Wilkerson Jr. a "hipster celebrity pastor," after he officiated hip-hop artist Kanye West and Kim Kardashian's wedding last year.
Since then, the fourth-generation Pentecostal preacher has planted a church, filmed a reality series, released a devotional book, and spoken at the Hillsong and Catalyst conferences, all while continuing to pop up on entertainment news sites. (I'm willing to bet he's the only guy to ever take Instagram photos with Pat Robertson and Justin Bieber in the same week.)
And that "celebrity pastor" label? It isn't going away.
"I didn't pick that title. If that's the title that the world wants to put on me, then that's what they're going to give me," said Wilkerson, son of Trinity Church Miami pastor Rich Wilkerson and cousin of the late evangelist David Wilkerson. "I don't see myself that way. I see myself as a person who's trying to build a church."
Wilkerson led Trinity's youth ministry, Rendezvous, up until he launched his own congregation, Vous Church, in Miami, Florida, this fall. Vous attracts hundreds of attendees in the artsy Wynwood neighborhood and baptized 72 new believers last month.
Like fellow millennial pastors Judah Smith of City Church Seattle and Carl Lentz of Hillsong New York, Wilkerson carries more cultural cachet than most evangelical pastors in urban centers. His social media feeds blend inspiration, humor, and interaction—especially on the popular video-sharing app Snapchat.
In his pics and short videos, followers spot Hollywood friends and a hip style: hair combed into a pomp, knees poking out of frayed skinny jeans, and a black W.W.J.D. bracelet around his wrist—thus making the Christian trinket from the late 1990s seem cool again.
When fellow Christians see these pastors make mainstream headlines for their famous attendees or the Sunday fashion posted on social channels, questions arise over whether they are taking the whole "cool pastor" thing too far, letting celebrity culture come into the church. American evangelicals remember the scandals involving televangelists like Jim Bakker and Jimmy Swaggart and worry about selfish motivations when a pastor's platform grows toward mainstream fame.
"We've seen how quickly a public preacher can fall, bringing disdain upon Jesus with him," said Craig Detweiler, creative director at the Institute for Entertainment, Media, and Culture at Pepperdine University. "There is bound to be some wariness anytime our prayers move from secret places, behind closed doors (per Jesus' teaching) into primetime, TV stages, and Twitter feeds instead."
Should an evangelical pastor really be Snapchatting with Justin Bieber and Selena Gomez? Or keeping up with the Kardashians? It's hard to be affiliated with those names—so popular they're hated—and avoid the backlash. Wilkerson has heard all sorts of criticism over his Hollywood connections and his own motivations. But, he insists, "There's not a strategy or a network. It's just, 'Let's befriend people,'" said Wilkerson. "The goal is to be like Jesus, and I think Jesus would show love and grace to anybody in his path."
The tension over pastors and celebrity relates back to seemingly oppositional ideas within the role itself. Being a pastor requires both lowliness, humility, and sacrifice (John 21), but also strong leadership that will gather people around them as they follow Christ, said Mike Cosper, pastor of worship and arts at Sojourn Community Church. In the 21st century, the pressure for charisma and appeal—prerequisites for cultural "relevance" and contextualization—extends into the local church.
"To be a leader in culture today period, you kind of have to fit the mold, to be winsome in certain ways, to dress well," said Cosper, author of a book on seeing God's story reflected in entertainment. "Rich Wilkerson is a great example of it, because that's one handsome dude." (Many say Wilkerson resembles actor Leonardo DiCaprio.)
But the kind of savvy that draws in young followers can come off as presumptuous. Laura Turner, a Religion News Service blogger, wrote about Wilkerson's particular brand of "cool":
What seems to be a preoccupation with image … can lead to a kind of tribalism within the church (wherein whether you wear skinny jeans determines what church you attend) and, on a deeper level, can turn people away from God by obscuring God's mystery in favor of something a little too slick to hold onto.
A few months ago, Wilkerson posted a throwback photo depicting an earlier preacher-celebrity friendship: Billy Graham and Johnny Cash. Many Christians appreciated the unlikely pair's friendship; Graham was not seen as grasping at Cash's long black coattails but sincerely offering the singer friendship and encouragement in faith. No matter how many awards won or records sold, all people still need that spiritual direction.
Wilkerson met his own Johnny Cash, Kanye West, a few years ago when the rapper showed up one Sunday at Trinity. Wasn't he surprised to see one of the top hip-hop artists in the country stroll into their Assemblies of God church? Actually, not at all, Wilkerson said, disappointed at the thought that a celebrity in church is somehow newsworthy. "We treat famous people not like real people," he said. "We talk about them as if they're just spectacles."
Especially in the era of nonstop Internet news, the tendency to commodify celebrities has grown, including within Christian circles. Radio host and Christian Post blogger Todd Friel wrote, "Big celebrity or minor celebrity; it makes no difference to us. If an extra from a 1992 episode of Golden Girls hints she is now a Christian, we fire up the presses and spread the news, 'She's one of us!' "
Many evangelical fans, Friel said, will rave about a profession of faith, only to judge or criticize a celeb once they do or say something that doesn't meet their Christian standards. Wilkerson resists and rejects that mentality.
Regarding how he disciples people in Hollywood, he said, "I'm not going to be the person on the sidelines going, 'You haven't changed quick enough' or, 'You don't do it right,'" citing Mark 2, where Jesus addresses inward, spiritual issues before outward, physical ones. "I'm going to be the person that's going, 'Come on, let me remind you how much Jesus loves you and what he's done for you.'"
The young preacher says he texts, talks, and hangs with A-listers not as their pastor (he wouldn't apply that title to himself, especially since most don't belong to his church), but as a supportive friend willing to share the gospel with them.
Growing up in a family of preachers—including his cousin David, who also reached out to youth in an urban context (as told in his best-selling book, The Cross and the Switchblade)—Wilkerson knows the pressures of living under public scrutiny. This background may make him particularly well suited to minister to "celebrities who are struggling to live out their faith in extraordinary circumstances," said Detweiler.
"I am grateful for any pastor who can create a private refuge for those who personal dramas are almost always made public," he said. "It is a very unique, very necessary niche ministry."
Kanye designed the cover of Wilkerson's first book, Sandcastle Kings, and some of the Kardashians joined him in celebrating its release last month through Christian publisher Thomas Nelson. The Miami pastor recently appeared with his wife, DawnCheré, on the Today show and the Steve Harvey show, posting online updates along the way.
"Social media has implied that everything has to be leveraged for an audience," said Cosper, referencing the popular mantra: Pics or it didn't happen. Wilkerson's run-ins with celebrities regularly appear in his posts. "If they're more than photo ops, then more power to him."
Now, Wilkerson and his wife, also a pastor at Vous, will get their own taste of the reality TV spotlight that his Hollywood friends know all too well. Rich in Faith premieres tonight (Wednesday, Dec. 9) on Oxygen, the same network that aired Preachers of L.A. in 2013.
As a teen in South Florida, Wilkerson was best friends with Jason Kennedy, who later became an anchor for E! With longtime E! host Giuliana Rancic, they envisioned a reality show about Wilkerson's family and the launch of Vous, which holds morning and evening services each Sunday at a middle school, transformed with sets and lights to feel like a contemporary megachurch.
"Reality TV is a language of our culture, and you can either run, or you can take a step to bring lightness in darkness," said Wilkerson, who admitted his wife considers herself a private person, so she was initially nervous about inviting camera crews to film their lives. Eventually, though, "we felt a peace about it. We felt like God spoke for us to do it, and so we'll see."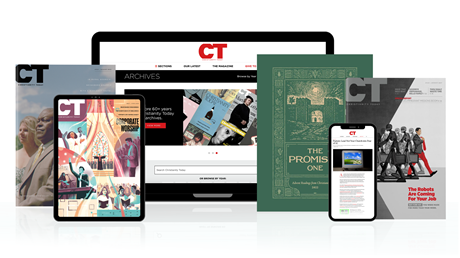 Annual & Monthly subscriptions available.
Print & Digital Issues of CT magazine
Complete access to every article on ChristianityToday.com
Unlimited access to 65+ years of CT's online archives
Member-only special issues
Subscribe
Read These Next
Trending

American Christians Should Stand with Israel under Attack

While we pray for peace, we need moral clarity about this war.

From the Magazine

I Studied Christianity with the Hope of Debunking It

A decade later, I became a Christian.

Editor's Pick

Don't Miss These African Christmas Hits

Jam out this season to highlife, Afrobeats, jazz, a cappella, R & B, rap, dance, and hip-hop artists from Nigeria, South Africa, and more.
Don't Call Him Kanye's Pastor
Don't Call Him Kanye's Pastor