true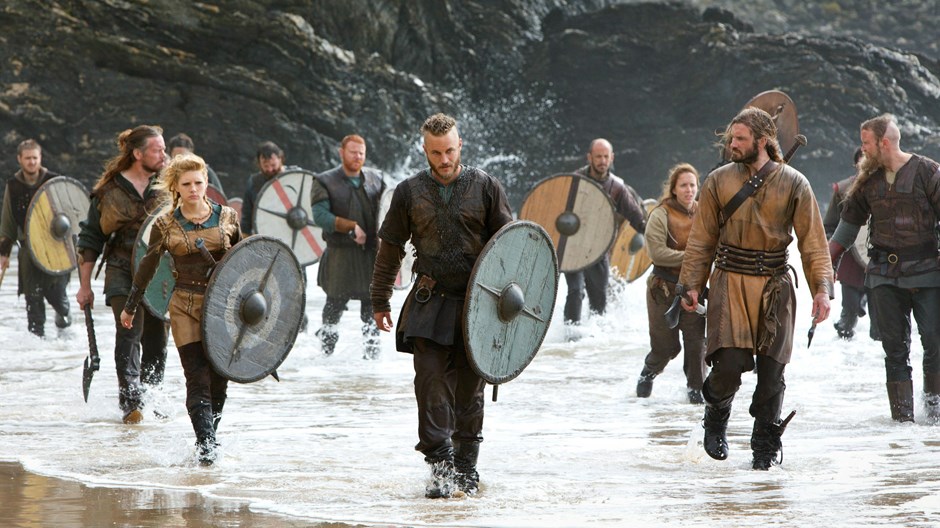 Image: The History Channel
Imagine a creepy, pale-faced pagan Nordic priest, a "seer," deciding that a captured Catholic monk is unsuitable as a sacrifice to Odin in the woods near Uppsala, Sweden. Though the monk denied Christ three times, the seer sees him clutching a cross under his sleeve and thinks he doesn't understand the meaning of his sacrifice. Instead, a strong Viking warrior named Leif, volunteers to die "for all the humans of Midgard, and for my friends."
The scene in the first season of the History Channel's Vikings series leaves the monk, Athelstan, near tears as Leif lays down on a bloody altar and awaits his execution by blade. This is the imagined realm of period piece genius Michael Hirst (The Tudors, The Borgias,Elizabeth) that made Vikings the most-watched new cable series in its first season and brought it several Emmy nominations. It's continued to draw an audience of nearly 4 million viewers each episode. The hit show's third season starts tomorrow (Thursday, February 19).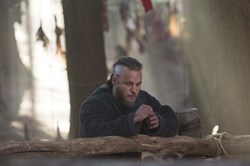 Image: The History Channel
We know the early Vikings of Scandinavia converted from their violent ways, dropped their Nordic myths, and eventually turned toward Christ roughly a millennium ago. And this TV series wades into the pre-Christian era of the Vikings, igniting debate among both religious and medieval scholars. While Hirst's depictions do not match up perfectly with written history, many viewers still appreciate the territory he navigates in the series.
The drama is loosely based (or largely imagined) on the life of an actual Nordic farmer turned explorer named Ragnar Lothbrok (or Ragnarr Loðbrók in old Norse) and is partly a study in leadership as Lothbrok gains power and must maneuver carefully to keep it. Battles between Vikings within Scandinavia and against Englishman fill the show with video game-style ax-fighting, bloody battles and gory torture scenes. But plot twists, serviceable acting, decent dialogue and impressive cinematography layer more artistic complexity into the show.
Americans—especially the coveted entertainment demographic of young males—are drawn to the period brutality of Vikings the same way they are drawn to the early European violence of Game of Thrones and epic fantasy in film adaptations of philologist J.R.R. Tolkien's classic literary works, The Hobbit and The Lord of The Rings trilogy. And The History Channel has spent millions (its most expensive show) to create the ornate costumes, 56-foot long Viking ships and landscapes from a post-Iron Age on set in Ireland.
Some medieval and Viking-era scholars quibble about key words, details, and facts about the Vikings marauding into England, which featured early raids on monasteries and sets the Norse mythology into conflict with Christian theology. Some Christian scholars are incensed that some Christians portrayed in the series appear cowardly in the face of the violent pagans.
"Vikings, unless its framing changes appreciably—and soon—serves a subtle exhibit of today's fashionable and untiringly noxious drumbeat: Christianity has been a regrettable and embarrassing stain on human development," writes Steve Pauwels on ClashDaily.com.
Frankly, I disagree and think Pauwels is watching the show too narrowly. In my view, the show portrays—among other things—the civilizing and inhumane practices of both the Norse men and the early English. We haven't seen how it will depict the transformational influence that Christianity had on Scandinavia.
Much of the debate centers on the character of the monk named Athelstan (played by George Blagden), whom the main Viking leader, Ragnar Lodbrok (played by Travis Fimmel), takes captive in the first season from a monastery in Northumbria. Athelstan adapts outwardly to the pagan culture of his captors (a Stockholm Syndrome of sorts) but shows a deep tension of heart and soul throughout the first two seasons as he becomes part of Ragnar's family—he acts as a translator, warrior in training, and an armchair sociologist who observes the Vikings with a mix of wonder, fear, and witness.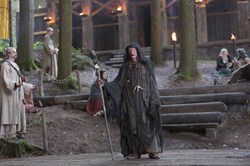 Image: The History Channel
Athelstan proves loyal and Ragnar treats him as an advisor rather than a slave. Ragnar shows some openness to religion and Athelstan helps him question the orthodoxy of the North men and their gods. Athelstan learns to fight with the Vikings, even killing other monks during a raid. But the show depicts Athelstan yearning for the Scriptures, sharing his faith with his captors when asked (sometimes in the face of ridicule and physical abuse), and even being crucified on a cross back in England (before being rescued) as his former countrymen accuse him of being a traitor.
"It seems that Athelstan's crucifixion was simply designed to paint Christians as cruel hypocrites, merciless crucifiers themselves," writes P.J. Gladnick on Newsbusters.
In an interview with TV Guide about the crucifixion scene, Blagden said his character was praying in Latin while on the cross, "which is quite a revealing thing about this man. He's been living in this Viking community for several years and clearly bluffing to all his friends around him, Ragnar and the Viking community, that he is really part of their society and believes in their gods. And when he's put to test on the cross, he's praying in Latin to a Christian God." Blagden acknowledges that other scenes in later episodes show his character "explains his conflicted mind. [It explains] how Athelstan survived in this purgatory type world between two religions."
In the final episode of last season, entitled "The Lord's Prayer," Athelstan teaches the Viking leader Ragnar the Lord's Prayer before a battle royale of subterfuge and backstabbing takes place and leaves Ragnar atop the pile of Viking chieftans, a King. The implication is that Ragnar benefits (or at least doesn't suffer) by showing openness to the Christian God, violating Viking norms and challenging the Norse orthodoxy.
Scholarly works on the Vikings indicate that Ragnarr Loðbrók (also known as "Ragnar Hairy Breeches") was, indeed, a Viking legend described in Old Norse sagas but difficult to pinpoint historically. An Anglo-Saxon Chronicle says he fathered many sons including Inwaer (Ivar the Boneless), Halfdan Ragnarsson, and Hubba (Ubbe). These sons became Viking leaders and avenged his death by leading "a big heathen host, or horde" of up to 1,000 Norse invaders in 865 according to A History Of The Vikings by Gwyn Jones. The 12th-century Icelandic poem Krákumál describes Ragnar's marriage to a daughter of Sigurd (Siegfried) and Brynhild (Brunhild), Germanic legends.
Some scholars quibble with costume details (example: tattoos on Ragnar's brother, Rollo, look too modern). Lars Walker, writing in The American Spectator in 2013, grumbles that names in the series are not always authentic. Vikings, he writes, wouldn't use words like "British Isles." He also thinks Viking tribal self-governance was less barbaric and more enlightened than the show depicts.
"It is not a conference paper or journal article and let's face it, if it were no one would watch. This is where the television series can be beneficial to us as academics," writes Central Michigan University scholar Monty Dobson on LiveScience.com. "Dramatizations like Vikings can spark people's curiosity and move them to learn more about the subject. We just have to be willing to embrace their curiosity." He writes that the series is sparking more research in Viking archeology. For example, some researchers are studying the compass-like Sunstone device depicted in the show as a key to Viking sea exploration.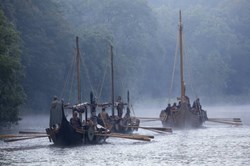 Image: The History Channel
Certainly, we know that England was nearly completely overtaken by Scandinavian Vikings except for the resistance of one region called Wessex. That thread in the series, while out of sync with historical timelines, is portrayed strongly. We also know that around 1000 A.D.—perhaps after years of interacting with and capturing monks and women from Christian lands—the men and women of the North in Norway, Iceland, and the rest of Scandinavia converted to Christianity and, centuries later, made Lutheranism the state denomination.
It was the resistance of Alfred the Great of Wessex who inspired Hirst to produce the series in the first place. He also wanted to show the drama from the vantage point of the Vikings. "I wanted to tell the story from the Vikings' point of view, because their history was written by Christian monks, basically, whose job it was to exaggerate their violence," Hirst told The New York Times in 2013.
Others, such as DePauw University English professor Harry Brow,n argue that the series downplays the violence of the Vikings as recorded by the Arabic writer Ibn Fadlan, a 10th century envoy from the Abbasid Caliphate who was captured by the Vikings. Fadlan kept a journal that was the basis for the Hollywood film The 13th Warrior. The film shows a Viking slave girl sacrificing herself to join her recently deceased lord. In the written account, the slave girl wavers in her voluntary sacrifice and a group of six Vikings gang rape her, before two men strangle her with a cord, stab her in the chest with a dagger and send her to Valhalla. The 13th Warrior film, of course, leaves out these scenes. Brown notes other instances where written accounts show the Vikings were more brutal than even Hollywood can depict.
"By muting the most dissonant notes of paganism with shadings of Christianity, The 13th Warrior, Vikings, and Valhalla Rising avoid putting the viewer in the position of having to make an ethical judgment against paganism or the past, easing our commercial consumption of Vikings with a kind of moral suasion," Brown writes in Studies in Medievalism XXIII. "The films let us gawk at pre-Christian beliefs without challenging us to face them on their own terms, or not to understand the long historical process of conflict and reconciliation between Christianity and paganism."
What will be interesting in coming seasons is the accuracy and imagination of the directors as they portray the ongoing interaction between the early European Christians and the Vikings who hope to establish permanent settlements in England and are learning to question their own gods and consider norms of government, family life, and religion. Certainly, medieval scholars will continue to quibble about details when the imagined series strays from historical fact. But will some Christians crow about the depiction of Christian faith or grow intrigued by the slow spiritual transformation of the Vikings?
In the first season's eight episode, I listened to the unnerving music and watched, appalled, with Athelstan as the stout warrior, Leif, is slaughtered and hung upside down like a slab of beef, letting the blood drain from his body. The weight of his misguided sacrifice—based in loyalty to pagan theology—was gripping in its futility. It was chilling in its parallel to another sacrifice that only Athelstan knew was not just a loss, a waste, a story of death to death.
Paul Glader is an associate professor and Director of the McCandlish Phillips Journalism Institute at The King's College in New York City. He is also a Swedish American. Find him on Twitter @PaulGlader.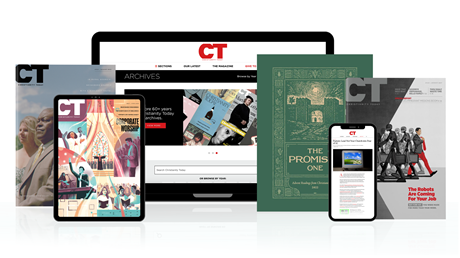 Subscribe to Christianity Today and get access to this article plus 65+ years of archives.
Home delivery of CT magazine
Complete access to articles on ChristianityToday.com
Over 120 years of magazine archives plus full access to all of CT's online archives
Subscribe Now
Pagan Trash Or Provocative Treasure?
Pagan Trash Or Provocative Treasure?