true
Trending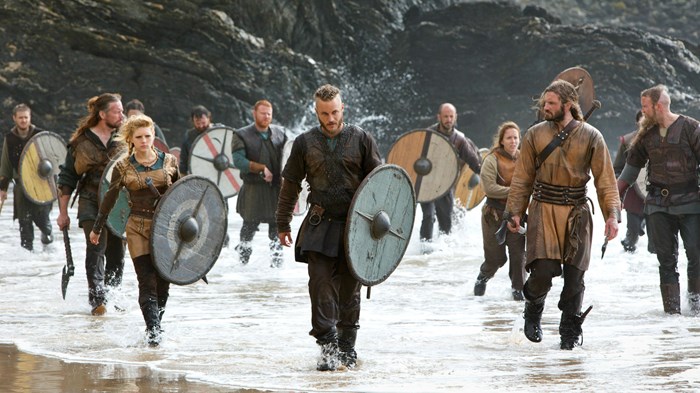 Image: The History Channel
Imagine a creepy, pale-faced pagan Nordic priest, a "seer," deciding that a captured Catholic monk is unsuitable as a sacrifice to Odin in the woods near Uppsala, Sweden. Though the monk denied Christ three times, the seer sees him clutching a cross under his sleeve and thinks he doesn't understand the meaning of his sacrifice. Instead, a strong Viking warrior named Leif, volunteers to die "for all the humans of Midgard, and for my friends."
The scene in the first season of the History Channel's Vikings series leaves the monk, Athelstan, near tears as Leif lays down on a bloody altar and awaits his execution by blade. This is the imagined realm of period piece genius Michael Hirst (The Tudors, The Borgias,Elizabeth) that made Vikings the most-watched new cable series in its first season and brought it several Emmy nominations. It's continued to draw an audience of nearly 4 million viewers each episode. The hit show's third season starts tomorrow (Thursday, February 19).
We know the early Vikings of Scandinavia converted from their violent ways, dropped their Nordic myths, and eventually turned toward Christ roughly a millennium ago. And this TV series wades into the pre-Christian era of the Vikings, igniting debate among both religious and medieval scholars. While Hirst's depictions do not match up perfectly with written history, many viewers still appreciate the territory he navigates in the series.
The drama is loosely based (or largely imagined) on the life of an actual Nordic farmer turned explorer named Ragnar Lothbrok (or Ragnarr Loðbrók in old Norse) and is partly a study in leadership as Lothbrok gains power and must maneuver carefully to keep ...
1