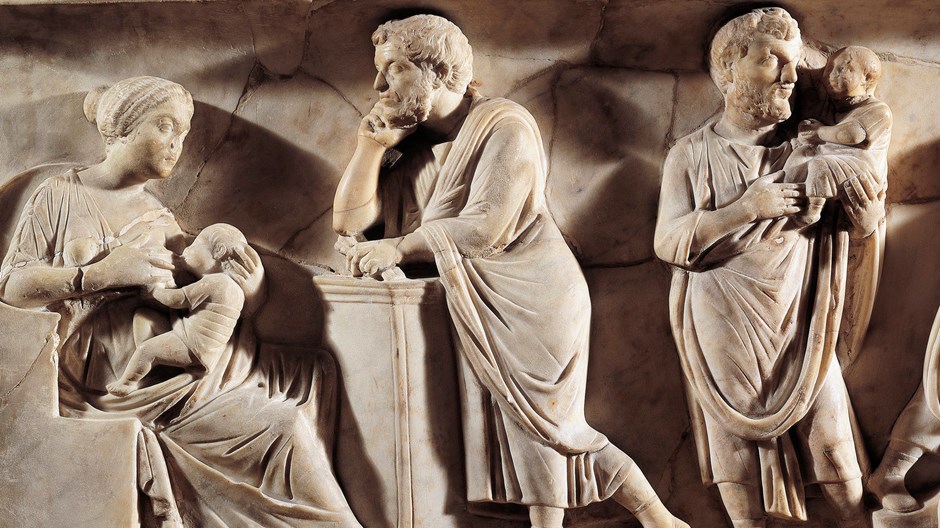 Image: Dea G. Dagliorti / Getty Images
Shortly after she prayed the sinner's prayer as a child, my sister required an ultrasound of her heart. As she watched the hospital technician perform his work, she began to realize that the ultrasound enabled this fellow to see inside her. She promptly asked my mother, "Will he see Jesus?"
I have always enjoyed that story, but I fear many of us think of our relationship with God solely in terms of who dwells in our heart. We haven't matured. We could refer to our continual dependence on God's grace, our union with Christ, or our life in the Spirit, yet content ourselves with less. Our understanding of the divine-human relationship is often monochromatic when it's meant to be technicolor. And perhaps one reason is we lack a robust understanding of what it means to call God "Father."
In Scripture, fatherhood evokes two key concepts: affection and authority. Some theologians, however, think referring to the Almighty as a Father favors men over—or even oppresses—women. Others voice difficulties with calling God Father because their earthly fathers were immoral or absent. How, then, can a Father God be good or beautiful?
One step forward in beginning to grasp the goodness of a divine Father is to study what fathers were like in the Roman Empire, a key context in which the New Testament writers lived. It is there that we can see how "our Father who art in heaven" is not meant to belittle women or confuse orphans, but relate to us as a loving parent who bids his children to come home.
Fathers of Rome
The failure of Roman fathers to achieve the first ideal of fatherhood—affection—is seen time and again in history. Fathers spent very little time with their children, choosing instead to hand them off to their wives and household slaves. This may have been prompted by the rampant sexual infidelity among married men in the Roman Empire. According to historian Judith Grubbs, a married Roman man's sexual activities with slaves and prostitutes were not considered adulterous, so he was free to visit these women as he pleased. Divorce was equally easy since marriage was based purely on consent and had no legal grounding—unlike Western society today.
Perhaps the most shocking example of a father's lack of affection in ancient Rome was the practice of infanticide. The impoverished classes of the Empire regularly disposed infants to prevent financial collapse, and female babies were specifically targeted because they were viewed as inferior to males. In a famous Roman letter from the first century BC, a husband named Hilarion wrote to his wife: "[When] you give birth, if it is a boy, let it live; if it is a girl, get rid of it."
Roman fathers do not fare much better with the second ideal of fatherhood—authority. While the Romans frowned upon beating children, they thought it was fit for the head of the household to beat his slaves. Not only abusive, Roman fathers were power hogs. Historian Richard Saller describes this well:
The early Roman father owned all property in his family; his children … were unable to own anything in their own name as long as the father lived. A 45-year-old senator could hold the highest office of the state … but if his father was still alive he couldn't own a denarius' worth of property. The father also had the power to make or break his children's marriages. In early times, fathers ruled their households.
Both the affection and authority of Roman fathers were flawed. This divided homes, broke marriages, and fractured social life.
Father in Heaven
To people longing for a loving father, Jesus and his followers taught about the grace of God the Father. The New Testament authors portray God the Father as radically unlike Roman fathers.
While Roman fathers disenfranchised their children, God the Father made his kids "co-heirs with Christ" (Rom. 8:17). Earthly fathers beat their slaves, but our heavenly Father makes them full members of his household (Gal. 3:28). Roman men were unfaithful to their wives, but God remains faithful (1 Thess. 5:24). Husbands abdicate their responsibility to raise their children, but God never leaves our side (Heb. 13:5). Roman fathers left their children to die, but God sent his Son Jesus to die because he didn't want anyone to perish (2 Pet. 3:9).
To be fair, the Romans did believe the family was important to society. Emperor Augustus (27 BC–14 AD) encouraged marriage and childbearing, and he required widowed women to be remarried within a certain time frame.
Jewish families within the Empire held higher standards for the family, and by and large opposed divorce, sexual sin, and infanticide. Many Jews condemned immorality and idolatry in Roman society. The allure of power and new sexual experiences was minimal, for God created the first family—a monogamy between Adam and Eve—and called it "good." Yet sexual failures of leaders like David reminded Jews of their need for their ever holy and faithful heavenly Father. And as the early church grew largely through Gentile converts in the Empire, God the Father would have been to them a revolutionary yet fresh notion of fatherhood.
The thin veneer of Roman family ethics is illustrated by the Roman emperor Gaius (12–41 AD), who once said that he would be "more than a guardian, a tutor and teacher" of Tiberius Gemellus, his adopted son. "I will appoint myself to be his father and him to be my son." But these promises were never taken to heart. Gaius eventually murdered Tiberius.
The episode between Gaius and Tiberius illustrates one of the greatest problems with Roman fatherhood: the Romans had high ideals, but they lacked commitment. Conversely, Christianity emphasizes transformative grace before rules. God the Father keeps all of his promises through Jesus Christ. As the apostle Paul said, "For no matter how many promises God has made, they are 'Yes' in Christ" (2 Cor. 1:20). Unlike earthly fathers, God the Father is always reliable. We can depend on him in times of trouble. We can delight in his love without fearing that he might someday turn against us.
Of course, we should remember that we are just as unworthy of God the Father as the Romans were. We were once enemies of God, but by faith in Christ we call God our Father (Col. 1:21–22). When we proclaim God as our Father, we say something profound not just about who he is and what our relationship to him is like, but also about the glory of the gospel. Father is a simple word, yet it has incredible power and meaning. It assumes the redemptive plan of God, the dramatic reversal of a rebel becoming a child, God's child. And so we call him God the Father. He is loving, gracious, faithful, and just—to name only a few facets of his character.
God the Father subverts patriarchy. It is precisely because God is a loving Father that male superiority in the church and home should fall flat on its face. And if we throw out language of fatherhood in describing God, we actually lose a leadership model that prevents abuse. Far from a mere analogy, the fatherhood of God represents the ideal earthly father. You don't need to have a good father, or any father, to appreciate God the Father. Any poverty we have with our earthly fathers is merely a reminder that we need and long for a divine Father.
To what extent, then, can we depend on God the Father? We know he is faithful and kind, but how accessible is he? Perhaps Paul can help us when he writes, "The Spirit you received does not make you slaves, so that you live in fear again; rather, the Spirit you received brought about your adoption to sonship. And by him we cry, 'Abba, Father'" (Rom. 8:15). Paul's invitation to call God "Abba"—an informal Aramaic term for one's father—reminds us that we can depend on God the Father like a helpless child depends on her dad. As I meditate on that truth in the context of the Roman world, I am inspired to say with 17th-century theologian John Owen, "If the love of a father will not make a child delight in him, what will?"
Ben White is a graduate of Regent College (Vancouver, BC) and currently serves as a pastoral intern at Temple Baptist Church in Cambridge, Ontario. He will begin a PhD in New Testament at the University of Durham (Durham, UK) this fall.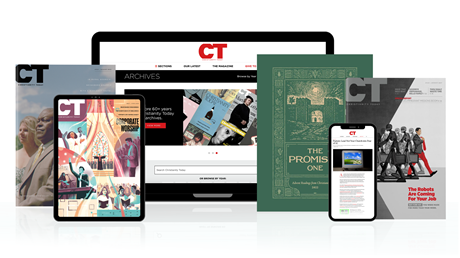 Subscribe to Christianity Today and get access to this article plus 65+ years of archives.
Home delivery of CT magazine
Complete access to articles on ChristianityToday.com
Over 120 years of magazine archives plus full access to all of CT's online archives
Subscribe Now
A Father for the Romans
A Father for the Romans