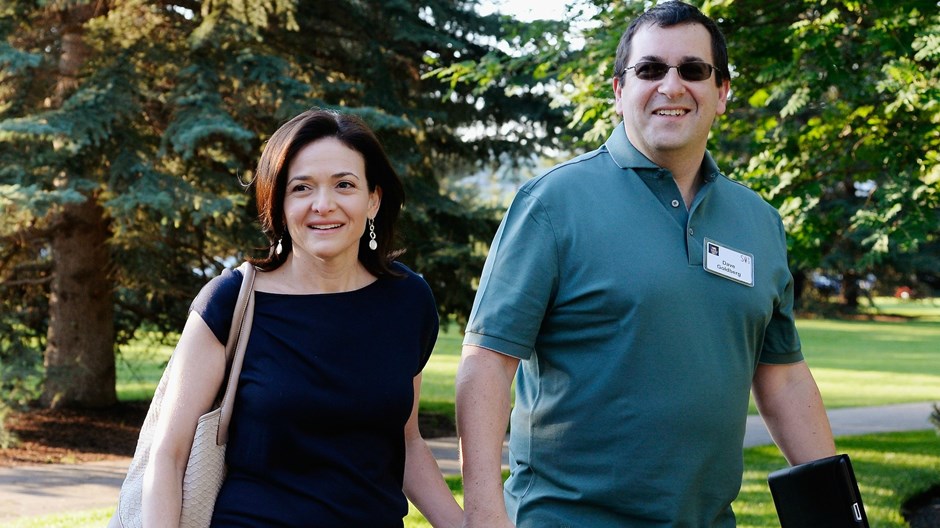 Image: Kevork Djansezian / Getty
In 2013, Sheryl Sandberg wrote her first book Lean In: Women, Work, and the Will to Lead, selling over a million copies and launching a movement for working women. This week she shared on Facebook a public statement of grief following the unexpected death of her husband, Dave Goldberg, one month ago. Both have been remarkable conversation-starters.
Sandberg's recent reflection illuminates the way tragedies cause us to stop life as usual to feel deep loss. After her husband died in a gym accident last month, Sandberg entered the 30-day mourning period prescribed by Jewish tradition. The Facebook COO shares heartbreaking details from the first hours, days, and weeks: the anger when motorists didn't yield for her husband's ambulance; the way her mother holds her at night while she cries herself to sleep; her child's school event where she could not manage to make eye contact with anyone.
In these glimpses of her new life as a widow, the pioneering executive doesn't step away from all-consuming grief and emotion. Instead, she admits it. She acknowledges that things will never be the same:
When people say to me, "You and your children will find happiness again," my heart tells me, Yes, I believe that, but I know I will never feel pure joy again. Those who have said, "You will find a new normal, but it will never be as good" comfort me more because they know and speak the truth.
Sandberg speaks for millions who have lost parents and partners and friends when she says, "I still mourn for option A. I will always mourn for option A." She adds, "Dave, to honor your memory and raise your children as they deserve to be raised, I will kick the sh-- out of option B."
Even in a society prone to numb pain and loss with constructed images on social media and incessant likes, Sandberg took to Facebook to proclaim a deeper truth about human vulnerability, pain, and inadequacy. One of the most powerful women in the world can't plan it all, can't hold it together, can't even get through the day when the unexpected happens. None of us can.
As followers of Christ, we know our Savior didn't turn from the pain of grief, either, having wept outside the tomb of his friend Lazarus and having cried drops of blood in the Garden of Gethsemane. He also mourned over Jerusalem with an exclamation of regret and sorrow.
Though millions of us grieve each year, we can fail to process loss in a healthy way because we live in a culture that prods us "to move on." Authors of The Grief Recovery Handbook say that rushing grief only buries emotions that are harder to deal with later. When the next loss comes, we find our lingering grief has compounded.
Reading their advice after experiencing a difficult loss myself, I took the time to respond to the question: "What is left emotionally unfinished for you as a result of this loss?" I was tired of feeling numb and disoriented. I felt inadequate to get through the grief. I felt drained physically and emotionally by what happened. Writing those feelings down helped me acknowledge them and allow them to be.
Doing so reminded me of the psalms of lament and how the author gave full vent to his anger with exclamations that mirrored his feelings of loss and abandonment. "How long, Lord? Will you forget me forever?," he asked in Psalm 13:1-2. "How long will you hide your face from me? How long must I wrestle with my thoughts and day after day have sorrow in my heart?" Crushed time and time again, the psalmist keeps airing his feelings. His faith often resurfaces at the end of a passage: "I will trust in your unfailing love."
We live in the tension Sandberg describes so poignantly and the psalmist refers to in his halting, emotionally frenetic fashion. How can a loss both age us 30 years while making us 30 years wiser, as Sandberg writes? How can David shake his fist at a God who is supposed to care for him until he is spent, until his feelings give way to a faith that never left but was eclipsed for awhile by his shock and pain? We are reminded that we are utterly human while also being created to reflect the glory and hope of Christ.
The psalms were included in the psalter Christ himself used—the same collection of psalms saints throughout history have memorized and clung to for solace and strength. They drag us low to feel deep emotions that beg to be expressed, only to resurrect us again to a new reality and a spiritual hope that cannot be quenched. We lament with a knowledge of what the apostle Paul expressed in Romans 8: all Creation groans, and we groan right along with it, waiting for the redemption of our bodies, for all things to be made new.
Our grief marks one way we experience this earthly tension. To stuff our pain is to deny the reality of evil and the promise of a present and future hope for those who place their faith in the Resurrected One. But even in our grieving we illuminate the brilliant hope that all is being made right again in Christ.
In the last month, a powerful woman whose husband encouraged her to lean in to her leadership potential lost the love of her life. Unexpectedly, she is modeling for us not the typical spin and emotional evasion so often evidenced by men in the halls of power, but a model of vulnerability and authenticity. Sheryl Sandberg continues to lead, even through loss. She has shown all of us, women and men, that there is more than one way to lean in.
Suzanne Burden holds an MA in theological studies and blogs at suzanneburden.com. She coauthored Reclaiming Eve: the Identity and Calling of Women in the Kingdom of God (Beacon Hill Press), available online with the Reclaiming Eve Small Group DVD. She enjoys speaking at universities, retreats and church gatherings and can also be found on Twitter.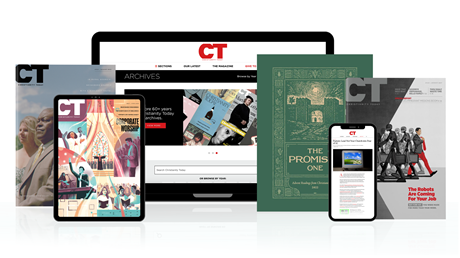 Subscribe to Christianity Today and get access to this article plus 65+ years of archives.
Home delivery of CT magazine
Complete access to articles on ChristianityToday.com
Over 120 years of magazine archives plus full access to all of CT's online archives
Subscribe Now
Leaning In to Our Grief
Leaning In to Our Grief