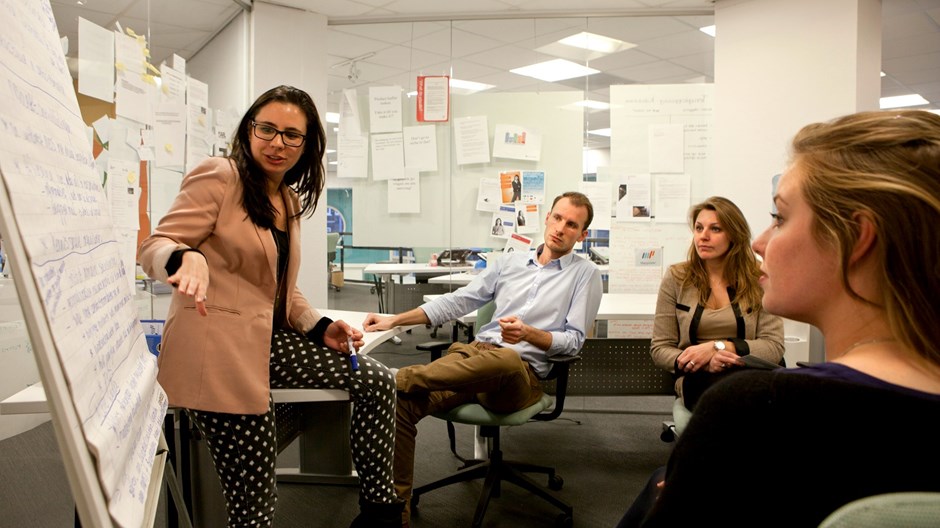 Image: mvonederland / Flickr
When my soon-to-husband told me he was considering business school, I wanted to weep in despair. In my mind, earning an MBA and getting into business would mean losing some of the innate goodness I'd always admired about him.
That kind of skeptical, cynical attitude toward business is just what Dale Partridge counters in People Over Profit: Break the System, Live with Purpose, Be More Successful. The evangelical Christian entrepreneur has a broad audience for his message. Not only do 40 percent of Americans believe business can't be trusted, Christians have long been tempted to separate the sacred work of God from plain old work. The latest book to present a higher calling for business, this quick read makes the case that companies can be socially responsible and morally good—and every one of them should be.
Despite his positive outlook, Partridge acknowledges the harm companies can do to customers, employees, and the environment. The founder of Sevenly and StartupCamp talks openly about when businesses leave behind the honest principles on which they were founded, prioritize profit over people, and then try to cover up that damage. But unlike business critics, Partridge argues that companies can always redeem themselves by acknowledging their mistakes and returning to people-centered values.
Partridge focuses on seven principles he believes all companies should adopt: people matter, truth wins, transparency frees, authenticity attracts, quality speaks, generosity returns, and courage sustains. He recommends specific strategies in each of these areas. Among other things, people-first businesses should practice transparency within the company, prioritize quality at all times, and make the best use of employees' natural skills. Partridge highlights examples of companies who have done this well (Clif Bar's exceptional employee benefits and Zappo's over-and-above customer service) and those who have remade their image over time (Harley Davidson's recommitment to quality products in the 1980s).
Partridge is unabashedly optimistic about how feasible these principles are to put into practice. He briefly acknowledges some of the external challenges to the people-over-profit mindset, including poor leadership and consumer demands for cheap products. Yet the 30-year-old mainly blames fear and paralysis for keeping companies from doing good. He calls on fellow socially minded innovators to take small, well-planned steps toward change, and all consumers to encourage companies to choose more ethical practices.
Not until halfway through the book does Partridge finally acknowledge the tension inherent in his premise: in the business world, profit cannot be separated from people. "An ironic thing about selfless giving is that it often comes back to you anyway," he writes. "When you are generous with your employees, they will be generous to you. You'll never have to worry whether they'll stay late and finish the job or speak well of you. And when you're generous with your customers, they'll return." He later warns, "The idea that generosity returns is a description of how the world works, not the motivation for giving." But the muddle over what's actually driving decisions—people, profit, or both—remains.
Because Partridge's recommendations also benefit companies themselves, it's nearly impossible for the well-intentioned businessperson not to come up against some ethical questions:
Am I pursuing these people-centric strategies so my company will do better financially? Or is it because I genuinely want to make others' lives better? Can I be motivated by both? Are these products and services actually helping? Or are they contributing to larger societal ails of materialism, poor self-image, and resource consumption? If I have to charge more to provide better benefits and service, which groups of consumers am I marginalizing?
Unfortunately Partridge doesn't address this murkiness. Instead, he adds to it by using traditional standards of business success to tout the effectiveness of people-over-profit choices: more stores, more customers, increased sales, higher stock prices. But if we are truly choosing people over profit, shouldn't the ultimate measure of success be how many lives have been improved because of a business's efforts, and to what degree? An increasing number of businesses are using the triple bottom line framework, which isn't mentioned in People Over Profit. This metric tracks financial, social, and environmental success. A robust and theologically sound perspective on money—as a tool to be stewarded faithfully, a means to an end rather than the end itself—will also help business leaders check their motivations.
To be fair, the positive impact of a company's initiatives can be difficult to measure. Sometimes, we do better at understanding what doesn't work—including some of the strategies that Partridge praises. For example, TOMS Shoes, which popularized the buy-one-give-one (BOGO) business model by providing a pair of shoes to a child in a developing country with every purchase, comes up multiple times as a model of socially responsible business. Its founder, Blake Mycoskie, also wrote the foreword. But, for years, critics of the BOGO model have called it ineffectual (one pair of free shoes does nothing to lift a child out of poverty), inefficient ($25 could purchase a lot more than a pair of shoes in a developing country), and potentially harmful (flooding markets with free shoes puts local vendors out of business).
Partridge also touts the open-office plan, broadly used by Silicon Valley startups, to encourage transparency and collaboration. But research has found that open offices decrease employee productivity, creativity, satisfaction, and even physical health. And all that great free food companies like to provide? It may be contributing to workplace weight gain for a significant number of professionals.
In short, good intentions and well-meaning ideas only go so far. They often lead to unintended consequences. We risk pursuing efforts that we hope make us look good—before our peers, ourselves, and God—without actually accomplishing good. It's not just about giving people material things; we must also nurture systems and communities that provide long-term dignity, health, and opportunity. Just as Jesus cared for those he encountered physically, psychologically, socially, and spiritually, so must our own efforts to serve be holistic in their intent and their results.
In the past few decades, nonprofits, international development organizations, and ministries have discovered the limits of nice-sounding programs. Socially minded businesses can learn from their costly mistakes. A company wanting to positively impact the world doesn't just need the right values and a healthy dose of courage. Such an impact also requires shrewdness; like-minded investors, colleagues, and shareholders; a deep understanding of the people being served; objective metrics for success; and rigorous standards of accountability that return to those original values again and again. Many entrepreneurs are forming businesses that meet these criteria. But I think these innovators will be among the first to admit that leading an effective social-benefit company is neither simple nor easy.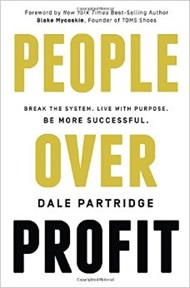 At the end of the book, Partridge speaks candidly of being terminated as CEO of Sevenly by investors who wanted to take the company in a different direction. The resulting soul-searching journey frames his most authentic writing about the shadow side of attempting to do good in the business world. The American marketplace is still fueled by competition and greed, and outside forces will try to tempt, trick, or bully you into pursuing a more conventional path. Choosing people over profit offers no guarantee of success, business or otherwise. But, for the sake of serving others, it can be well worth the risk, the toil, and the sacrifice.
There is a place for Partridge's bright-eyed presentation of the great world-changing potential of business. Entrepreneurs in particular will find People Over Profit a helpful primer for creating a socially minded business. But to sustain the movement toward what Partridge calls new capitalism—for enough businesses to pursue the people-over-profit mindset to "break the system," as the subtitle extols, for corporations to become overwhelmingly positive actors in our society—this is only the beginning of the conversation.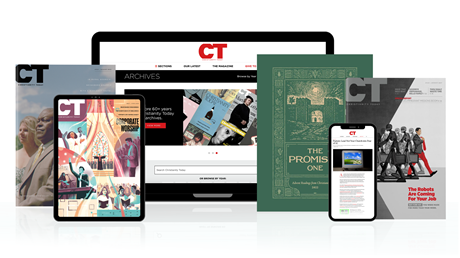 Subscribe to Christianity Today and get access to this article plus 65+ years of archives.
Home delivery of CT magazine
Complete access to articles on ChristianityToday.com
Over 120 years of magazine archives plus full access to all of CT's online archives
Subscribe Now
People Over Profit: Easier Said Than Done
People Over Profit: Easier Said Than Done