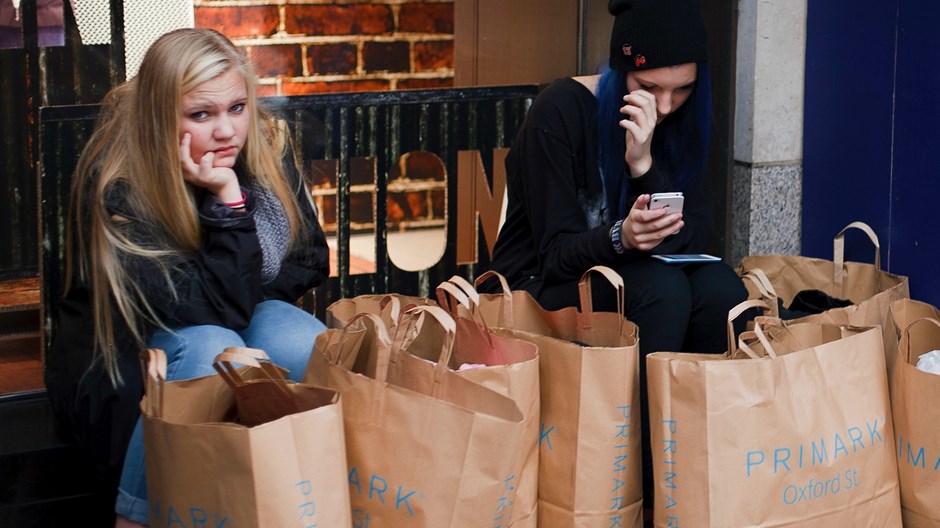 Image: Lena Vasiljeva / Flickr
The TV flashes with bright images of smiling kids playing with the latest happy-making item: Stompeez, Flipeez, Flashlight Friends, Juggle Bubbles, or Hide Away Pets. As the earworm of a jingle gears up, I scramble for the remote. I know they're already coming for my 7-year-old daughter.
My soon to be 13-year-old is less enthralled with toys advertised on TV and more concerned with the potential of finally getting her own phone. She numbers among the few in her class who don't already have a smartphone at their disposal, each laden with apps containing specialized ads for the so-called "selfie" generation.
Marketers know the power that girls, specifically tweens, wield. Young girls prove a sparkling, moving target demographic, just starting to develop their personal shopping habits and looking to their peers for trendy fashions, accessories, and gadgets.
But today's tween and teenage buyers shop and spend differently than they did decades ago. Youth no longer retreat to the local mall; according to Time magazine, restrictive policies keep unaccompanied teenagers from hanging out there even if they wanted to. Plus, they're rejecting the kind of youth-oriented styles mall staples used to push, such as items emblazoned with logos or seasonal fashion fads. Instead, millennial-aged shoppers are looking for more timeless pieces to mix and match for a look they can individualize on their own.
These trends could be good for our kids' pocketbooks. However, we're talking about the always-connected Instagram generation, and it doesn't take a brick-and-mortar storefront for them to spend. Online shopping is on the rise. They can charge expenses with a tap or the swipe of a finger through Apple Pay, Google Wallet, Paypal, and other technologies. Even Snapchat has gotten in on the mobile pay action with its Snapcash feature and Facebook's Messenger allows you to send money to your friends as quickly as you could a emoji or "sticker."
Kids growing up in this decade know less and less about physical money, and more about the ease of virtual spending. This conceptual shift requires a more deliberate effort by parents (and youth leaders and other adults) to teach them about personal finance: managing money well, living within limits, and avoiding the traps of emotional spending.
I'm striving toward modeling practical wisdom in my daughters as they embrace new systems of spending, saving, and giving. Without dollars and cents in your wallet, it's easier to spend more than you hoped, and with the convenience of mobile pay, it's harder to say no to items that could be yours instantly.
Admit Your Financial Failures
Just as my eldest daughter inherited my fiery red hair and porcelain skin, she's going to get a sense of money management from me, too. And I'm not perfect—after all, at one point my husband and I wracked up $127,000 in debt.
Rather than simply hope she fares better, I know I need to talk to my kids directly about where I've struggled and what I've learned. Children notice parents' spending habits whether they say anything about it or not—when they get stingy, when they break out the credit card, or how happy or sad shopping makes them.
Sharing my own challenges in age-appropriate terms has not only improved my kids' financial literacy, but I pray have also created a healthy bond of trust between us. It's presented an opportunity to talk about failure and even sin. To skip over conversations about money mistakes can paint an unhelpful, unattainable picture of personal finance.
Make Talking About Finances Part of Your Family Routine
Deuteronomy 6:6–7 tells us, "These commandments that I give you today are to be on your hearts. Impress them on your children. Talk about them when you sit at home and when you walk along the road, when you lie down and when you get up."
God calls us to instruct our daughters and sons in the most organic ways, as a part of our everyday lives. While the passage specifically calls the nation of Israel to love God with their whole hearts, souls, and strength, this method can apply to all wisdom we hope to pass down to through our families—including finances.
After all, as New York Times money columnist Ron Lieber recently pointed out: talking about money with kids often means talking about our values. My financial philosophy comes out of my understanding of the gospel. As I wrote for Her.meneutics earlier this year, "Being set free from debt concretely displays God's plan of redemption in Jesus. Furthermore, frugality—enjoying the process of making the most of every good gift you've been given—is a spiritual discipline, stewardship at its best."
With my kids, I frequently talk about household finances, explaining words like credit and debit, debt and mortgage, and even fiduciary and annuity. These conversations get woven into our everyday life, along the road and in the car on the way to practice.
Celebrate Generosity, Saving, and Wise Spending
As a parent, I've often followed the mantra of motivational speaker and management guru Tom Peters: "Celebrate what you want to see more of." In the realm of money, that looks like taking note of little habits being built. Even in the early days of toddlerhood and preschool, I'd recognize my kids' generosity, not just with money but also with their most prized possessions. When they'd work hard in elementary school, I'd reward them. And now, as they learn the important lessons of delayed gratification as tweens and teenagers, we party it up.
These transferrable guiding principles can shape their interactions with commerce for decades to come.
In particular, we began setting savings goals in the early elementary years, writing down both short term and long-term potential purchases. As my oldest daughter makes her way into the teenage years, I've done my best to help her wait out purchases, putting items back on the rack for 24 hours or more to ensure she truly wanted to make the purchase. It can equal inconvenience for me, returning to a store on a day I hadn't plan to make a trip but it helps her weed out which things she actually values.
At 11, she began saving for a car, putting back birthday money and a percentage of her babysitting profits on a regular basis. She knows we'll match what she saves (up to a set amount), and she has every intention to make sure we remain true to our word.
Tossed into a market that says, "Buy it now with the simple touch of your hand," she's beginning to realize the long view of earning and spending. Seeing her gains, both in self-control and monetary understanding, cause me to examine my own personal finance habits.
Even though culture has moved spending habits into the future digital trend, we've chosen to go old school on our money, using cash as much as possible.
Lead with Grace
The particular ways we manage or mismanage money may change, but the root issues are still the same. As the author of Ecclesiastes penned, "There is nothing new under the sun" (1:9).
I fear that along with my hair and skin tone, I will pass down my unhealthiest behaviors, thought patterns, and even sin to my girls. That's why I deliberately talk about my financial decisions, to hopefully point both of my girls in the right direction.
I know mistakes will be made—both by parent and child—but grace requires us to move forward. Together, we press on toward the goal of loving God with our hearts, souls, minds and strength… and with our pocketbooks.
If we don't teach our children how to manage money, someone else will.
Cherie Lowe is an author, speaker and hope bringer. Her book Slaying the Debt Dragon: How One Family Conquered Their Money Monster and Found an Inspired Happily Ever Afterdetails her family's quest to eliminate over $127,000 in debt in just under four years. As her alter ego the Queen of Free, Cherie provides offbeat money saving tips and debt-slaying inspiration on a daily basis.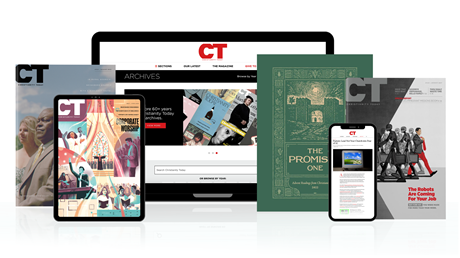 Subscribe to Christianity Today and get access to this article plus 65+ years of archives.
Home delivery of CT magazine
Complete access to articles on ChristianityToday.com
Over 120 years of magazine archives plus full access to all of CT's online archives
Subscribe Now
Teaching Teenagers to Manage Invisible Money
Teaching Teenagers to Manage Invisible Money