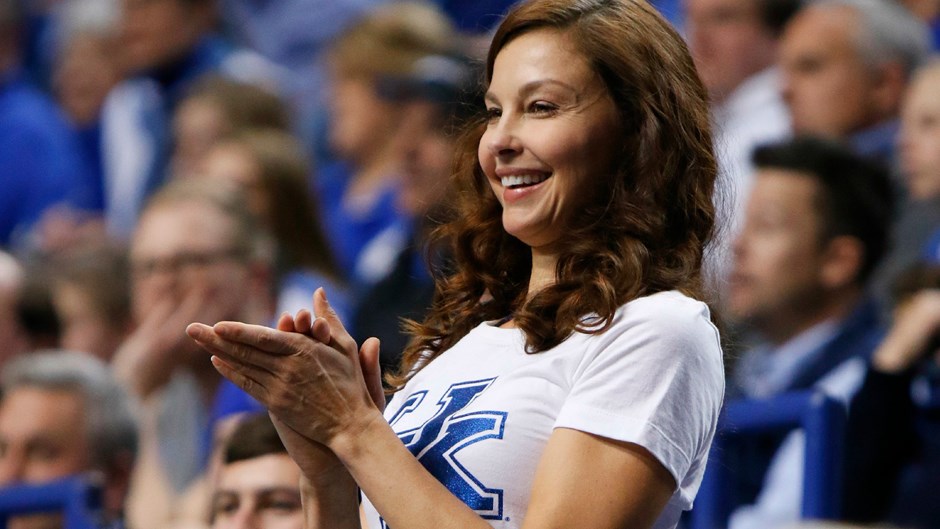 Image: James Crisp / AP
With the start of March Madness, I've already surprised co-workers and new friends with the news that yes, I did fill out a bracket and no, I didn't guess winners at random or pick based on jersey color.
With men twice as likely to follow March Madness as women, we female fans have gotten used to the assumption that we don't know a Wildcat from a Bearcat or the Mountaineers from the Musketeers. Even with some growing recognition for female sports fans, we're still regularly in the position of defending our fandom.
March Madness can be maddening that way.
University of Kentucky devotee Ashley Judd has proved in the public eye that women can be just as sports-obsessed as men, attending game after game in Lexington. (A UK alumna, her fandom is so well-known that when surveyed last year about which celebrity they'd most like to watch a game with, more people named Judd than any other celebrity.)
This year, she's making headlines for being the recipient of what seemed like an unwelcome kiss on the mouth from sportscaster Dick Vitale during the SEC championship basketball game on Sunday. She appeared to be taken off guard in the picture, which was captioned by the Kentucky athletics' staff as "a good luck smooch."
Vitale was congratulated for his good fortune on the ESPN Selection Sunday reaction show. Despite her apparent discomfort in the picture, Judd felt the need to downplay the incident. She tweeted: "I think @DickieV and I are feeling the crazy joy of March Madness and the greatness of this Kentucky team."
I do not know Ashley Judd, and she could be sincere when she says the kiss was not a big deal to her. I do, however, know what it's like to be one of the only women actually paying attention the game or able to hold a conversation about this year's bracket busters. In settings like these, we often feel pressure to grin and bear sexism present in the male-centric environment of sports. Many of us would sooner brush off a minor offense than call out sexism and risk further marginalization from the community we've fought so hard to be accepted by.
After all, that's a major part of the appeal of athletics. While we think it's the physicality and competitive grit that draws us to the game, there's something deeply communal at the foundation of sports that rallies us together to celebrate victories and pick up the pieces after a devastating loss.
It's something many Christians cast away as idolatry (and it can be), but those who take time to examine the true appeal find a sense of passion culminating in community. It is especially unfortunate, then, that this communal phenomenon in our culture would marginalize the women who crave to partake.
Beyond an innocent-or-not-kiss, Judd's fandom has subjected her to sexual harassment from Twitter trolls. In an essay for Mic, Judd said she loves March Madness so much that she wishes she could just talk about the game itself, but "Instead, I must, as a woman who was once a girl, as someone who uses the Internet, as a citizen of the world, address personally, spiritually, publicly and even legally, the ripe dangers that invariably accompany being a woman and having an opinion about sports or, frankly, anything else." (The full article is here, and be warned, mentions explicitly some of the sexually themed insults hurled at her online.)
These are not the kind of insults male fans receive, and they rarely find themselves in Judd's position. Nor do they have to defy the notion that their passion is faked, as I have every time someone assumes I'm a sidekick, merely rallying behind my dad or brother or husband's teams. These things are not only frustrating, but also insulting to women who are made in the image of God. I am not compelled to watch sports because they stir something in my husband's humanity; I am compelled because they stir something in mine. The drama, the strategy, the strength, the teamwork, and the redemption in sports have appeal to me, too.
But just as I had to steal the soccer ball from my male teammates in gym class to prove I could play, I've had to prove my sincerity as a sports fan. Somewhere between the Red Sox's devastating post-season loss in 2003 and their near-miraculous comeback in 2004, fellow fans started taking me seriously. The offense was explained to me by one of my male friends like this: "There are just so many girls in pink jerseys pretending to care."
To be clear, it's not that men tend to take issue with the existence of "girls in pink jerseys"—it's just that they take issue with regarding them as a legitimate presence in the sports community. (Though, while we're on the subject of jerseys, I've had to buy much of my team apparel in large youth sizes because apparently the women's line is code for sexy or bedazzled.)
I know women who'd rather scroll through their phones than watch March Madness games, and perhaps it's because this kind of competition just doesn't enthrall them like it does me. Or maybe it's because women who like sports, from a young age, are disparaged or called out as different. We get the label "tomboys," an unappealing title for the young woman who takes pride in her femininity. Maybe the presence of highly touted athletes and renowned broadcasters is decidedly male, leaving young women without athletic female role models. (Sadly, women's sports do not draw in near as many fans as men's, and when we do see women during a broadcast of a pro game, they're used for sex appeal. When women become essentially "accessories" to the sports community, it indicates that they are not valued, or even acknowledged, as active and informed participants.)
That's not to say progress hasn't been made to correct the disparity between how sports coverage is catered to men and how it's catered (or not) to women. In 2011, ESPN launched a unique and, admittedly, somewhat half-hearted attempt to draw more female fans; espnW is a subset of ESPN's website and describes itself as "the online destination for female sports fans and athletes." In the organization's letter of intent, they say "Forty years after the passage of Title IX, the federal law that required schools to create equal sports opportunities for girls, the worldwide leader in sports has discovered that women might be interested?"
Additionally, more and more ad campaigns like this one, which boldly proclaims "strong is beautiful," are frequenting media outlets. The company Always is making an attempt to re-coin the phrase "like a girl" with a deeply positive connotation. ESPN recently launched a radio show entirely hosted and produced by women. These efforts to celebrate women's participation in sports are wobbly first steps in the right direction.
There could be any number of reasons women tend to be less interested in the big game. Still, the those of us who are have fought to be regarded as legitimate fans, and a woman who calls out something packaged as typical male behavior as sexism stands to lose that hard-fought respect.
But don't worry—there's always room on the sideline for another girl in a pink jersey.
Valerie Dunham graduated with a B.A in English from Liberty University in 2011 and is a staff writer at Christ and Pop Culture. She currently lives in Blacksburg, VA with her family and enjoys rooting for any and every Boston sports team in her spare time. You can follow Val on Twitter at @valdoeswords.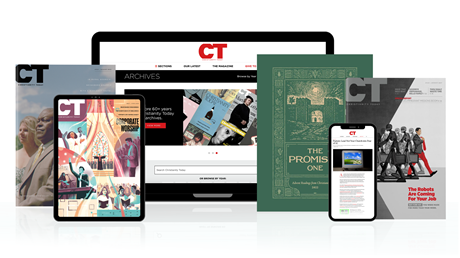 Annual & Monthly subscriptions available.
Print & Digital Issues of CT magazine
Complete access to every article on ChristianityToday.com
Unlimited access to 65+ years of CT's online archives
Member-only special issues
Subscribe
Ashley Judd and Sexism on the Sidelines
Ashley Judd and Sexism on the Sidelines