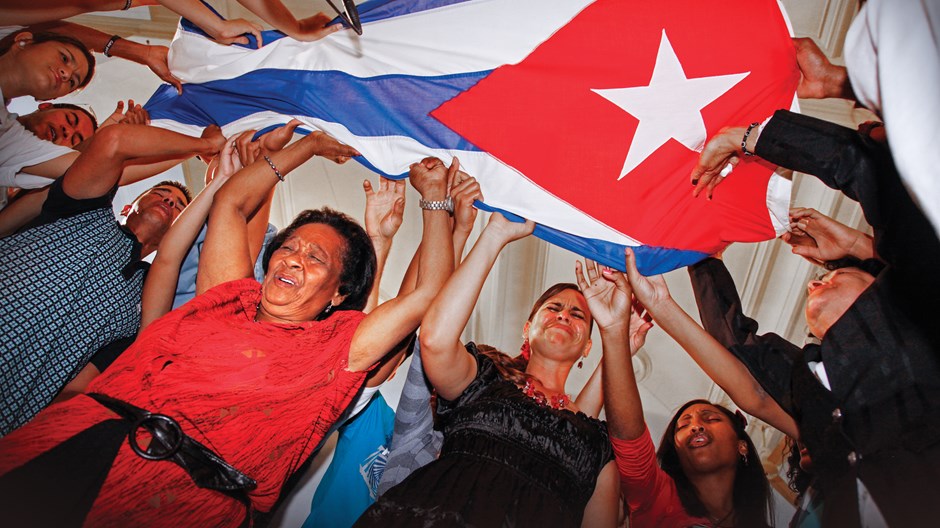 Image: Eddos Estudio
Right at the point where Havana's ocean promenade meets the historic forts that guard its harbor, a crowd of young Cubans has gathered on a Thursday night. They are next to a dozen floats parked in preparation for Cuba's summer carnival. But when one float starts blaring salsa music, the group does not welcome the rhythm; one member turns and holds his palm out in disapproval.
As a lighthouse shines overhead, the young crowd finishes singing a slow chorus about wanting their lives to be "like perfume at your feet." They then launch into a boisterous call-and-response:
Yo soy Cristiano
Para que tú lo sepas
No me falta nada
Mi vida está completa
"So you know it, I am a Christian. I don't lack anything. My life is complete."
A tourist from the United States approaches the crowd.
"Hablas inglés? Are they talking about Jesus?" he asks. He spent the past week in central Cuba on a missions trip. "I knew there were Christians here, but I didn't expect to see them like this."
Next, a pastor has the crowd turn and face Habana Vieja, the heart of the capital's tourism quarter, across the street. They raise their cell phones in the air in flashlight mode and shout, "Yo soy luz en medio de la oscuridad." "I am light in the midst of darkness."
Christianity Today traveled to Cuba the same week Secretary of State John Kerry reopened the US Embassy on Havana's Malecón promenade. CT attended an exclusive meeting of theological educators discussing how to capitalize on La Apertura—the new diplomatic and economic opening between Cuba and the United States.
Christians on both sides of the 90 miles of Caribbean water that separates Cuba from Florida were surprised by the opening. This year, Barack Obama and Raúl Castro announced the end of cold war enmity and the easing of travel and communication. (A full reversal of the US trade embargo requires a congressional vote.) Many residents hope—and tourists fear—that the island will no longer be "frozen in time." Reflecting on the island's economic difficulties, one pastor told CT, "The absurd is our reality."
To be sure, many legacies of the Cuban Revolution will linger. But even before the US flag was raised in Havana for the first time in 54 years, the Stars and Stripes could be spotted on men's T-shirts and women's Capri pants around the capital. Christians openly watch a satirical sketch of the US–Cuba negotiations set to hit pop songs by Shakira and Enrique Iglesias. Seminary leaders, surprised at how openly critical a leading Cuban sociologist is of the island's antiquated education system, ask her, "How did you get your thesis approved?"
Living a Miracle
At the end of a local shopping boulevard, a large crowd has gathered at midnight. They are not in line for Cafeteria Vera, the barren blue-and-pink corner store, which has more seats for customers than goods for sale. Instead, Cubans sit perched on every nearby bench, planter, stoop, and curb.
All their faces are aglow—but not from Cuban cigars. Screens of smartphones, tablets, and laptops light up the crowd. Some 35 public hotspots came to Cuba's major cities in July. A card with an hour of Wi-Fi access can be purchased for 3 Cuban convertible pesos (about US$3). Many users browse Facebook, while others video chat.
"This is the happiest the people on the street have ever been," explains a 29-year-old card vendor sporting an American flag T-shirt, a Virgen de Guadalupe necklace, and a Gemini forearm tattoo.
"It is part of the miracle that we are living," says a leading pastor's wife.
A taxi driver says the first time he ever used the Internet was 20 days ago. He called his wife's family in Italy. For the first few minutes, no words were exchanged. Everyone was too choked up to talk.
Today, tourists coming to take photos of Havana's harbor on Sunday mornings will stumble upon one of the most unexpected sights in Cuba: a full-blown evangelical church service, complete with loudspeakers and choreographed dancers.
When CT last reported from Cuba in 2009, Alcance Victoria—a church that reaches youth caught up in gangs, drugs, and prostitution—did street evangelism on weeknights. Now the church meets on Sunday mornings in one of Havana's most public places: La Punta, where the Malecón meets the harbor mouth.
Pastor Abel Pérez Hernández says his 13-year-old congregation now numbers 500, with 42 house groups meeting weekly.
Next to the big cannons aimed at the harbor's mouth, half the congregation clusters under sun umbrellas whose panels feature images of classical paintings. The church sings salsa and reggaeton worship songs as 10 youth do choreographed dances in front of the seawall, scrawled with graffiti professing eternal love. Assisting is a short-term missions team, not from the States but from Brazil. It is the group's fourth visit, and they paid twice as much to come this year because of a recent currency devaluation.
"This shows how important this is to us, to be together," says Filipe Santos, director of missions at the 13,000-member Baptist megachurch near São Paulo.
Almost every Christian leader CT interviewed shared three sentiments: they are hopeful for better lives, economically and politically; worried about the coming "avalanche" of ideologies and material goods; and convinced that neither American nor Cuban Christians are properly prepared for the rapid changes under way.
Avalanche of Outsiders
On the pessimistic side, Christian leaders wonder whether US visitors will destroy Cuban culture with their materialism and lifeless nominalism—or whether Cubans will destroy themselves.
"Our mindset is very Marxist, even though we haven't had the ability to consume for 50 years," says Alfredo Forhans Hernández, director of the Holguín campus of New Pines Evangelical Seminary. "Now the United States could make our consumerism a reality. We are not prepared."
Cuba's Christians have thrived despite the island's politics and poverty. Their improbable, decades-long revival is often described as being rivaled only by China's. "It's incredible. People just come on their own, looking for God," says a Western Baptist leader. (Baptists in Cuba have two conventions, Western and Eastern.)
But the opening raises a concern: Will the revival be appreciated once Cubans have resources? One seminary leader worries that "the huge growth of the church, despite our limited resources, will no longer be a distinction."
Another challenge: the avalanche of outsiders coming to help. "There are many birds who want to land in Cuba," explains Eduardo González del Río, rector of Eastern Baptist Theological Seminary in Santiago de Cuba—"people who want to bring in their doctrine to help us."
"Cuba has been closed, and now the doors are opening," says Yaniel Marrero Báez, president of the Cuban Evangelical School of Theological Studies in Placetas. "In the past, there were so few opportunities for visitors that we took in everyone. But now the Cuban church will have options to choose from."
For example, Cuban Christians are now circulating CDs by Guatemalan megachurch pastor Cash Luna and other prosperity gospel teachers. "It's a war of the media," says González. "Sadly we don't have good Christians who are doing this." The Cuban government still restricts Christian publishing and media access.
Overall, Cuban church leaders are eager to collaborate with more American churches. But they want respect, despite disparities in size and wealth.
"Our problem is when foreigners come to tell us what we need to do. We've been here for many years, we've spread the Word under many difficulties, and we've been able to succeed," says a Western Baptist leader. "We love the idea of collaboration, but not imposition."
"We are in a special context. We can't copy what the rest of the world is doing," says Enoel Gutiérrez Echevarría, president of Methodist Evangelical Seminary in Havana. "Of course we are not perfect. But we are experts on Cuba. The Cuban church is an example of revival for the world. What others have to offer shouldn't interrupt what we are doing."
González is happy with the arrangement his church has with its main benefactor in Dallas. The focus has been on leadership training, not funding. "If they gave us lots of money, people would attribute our church's success to US funding and not God," he says. "It's important for Americans to not come as a dollar bill with arms and legs."
Money obviously does help, and there are ways to use it wisely. ("Help fill our libraries," one pastor suggests.) One sociologist says that a physician she knows makes three times as much working as a busboy than he does at his official job. But multiple leaders told CT that what they want most is leadership training on teamwork.
"Even though you can help financially, the thing we need most is to learn how to work in groups," says one seminary leader. "Most pastors are seen as bosses and do everything. There are few committees."
Partially for good reason, given the surveillance culture of the Castro regime. "We don't know whom to trust in groups. Who in this very room might be on the other side?" explains the leader. "The mistrust of others is in our blood. Collaboration is what we lack."
However, Cuban Christians have never felt bolder. Eduardo E. Pérez Ramos uses his burgeoning Eddos photography studio to connect churches throughout Cuba. He tries to capture and circulate events that show a strong Cuban church, such as a recent gathering in the city of Holguín, where thousands of Christians demonstrated in the street. His favorite photo, titled "One Island One Heart," captures the national gathering of the Liga Evangélica de Cuba at a Methodist camp in Santa Clara. The group forms the exact shape of the island, with each person standing in their home province.
Evangelicals have made greater strides in distance learning—a need and strategy CT highlighted in 2009—via CENCAP, a program started by Los Pinos Nuevos, a leading indigenous denomination. Now in its fifth year, CENCAP has trained more than 51,000 pastors and leaders from 21 denominations. It recently shifted from how pastors can better run their churches to how churches can better serve their communities.
Protestants in Cuba are not known for social work. (To be fair, they tried after four hurricanes hit the island in 2008, but officials ordered them to stop, saying it was the government's job to rebuild.) CENCAP is working to address this, partnering with the government to help feed children and the elderly. This warms the government to other activities and shows churches they can "share the gospel without preaching," explains a millennial Cuban PK. He has just received a big shipment of fortified rice. He and several other young men form an assembly line, moving boxes from the back of a dump truck into the church's multipurpose room, then the sanctuary. They finish at 3 in the morning.
Prepare for 'Something Large'
The chapel of the Western Baptist seminary in Havana boasts a carved wooden map of the world. Prominent arrows leave Cuba in every direction. It's tempting to read them as the emigration of Cubans, but they actually speak of a deep desire for missions.
Cuba was once feared as an exporter of Communist revolution. Now it is poised to export Christianity.
This spring, the Baptists sent out Cuba's first full-time missionaries in 54 years. First was Ecuador, where a husband and wife, so inspired by Nate Saint and Jim Elliot, named their home group after End of the Spear. Next up is Africa: teams are preparing for Senegal and Equatorial Guinea. The ultimate goal is the Middle East and the 10/40 Window.
Government restrictions on travel had prevented churches from sending missionaries, so churches settled for informal medical missions (given that Cuban doctors are one of the island's most popular exports). "Now the doors have opened," says a Western Baptist leader, "and we are very excited that we can freely satisfy our dream."
But money remains a barrier. "We don't have the financial resources to send people out, but we do have the human resources," says González. "We believe God is preparing something large for us."
The Baptist missions program, Cubans to the Nations, has 250 people in training, says director Karell Lescaille. "We want to learn how others have done world missions and put our Cuban salsa [flavor] on it."
González says that at the Southern Baptist Convention's annual meeting in June, attendees discussed the "spiritual crisis" in the United States and how Cubans could help. "Maybe Cuba could bring a revival to the United States," he says. "The United States brought Protestantism to us, so we do have a debt."
Overall, leaders are grateful for La Apertura. Now they pray God helps them prepare for the unpredictable changes to come.
"If you want to see what someone is really like, give them money and give them power," says a seminary leader. "Now we are going to see what kind of Christians we are."
Jeremy Weber is CT associate editor, news.
Have something to add about this? See something we missed? Share your feedback here.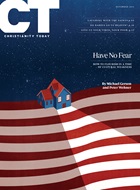 This article is from the November 2015 issue.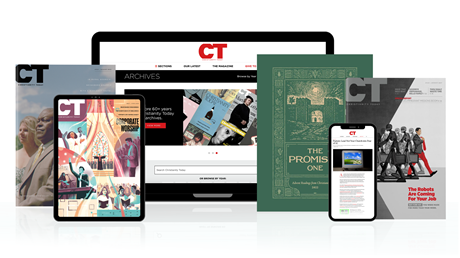 Subscribe to Christianity Today and get access to this article plus 65+ years of archives.
Home delivery of CT magazine
Complete access to articles on ChristianityToday.com
Over 120 years of magazine archives plus full access to all of CT's online archives
Subscribe Now
Will Success Spoil Cuba's Revival?
Will Success Spoil Cuba's Revival?