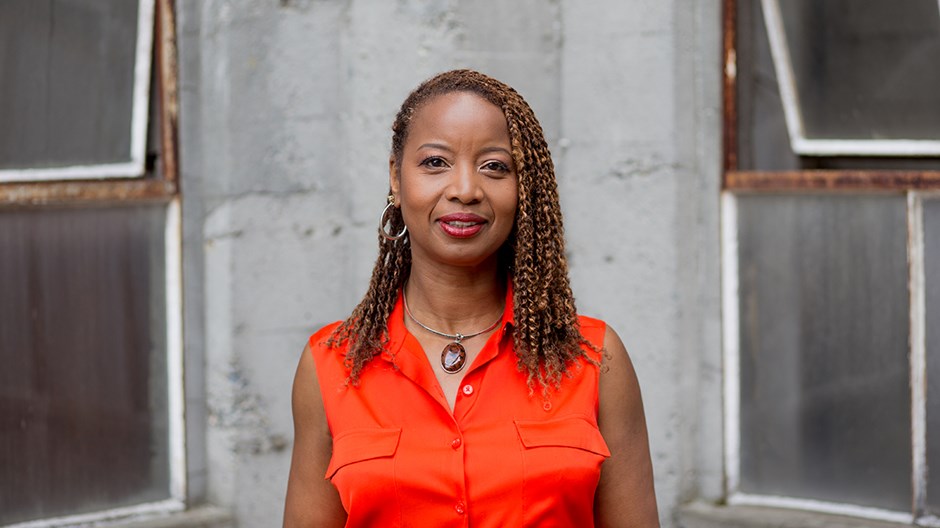 Image: PHOTO BY ZAC DAVIS | MAKEUP BY ILCK ARTISTRY
From Sandra Bland to Charleston to Baltimore to Ferguson, news of racism and violence, of protest and forgiveness, of hatred and injustice, have dominated the headlines and filled our newsfeeds. On the frontlines of these discussions is renowned reconciler the Reverend Dr. Brenda Salter McNeil.
Woman to woman—and mother to mother—"Dr. Brenda" (as she prefers to be called) has a few things to say about how Christian women today can make racial healing a priority. But not because she's black. Or because she's admired worldwide. Or because she has testified before Congress, or because she directs the Reconciliation Studies Minor at Seattle Pacific University, or even because racial hate and ethnic discord ripped the social fabric of our world this year in appalling, hurtful ways.
She's speaking first today as a Christian—because she believes God calls her, and each of us, to the tough but critical work of racial reconciliation. She believes women of God can be powerful reconcilers in a world in desperate need of justice and healing.
Prioritize Diversity at Home
Dr. Brenda first challenges us to focus on children and what racial healing means for them, regardless of one's race, politics, or even parenting status. "If I want to raise my children to be human beings who flourish and grow," Dr. Brenda says, "preparing them well enough to live in a world that's complex—to be guided by truths that will help them become all they can be—the first thing I have to be is a role model myself, to model what I want my children to become."
But how can we model this? "It's what we talk about over the dinner table. It's the friends we have in our lives," she emphasizes. "It's having real relationships with people who don't look like our family. Being in a church where you have friends of different backgrounds. Inviting people over whose ethnicities are different.
"This helps children understand that diversity isn't scary—that they can have friends who don't look like them. Then, when they hear stereotypical things about others, they can say, 'Well, Miss Brenda or Miss Patricia is not like that.'"
Move Beyond "Getting Along"
Such intentional diversity makes racial healing much more than just "getting along," Dr. Brenda says. "Getting along has to do with my individual, relational approach to people. It comes from an evangelical mindset that processes people on an individual level: I have a black friend! I'm not racist!"
However, she believes the bigger question "is not how I individually get along but how do I use that one relationship to understand bigger, broader, systemic issues like how racial disparity impacts inequality in education, or housing, or access to affordable health care.
As an example, Dr. Brenda recalls an aunt who was a domestic servant for a white family who genuinely loved her. They gave her gifts. The children related to her as a beloved family member.
"But not to care about all of my aunt—the fact she couldn't go to an integrated school, or she didn't have adequate housing, or she couldn't ride on the bus in a particular seat—means not understanding all that impacted her," she says.
Move Out of Your Comfort Zone
Asking the bigger questions has also been a journey for Dr. Brenda. An avid admirer of the Spanish language, one summer she studied in Costa Rica to become more fluent. Yet she has challenged herself to know not just Spanish but to also learn more about immigration issues impacting Latinos.
"To say I love Latino people and want to speak their language well but not to be concerned about issues that impact those same Latino people, and to suddenly see that in myself? Well, that's the day I had my own come-to-Jesus meeting!" she confesses.
Getting invited to speak on immigration at a congressional meeting in Washington, D.C. drove home her dilemma. "I was afraid. I didn't know how to go into Congress and speak on this issue, but I swallowed my fear and went for it," she says.
"I needed to publicly align myself with that issue," Dr. Brenda explains, "even if I don't have all the answers. To physically say, I'm standing with you."
Let "Black Lives Matter"
In that way, the contested Twitter hashtag "Black Lives Matter" shows support, not exclusivity, she says. So it supersedes "All Lives Matter" counterpoints, especially in situations such as the horrific church shooting of nine black people by an avowed racist in Charleston.
"As Christians, because of our fear of saying or doing the wrong things—and our desire to be kind and also not to feel guilty—we rush to say 'All Lives Matter.'"
But that's premature, Dr. Brenda says, because "it doesn't sit with the pain, the hurt, the collective grieving that we saw in Charleston. For me to say 'Black Lives Matter' doesn't deny that you hurt, or that all hurt. But right now, I hurt. It asks, Can you sit with me and acknowledge my pain?"
Offer Gentle Strength
Such empathy aligns with the gentle strength manifest as a gift of the Spirit, Dr. Brenda says. She preached this message at her Seattle church (Quest Church), emphasizing the power of responding gently to someone else's pain, on the Sunday immediately following the Charleston tragedy.
"Theologically, as Christians, we can be crippled by the way we think of our individual relationship with God. He's my personal Savior. I invited Christ into my heart," she says. "That's true, but we're limited when there's a social problem that's not about one person. If someone says 'I'm in pain,' the next statement you make should not be 'I'm in pain too.'
"In that moment, gentleness is having the strength to restrain my need to feel better about myself or to be heard too. Instead," Dr. Brenda says, "in that moment, gentleness would be to handle someone else's pain with such care, such dignity, such respect that I'm not saying 'All Lives Matter'—but rather, 'It's your turn. And I offer the respect to grieve with you in this moment.'"
Such gentleness is hardly a "weak" spiritual fruit, especially regarding race relations. "It's one of the things the Christian community has to offer the world," she says. "Gentleness toward others models what it means to truly show civility."
In Charleston, the family members of the victims displayed such gentle power when they forgave their loved ones' killer at the bond hearing two days after the shooting. "Those family members could have been angry and unleashed everything they felt, but they had the gentle strength to forgive in the face of atrocity," Dr. Brenda observes. "That's what the fruit of the Spirit yields. And that's what I'm calling the church and her people to do. To ask, 'How does our confession of faith play itself out in socially relevant ways?' When we show it, that's what makes CNN and other secular outlets wonder about the God we serve."
Speak Out
Dr. Brenda believes staying silent about racial problems makes things worse for all. After the Charleston shooting, "I was thanked repeatedly by young people who said it was refreshing to come to church that Sunday and not have the church be silent. Many white evangelical congregations said nothing."
But, she says, a proactive church helps its people speak about race, to "move beyond a monochromatic friendship pool, to help people understand why the shooting in Charleston hurt so badly, to make it okay to say, 'I don't know what to do, but I have women of color who are my friends, so I'm going to show care and respect and love to that person and then see what I learn so I can go help others.'"
Use Spiritual Disciplines
Be aware, however, that fighting racial discord is a spiritual battle, Dr. Brenda warns. "I really do believe we wrestle not against flesh and blood" (Ephesians 6:12). "The Scriptures are right and true in every aspect. There's a spiritual dimension to this call to racial reconciliation that is a ministry only the church can fully engage."
Non-believers can be reconcilers too, she says. However, she cites the apostle Paul's reminder that believers are entrusted with the ministry of reconciliation (2 Corinthians 5:18). "Those things must have spiritual means of addressing them," she explains. Confession, for example, is an important part of reconciliation "because the truth sets us free. It's a posture of humility, and it summons the presence of God. And the Bible says when we are weak in him, we're strong."
Pray Without Ceasing
Prayer, as well, empowers reconciliation, Dr. Brenda adds. "I'm not sure we can move forward without prayer because we deeply need to hear from God—and prayer is not just talking to God, but listening to God. And God's ways are not always our ways."
Dr. Brenda was moved by a Colorado lawmaker who, after the Charleston shooting, got up in the middle of the night to drive to an A.M.E. church in Denver in order to tape a letter of sympathy for the pastor on the church door. "When we pray," she says, "God can move us in the middle of the night to go offer a gesture that can have a profound impact."
Other spiritual disciplines, like silence, solitude, repentance, or forgiveness, also enable us "because this work of reconciling taxes us on so many levels that we can't do it in our own strength. We need the spiritual disciplines and the graces that God has given us, so we don't become weary in the fight."
Care for Yourself, Too
Dr. Brenda was reminded how hard racial healing is when Archbishop Desmond Tutu was diagnosed with prostate cancer while chairing the Truth and Reconciliation Commission in South Africa. "[Tutu] said, metaphorically, we hear all that dirt and filth, and we think it washes away. Instead, we're more like vacuum cleaners. We must apply spiritual practices so that what we take in, we can get out," she explains.
To care for ourselves in the struggle, she notes, "God calls us to things like prayer, silence, solitude, exercise, quiet and rest, good nutrition. All of those things become the way we can stay on the battlefield. Just like the vacuum cleaner, you've got to empty that thing out."
She evokes the old gospel lyric calling believers to "take your burdens to the Lord and leave them there." She says, "Every time we apply those disciplines and leave our burdens with God, we allow ourselves to recover. . . . Well, that's how Brenda does it."
How Dr. Brenda does it is making a difference, indeed. All of us, however, can be reconcilers—because racial reconciliation goes far beyond just reading and discussing the headlines. It's about our relationships, our mindset, our choices, our prayer life, our awareness. And, ultimately, it's about our God, his kingdom, and his calling on each of our lives.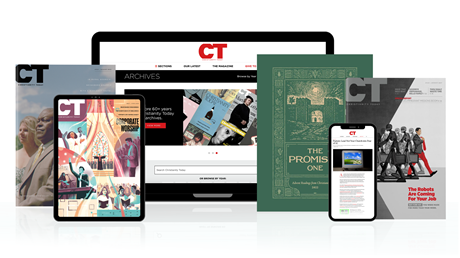 Annual & Monthly subscriptions available.
Print & Digital Issues of CT magazine
Complete access to every article on ChristianityToday.com
Unlimited access to 65+ years of CT's online archives
Member-only special issues
Subscribe
Redeeming the Race Discussion
Redeeming the Race Discussion