true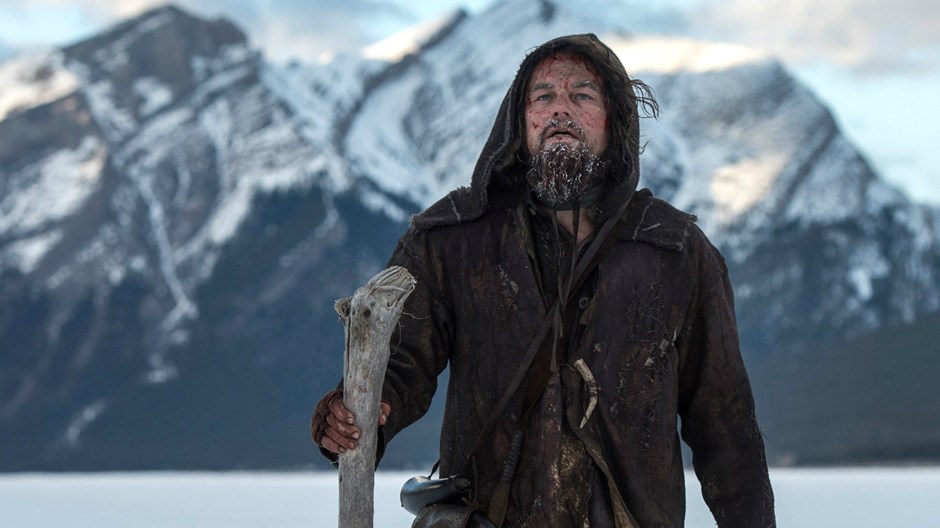 Image: 20th Century Fox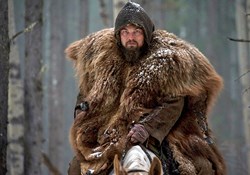 Image: 20th Century Fox
The plot of Alejandro G. Iñárritu's The Revenant is pretty straightforward: travelers lose their way, complications arise, and Hugh Glass (Leonardo DiCaprio) is separated from his band—but not without a grueling reason to avenge the only thing he really had in the world.
The protagonist's desire is straightforward: kill Fitzgerald (Tom Hardy). It's the resolution of this want that startles us by the time the credits roll. The ending leaves us wondering what, exactly, was resolved. It isn't sloppy storytelling, but brilliant mystery: an Iñárritu trademark.
Desire for revenge isn't the only thing that motivates Hugh in the beginning—his dead wife appears as a sort of Beatrice figure, guiding him through his hell on earth. But somewhere in the bitter cold, Hugh starts following his enemy instead of his guide. The dark desire propelling him then amplifies his list of threats.
The film is marketed as a battle against weather and wilderness, but the "fire" that keeps Hugh alive more than any warm carcass or coaxed flint is the revenge that smolders inside him. The emphasis on fire as a physical and metaphorical lifeline echoes another dark survival tale—The Road (John Hillcoat's 2009 film based on Cormac McCarthy's 2006 novel).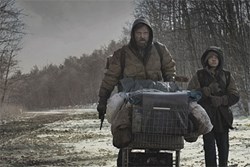 Image: The Weinstein Company
But in The Road, the fire keeps the protagonists alive because it points to something outside of themselves—something beautiful and good. In TheRevenant, the blaze inside Hugh fuels him toward something that will not keep anyone alive or bring anyone back from the dead.
In The Road, the Man keeps the fire alive so that he can send someone into the world (that is, his son). Hugh keeps the fire alive so he can take someone out of the world. The Man in The Road goes to his death to save someone, but Hugh Glass comes back from the dead to kill someone.
The fire is a powerful force.
Both men let go of their agency in the end, but one in peace and one with fear and trembling. Both movies are about surviving in a freezing world full of lurking dangers.
In the endings though, something invisible seems to sustain or save the protagonists. The Road offers a solution to evil through the persistence of "keeping the fire." The Man and Boy must act to bring about the solution—it takes belief in what is unseen and unlikely. The fire is a flickering "evidence of things hoped for" that might be snuffed out at any moment.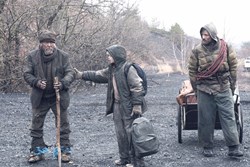 Image: The Weinstein Company
While The Road's defense against darkness is a murky and desperate faith, The Revenant offers no solution to evil except surrender—another form of faith. The Revenant's "climax" is about not acting: a surprising coda to such a gritty pursuit.
We usually think of protagonists forming around the choices they make. But Hugh's surrender wasn't something he considered and then achieved—rather, it happened to him. This sweeping away of human agency is more commonly found in the beginning of films than at the end.
Iñárritu doesn't offer a deus ex machina solution to a problem his protagonist can't solve. Rather, the climax is a form of grace that reveals a better resolution than Hugh determined to achieve. Usually the end of a story is about a giant choice that changes everything. Hugh makes a passive choice rather than an active one.
He lets go.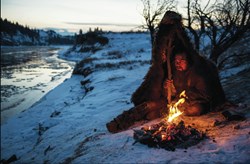 Image: 20th Century Fox
Because Hugh's only motivation is inside of him, the redemption must come from outside of him. Something must snatch away the action that gave him purpose. Someone else must do what he wanted to do.
This offer of (or rather crashing down of) redemption through an outside force is what Flannery O'Connor alluded to in what she called "moments of grace." O'Connor explained that "there is a moment in every great story in which the presence of grace can be felt as it waits to be accepted or rejected."
Hugh accepts his moment of grace when he doesn't do what he wants to do—he sacrifices his revenge.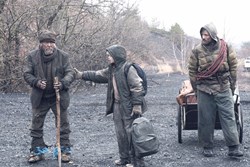 Image: The Weinstein Company
In contrast, in The Road, McCarthy offers a moment of grace when The Man does what he doesn't want to do (his death veils him in both Christ and God-like imagery: he dies for his son, and by doing so, sends his son into the world to bring it hope). Both characters surrender. One surrender is more like Gethsemane and the other one is more like Damascus. One feels more voluntary, the other feels more forced—but both result in redemption.
The Revenant's revenge motif echoes a kind of salvation and works theme. Hugh worked for revenge but in the end, revenge belonged elsewhere. "My heart bleeds," says the other-worldly warrior Hikuc (Arthur RedCloud) "but revenge is in the creator's hands."
The only way that Hugh can be free in the end is for him to not do what he thought he needed to do. Immediately after letting his worst enemy go, Hugh looks into the camera. That's as much of a denouement as we get—it's almost like Hugh is asking us to explain what just happened.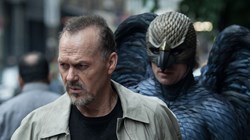 Image: 20th Century Fox
This chilling, delectable savoring of the unknown shaped the ending of Iñárritu's Birdman too—Sam (Emma Stone) stared out in wonder at a twist that neither she nor the audience can fully grasp. Maybe we can take a cue from Iñárritu's comfort with mystery. Stories after all, are pieces. We don't have to say everything at once, reveal everything at once.
In fact, we can't. We can only build a fire when it is cold, sleep when we are too exhausted to go on, let go when we realize that our solutions have no satisfaction.
Some movies try to resolve their wants in neat categories—ending with periods instead of ellipses. That neatness is what The Revenant misses on purpose. In the end, Hugh is grasping for breath in the wild, not sure where to turn. We wonder if he will die now that his motivation has been taken from him.
O'Connor calls death "the most significant position offered." She goes on to say that a story is sustained by an
action or a gesture which was both totally right and totally unexpected…one that was both in character and beyond character; it would have to suggest both the world and eternity. The action or gesture…has to do with the divine life and our participation in it. It would be a gesture that transcended any neat allegory that might have been intended or any pat moral categories a reader could make. It would be a gesture which somehow made contact with mystery.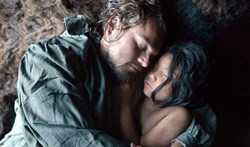 Image: 20th Century Fox
If the gospel can be summarized in light of this, it is that we are faced first with death—the greatest conflict any story could ever have—and secondly with the realization that our solutions don't give us what we want. We then stumble into a mystery that seems to have been waiting for us. This mystery turns out (mercifully) to be participation in the divine life.
We have been given a fire, and the moment of grace to give ourselves back.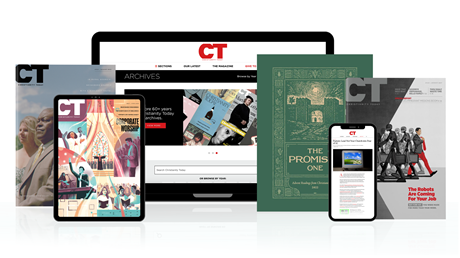 Subscribe to Christianity Today and get access to this article plus 65+ years of archives.
Home delivery of CT magazine
Complete access to articles on ChristianityToday.com
Over 120 years of magazine archives plus full access to all of CT's online archives
Subscribe Now
Contact With Mystery
Contact With Mystery