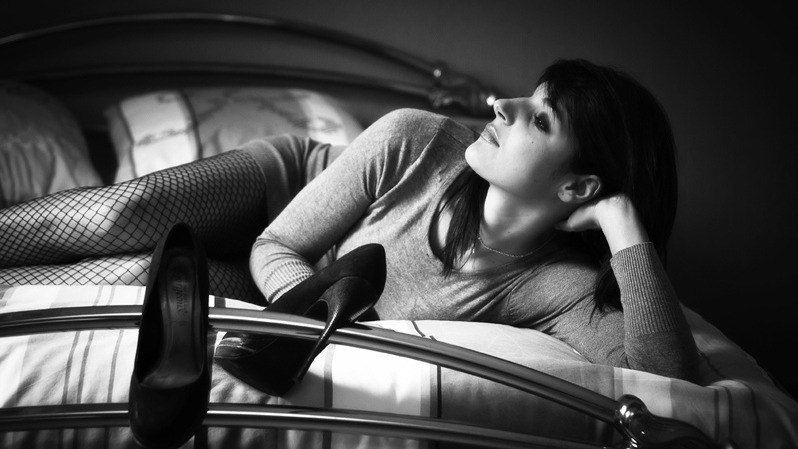 Image: allissongalerie / Flickr
This post is part of a weekly Her.meneutics series called The Sex We Don't Talk About, designed to feature female perspectives on aspects of sex and sexuality that can go overlooked in the church.
Sarah, a professional photographer based in Atlanta, photographs women posing in unbuttoned Oxford shirts, lacy bras, strappy tank tops, and tied-up corsets. Her subjects are not models or professional pinups; they are moms, brides, students, and business owners.
Her studio specializes in boudoir, a style of intimate portraits with subjects in undergarments, lingerie, and various states of undress. Over the past several years, boudoir shoots have taken off with the rise of specialty photography and the body positive movement.
"It's helping women be able to embrace themselves, be able to feel beautiful, and to acknowledge that they are stunning creatures," Sarah told me when I met with her last year.
I was fascinated by her work and philosophy. Her shoots are for all types and sizes of women, not just married women who hope to give the photos as gifts to their husbands, or "traditionally beautiful" women who are comfortable in front of the camera.
But the idea of stripping down to take sexy photos poses real questions for me as a Christian. I wonder, am I allowed to feel sexy, for the sake of it? Do the Bible's teachings on modesty prevent us from actually desiring to feel beautiful? Stunning? Confident?
Given our current cultural context, in which many women feel pressure to attain an impossible beauty ideal, I love the idea of women pursuing boudoir shoots to embrace their bodies and overcome hangups with their own sexuality. But does the trend end up playing into our societal idolization of sex appeal and beauty? Is this a way for a woman to objectify… herself?
Finally, what about the images themselves? While most boudoir photography is done in a "tasteful" style (without the full nudity or sex acts found in erotica and pornography), the style is undeniably sexy and often revealing. How do we distinguish between these kinds of photos and porn? And should we be concerned about privacy, and the possibility of these NSFW photos somehow becoming public?
As Christians called to honor God with heart, mind, and body, what we do with our bodies has spiritual significance. In a marriage, there's also the responsibility of considering bodies in service to one another (1 Cor. 7:4), as two become one flesh (Mark 10:8).
Despite these reservations, I find myself delighted at the potential that some Christian women could benefit from the experience of boudoir photography. As someone who has experienced sexual violation, I believe these sessions could help heal and empower women who have been mistreated or abused.
Sexual abuse and assault leave victims exposed and vulnerable. It's a kind of hurt that can linger long after the abuser has gone, and often it weighs heavily on a one's sexual identity. An abusive past causes women to associate sex with shame or pain. It shakes women's relationships with their own bodies and their sense of self. By aiming to create a positive and controlled setting for women to showcase their sexuality, a boudoir session can leave someone feeling seen, not exposed, and active, not powerless. Photography is uniquely equipped to do this kind of work; it has both a physical and emotional dimension to it. It can lead us to experience our embodiment as something lovely, something that images God's beauty and strength.
While many of Sarah's married clients initially cite a spouse as the reason they schedule a session—perhaps a birthday or anniversary gift—many clients later admit that they "just wanted to do it for themselves." Sure, they wanted their husbands to like the photos, but many mostly wanted to learn to love themselves and their bodies.
Others use the session as a way to heal from trauma of various kinds. One of Sarah's clients had gone through cycle after cycle of unsuccessful in-vitro treatments, and she had begun to feel like a science experiment. She scheduled a boudoir shoot because she wanted to do something different with her body and reestablish her femininity.
It's also no coincidence that boudoir has become a popular commemoration for women with cancer and other conditions. Some take photos to remember their bodies before treatment; the images are inspiring as they go through chemotherapy or surgery. Some women celebrate their "after" bodies—showcasing post-mastectomy breasts, scars, and other changes. These boudoir shoots can help women feel comfortable, confident, and even sexy again, while celebrating their recovery.
I'll admit when I first learned about boudoir I was cautious, knowing firsthand how the bare bodies of pornography have devastated many families. As I have written for Her.meneutics, my former husband struggled with voyeurism and porn. I was worried that these photos could evoke painful memories, but they have not triggered me. (Still, I recognize that others recovering from sexual betrayals or violations may feel differently.)
While shooting boudoir, Sarah recognizes that some unfamiliar with boudoir could confuse her work for pornography; it's not uncommon for bare stomachs, bottoms, and breasts to appear in her photos. For her, she said, "It's really only about celebrating and depicting the female body, about embracing womanhood and how it was created. It says, look at this woman. Look at how she exists. She embodies grace and beauty."
Rather than enticing a fantasy, Sarah hopes to capture real women and real beauty—in all its shapes, sizes, colors, and personalities. While skeptics may say a boudoir shoot in lingerie resembles a Maxim spread or Victoria's Secret catalog, the difference in intent makes a huge difference for the women involved.
Pornography objectifies people, reducing their bodies to something merely intended to sexually arouse the viewer. Boudoir begins with a woman's experience as the subject of the photos, shifting the perspective and agency to her. She chooses to do the shoot, as well as what to wear, what to cover, what to reveal.
From the start, the subjects are viewed as special and beautiful, treated to makeup and hairstyling, then encouraged and affirmed through the poses. Her photos aren't meant to titillate a male fantasy, but to evoke wonder in the presence of feminine beauty.
I could see the benefits of boudoir photography for a few of my Christian friends. One struggles with shame and rejection because of her husband's sexual issues. Boudoir might help her recognize her beauty rather than continuing to see herself through her husband's warped perceptions.
Too often, we see body image and self-worth as optional, but feeling beautiful is not just a fun perk for us. I believe we are missing out on the fullness of who God created us to be if we fail to see ourselves as beautiful and desirable. Zephaniah 3:17 tells us that the Lord over all "takes great delight" in us. We were made to be delighted in, and we should be able to celebrate the good that God sees—the beauty dwelling graciously within us by his divine design.
Maureen Farrell Garcia has been researching sexual abuse dynamics since learning her former husband was a perpetrator. When she is not researching, she reads, writes, and teaches at a Christian college. She has three valiant, amazing daughters, and one brand new granddaughter that she squeezes as often as possible. She believes life is short; so one should always act justly, love mercy, and walk humbly.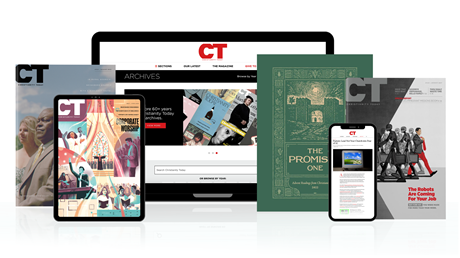 Annual & Monthly subscriptions available.
Print & Digital Issues of CT magazine
Complete access to every article on ChristianityToday.com
Unlimited access to 65+ years of CT's online archives
Member-only special issues
Subscribe
Finding Healing in Front of the Camera
Finding Healing in Front of the Camera