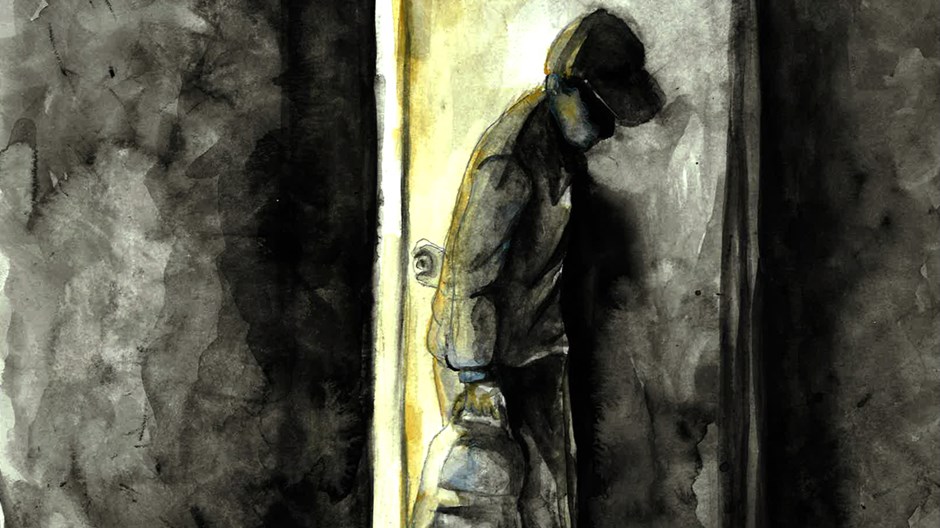 Image: ARTWORK BY ELYSE NICOLE
Elizabeth was a 70something new friend who exhibited an unshakable trust in God. I was a young woman in search of a mentor. When I asked what contributed most to her strong and lively prayer life, she said, "More than 25 years of waiting for my prodigal son to return to the Lord."
Elizabeth sketched nearly three decades of heartbreak as she recounted the toll her oldest son's drug addiction had taken on her entire family. Stephen's habit had cost him a once-thriving business, then his home, marriage, and reputation. He'd become homeless and had been bouncing between jail and the streets for years. Elizabeth described having to change the locks on her home after he'd stolen money and jewelry from her on several occasions.
"If you'd told me when he was 18 that this would have been his journey as an adult, I never would have believed you," Elizabeth said. Stephen had been a promising college student headed toward a career in medicine. When I met Elizabeth, I was the mother of three preschoolers. I, too, would have disbelieved that I'd experience a similar wait for my own prodigal son to return to the Lord. But as of this writing, it's been 15 years and counting.
No Guarantees
When I first heard Elizabeth's story, I hoped against hope that our family's combination of faith, spiritual practices, and wholesome lifestyle would inoculate my children against wandering from their faith. My husband and I understood that the oft-quoted words of Proverbs 22:6—"Direct your children onto the right path, and when they are older, they will not leave it"—were not a guarantee of a positive outcome but an exhortation to parents to be faithful and consistent.
We chose to homeschool our children. We placed a high priority on both church involvement and community service. We encouraged each of our children to cultivate their individual passions—one in theater, one in sports, and one in music. We prayed with and for them. We owned our plentiful imperfections and failures as parents, and we apologized to our kids when we fell short.
Despite what I believed Proverbs 22:6 taught, when I met parents like Elizabeth, I would still listen to see if I could detect some flaw in their parenting that may have led to the heartbreak of having a prodigal child. I was certain that if we redoubled our efforts and avoided the mistakes those parents had made, we'd be sure to have a different result with our own three children. With a wide array of Christian parenting experts to guide us, we were armed with surefire tips and techniques for every stage of the journey. Certainly that would ensure that our three would flourish once they left the nest.
The Spiral
Love, faithfulness, and godly intentions could carry our children only so far. Around the time our oldest son, Kevin, turned 18, he moved from being an emotional but grounded young man to one who seemed to have short-circuited. He dumped his old friends and began hanging around with guys he'd met at the warehouse where he worked to earn money for college. He began staying out all night and would call us when he found himself in over his head.
One memorable call came at 1:00 A.M. when he whispered into the phone that he was crouched on the floor of a car, hiding, while a drug deal was taking place a few feet away. An argument had broken out between dealer and customer, and Kevin became frightened when guns were drawn.
The confrontation was resolved without bloodshed, which only served to bolster Kevin's conviction that he was invincible and that our "religious" rules were both oppressive and unnecessary. He told us he was done with God. At first we hoped his disconnect from God was merely an effort to establish his adult identity. We continually assured him of our love—and God's perfect love for him no matter what he said or did. We assumed that if he returned to God, his rapidly deteriorating life would get back on track.
However, we continued to enforce our house rules. We insisted that he not use our home as a free motel, a place to come back to and crash when he was high or drunk. We sought pastoral counseling for him and us, and we asked trusted friends to pray.
The Crash
Our household was in a perpetual state of crisis. Kevin's behavior was disruptive and confusing to our two younger teens. Finally, friends living in another state who knew of our situation invited Kevin to move in with them. It would be an opportunity for him to hit the reset button on his transition to adulthood.
Kevin didn't want to hit the reset button. He elected instead to move out of our home. He couch surfed, crashing at the home of one buddy after another. He lost a couple of jobs due to his drug use. We heard from him from time to time but saw little of him. He alternated between periods of sodden depression and manic activity.
We began to wonder if we were dealing with mental illness in addition to Kevin's disconnect from his faith. Was his drug use the cause of his problems, or was he self-medicating some deeper pain? Kevin was an adult in the eyes of the law, so we had no way to get him assessed and into treatment, and he wasn't open to the idea at all.
Around that time, Kevin fathered a child, our first granddaughter, Tess. He and Tess's mother, Cassie, stayed together for a few years. We worked hard to rebuild a relationship with Kevin and get to know Cassie and Tess during the years they were together.
Kevin's impulsive behavior and roller-coaster moods kept the trio bouncing from place to place for several years. We did what we could to provide support in the form of practical gifts for Tess, babysitting whenever we were in town, and groceries. We didn't want to fund Kevin's drug habit with cash gifts, but we wanted to make sure Tess was cared for.
Cassie was more stable than Kevin was. She was able to hold a job, which often left the chronically unemployed Kevin to care for his young daughter. At one point, we learned that a neighbor had called Child Protective Services because they suspected Kevin was neglecting his daughter. His drug use continued to escalate, and his relationship with Cassie crumbled until Kevin moved out. It has been an unexpected grace that Cassie continues to allow Tess to be a part of our lives.
Neither we nor Tess have seen Kevin in more than a year, though he does send an occasional text message. We don't know for sure where he's living or what he's doing to support himself, but we suspect he is living on the streets in a nearby city.
Waiting Along with God
My mentor, Elizabeth, has gone to be with the Lord, but I think of her often these days. "Intercessors are not born that way," she once told me. "They are made in the midst of impossible circumstances that teach them there's nowhere else to go but to Jesus." God used her son Stephen to teach her to wait with God in prayer. Kevin has led my husband and me to the same dependence on God.
There hasn't been a day in the last 15 years when we haven't ached for the return of our prodigal son. We long to see him restored to a relationship with God and having access to the help he needs. The parable of the Prodigal Son (Luke 15:11–32) is a fictional story that invites us to experience the reality of a heavenly Father whose waiting arms are open wide to us whether we stray or stay.
The parable never mentions how long the father in the story waited for his wandering son to return home. The son's first action, once he had secured his inheritance and left home, was to blow through his funds in a binge Jesus describes simply as "wild living" (verse 13). It doesn't take long to party through a big bank account. But the rest of the younger son's journey to the end of himself may have taken months, or even years.
In the introduction to his book The Return of the Prodigal Son: A Story of Homecoming, Henri Nouwen shares a sentence an influential friend spoke to him at a time when Nouwen was wrestling with a great many things. She referenced the parable of the sons, then told Nouwen, "Whether you are the younger son or the elder son, you have to realize you are called to be the father."
When I read the parable of the prodigal, I recognize my own rebel ways mirroring that of the younger son, and I also own my sinful desire to be the self-righteous older son. As Nouwen's friend told him, and I've learned through the long, hard wait in prayer for Kevin to come to the end of himself, we as parents are called to be the father. The love of this kind of father who "never gives up, never loses faith, is always hopeful, and endures through every circumstance" (1 Corinthians 13:7).
Being the Father
In our context, always protecting, trusting, hoping, and persevering doesn't exempt us from living with ongoing grief and concern. While we hope for good news, we exist in a state of low-level readiness to brace for another crisis or phone call bringing bad news. Holidays and birthdays are especially difficult, as these family times are shadowed by our sadness over Kevin's absence and fresh waves of anxiety about what may be happening to him.
Productive time with a licensed counselor has given my husband and me clarity about Kevin's issues and offered us tools to manage the ongoing grief and stress. We've found a wealth of helpful free resources and support about Kevin's mental health and addiction at the National Alliance on Mental Illness.
The prayerful support of good friends has been a source of strength for us as well. In the early years of Kevin's prodigal journey, my husband and I found that our family had become the subject of gossip. It took time, a few confrontations, and a lot of "seventy times seven" forgiveness (Matthew 18:21–22) to recognize that many of those who gossiped were speaking out of fear. Their fears were the same ones that caused me to question people like Elizabeth, trying to figure out what they might have done wrong in raising their children.
I've found deep solace in remembering that Adam and Eve had a perfect Father and still managed to rebel against him in epic style. It is a comfort to realize that this same perfect Father loves Kevin more than we ever could and is actively at work on his behalf. And he is at work in us, teaching us how to reflect his love by "being the father" as we wait with him for our son to come home.
The author is a mother and grandmother and has written several books. Names and details in this article have been changed to protect the privacy of the author and her family.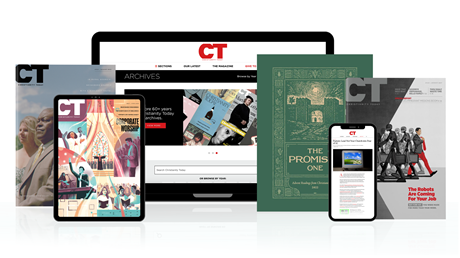 Annual & Monthly subscriptions available.
Print & Digital Issues of CT magazine
Complete access to every article on ChristianityToday.com
Unlimited access to 65+ years of CT's online archives
Member-only special issues
Subscribe
When Your Child Is a Prodigal
When Your Child Is a Prodigal