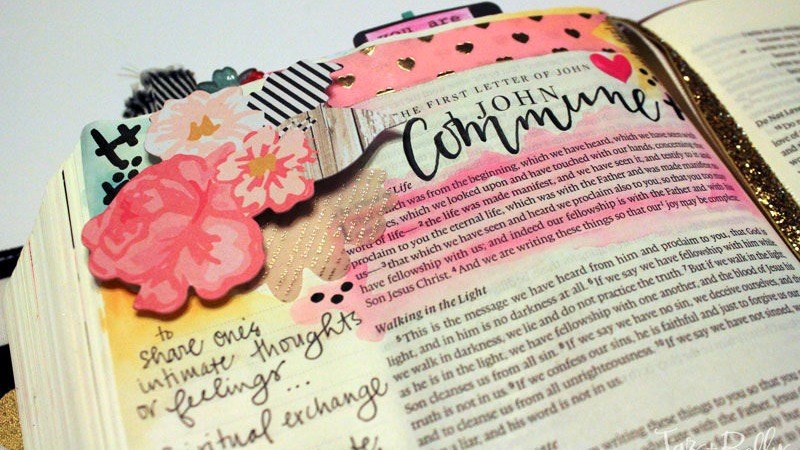 Lately I've been more than a little intimidated by the pictures people are posting of their Scripture art-journaling on social media, probably because they make my own quiet-time doodling look like the work of a five-year-old. Though I've been marking up my Scripture reading and prayers with pens and colored pencils for several years, my colorful masterpieces are not crafted for public consumption.
Scroll through hashtags like #illustratedfaith and #biblejournaling and you'll see that women are not only spending such valuable time in God's Word but also communing with each other about their experience, sharing from the deeper places of their hearts with such amazing creativity.
Why has this become such a craze, with literally thousands of websites, books, Bibles, and even kits designed to turn us all into spiritual Van Goghs? There are many reasons: Breaking out the art supplies and opening God's Word takes us back to a simpler, less stressful time, and it reminds us of what it is like just to be a child in God's presence. It gives us a hobby to connect with our sisters in Christ. But beyond that, drawing, note-taking, and doodling engages us in the text in a new and often needed way. It helps counter the malady philosopher and theologian David Wells calls the "affliction" of this age: distraction.
Simply put, because of our incessant use of technology, even for Bible reading and prayer, our brains are being rewired so that it is almost impossible to spend time in quiet with God. In a buzzy, flashy, screen-filled age, we struggle to just be still and know. When we do try, our minds flit here and there, and we feel so anxious and restless that we soon give up. We need ways to counteract the negative impact of digital life, and Scripture or prayer art journaling does just that.
Brain scans of people involved in activities like coloring reveal that as we focus, our heart rate slows and our brain waves enter a more relaxed state. Over time, by engaging in Scripture or prayer art-journaling, it may become easier for us to focus and pay attention in other areas of our lives as well. It is no wonder we are so drawn to this activity.
As someone who has spent my life helping others pursue intimacy with Christ, I am all for any habit that can help us encounter the stillness in God's presence. The trend of sharing snapshots of our inspired doodles and artwork represents both the social connectivity and the desire for retreat we find in our 21st-century lives; in those ways, it echoes themes in my book The Wired Soul. As I consider how to counteract distraction and foster spiritual development in the digital age, here are some suggestions I can offer for your artistic Bible and prayer endeavors.
Create for God alone
While you may end up sharing your beautiful work with others, it is important that as you are drawing or coloring, you focus on the activity as a special time for you and God to commune. Remind yourself that even if no one ever sees what you are doing, God is delighted with your artistry, creativity, and pursuit of his Word.
Moreover, cognitive neuroscientist Stanley Rodski, who has researched and written extensively about the benefits of adult coloring, points out that any sense of performance or competition destroys the potential gains related to being calmer and more focused overall. Thus, when we engage in prayer or Scripture art-journaling, we need to work at not really thinking about our final masterpiece, but instead relish the joy of the moment and the chance to slow everything down and have fun with God.
Make it about the process, not the product
As I noted earlier, the artwork I create in my quiet times is more akin to doodling. (I follow a practice inspired by Sybil MacBeth, author of Praying in Color.) I've tried to imitate some elaborate pieces I've seen from other women, only to end up frustrated about the whole thing. The spiritual benefits from rewiring the brain are the same as those that we connect with the present moment—whether we are doodling circles and patterns or sketching a panorama—so we can rest in just being who we are with God, even if we're not an impressive artist or calligrapher.
Part of the benefits of coloring—and of the discipline of prayer and Bible-reading—comes from forming a habit, returning to same practice over and over. Neuroscientist Andrew Newberg, who studies the impact of meditation, says it takes a minimum of 12 minutes a day for two months to see significant change in the brain. Setting an intention is a great way to focus the process. Decide how often and how long you will do Bible-reading, Bible-journaling, or prayer-journaling, and then write out your intention—the more specific, the better.
Technology has radically changed our way of being in the world, and though the advantages are enormous, we need to be aware of downsides such as distraction and find ways to counteract them. The blessing of praying or Scripture journaling through art is that it gives us another opportunity to be immersed in God's presence.
Tricia McCary Rhodes has served in ministry for over 35 years and is the author of several books, including her most recent, The Wired Soul: Finding Spiritual Balance in a Hyperconnected Age (NavPress). She and her husband founded New Hope Church in San Diego. She is currently an adjunct professor of practical theology at Fuller Seminary. Visit her at soulatrest.com.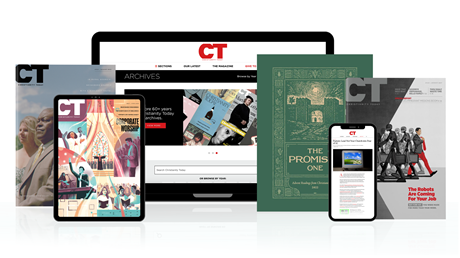 Annual & Monthly subscriptions available.
Print & Digital Issues of CT magazine
Complete access to every article on ChristianityToday.com
Unlimited access to 65+ years of CT's online archives
Member-only special issues
Subscribe
Bible Study Meets Crafting: The Bible Journaling Craze
Bible Study Meets Crafting: The Bible Journaling Craze