true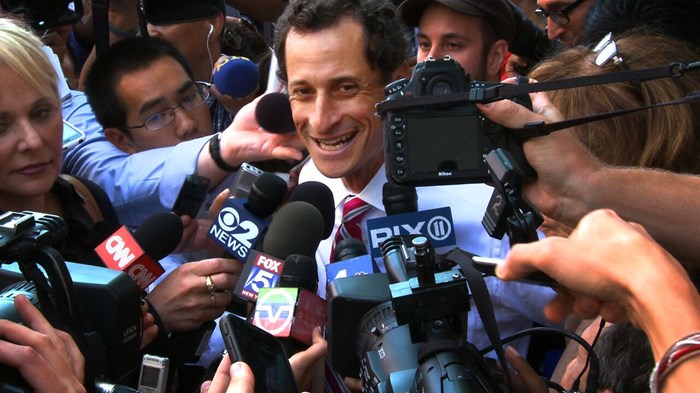 The True/False Film Festival, which focuses on the best in nonfiction filmmaking, took place March 3-6 in Columbia, Missouri. This week, we'll be running a series of capsule reviews from the festival.
Anthony Weiner, the former senator from New York and 2013 candidate for New York City mayor, has long been a walking punch line in both local politics and national late-night comedy shows. Who can blame comedians for returning to the material? It's just too easy: a rising young political star known for his passionate advocacy for progressive causes—and importantly, a grade-school double entendre for a name—gets taken down by a scandal after he accidentally posts a lurid image to his Twitter account intended for one of his young female admirers. He resigns in disgrace.
But wait! There's more. Weiner's wife, Huma Abedin, is a political staffer, Hillary Clinton's right-hand woman—Bill performed their marriage ceremony—and with her help, Weiner makes a bid at relaunching his political. It's all going well, and he's gaining momentum, but then another scandal erupts.
In Weiner, directors Josh Kriegman and Elyse Steinberg set up the entire first act of the story through a montage of news and C-SPAN clips (along with a few comments from Weiner) before the title credits have ended. Kriegman was once Weiner's district office chief of staff, and the level of access the politician granted to him and Steinberg is staggering. They're in his home, his car, his office; he only asks them to leave once or twice, and it's only at the end that Steinberg finally asks why he even let them film it at all.
The answer is that Weiner is well aware of the media circus environment, and convinced that even without his sins he would have been crucified at some point just for being passionate about unpopular issues and having a funny name. Watching the film, you can sort of see his point. He's a charismatic and passionate person who seems to have a sense of what "public servant" actually means, but just can't get out of his own way long enough to do something good. "It's a movie about how crazy the media exploitation is," Weiner told the New York Post, before saying that the movie itself exploits him and his wife, and he won't be clamoring to see it.
That's at least a little true. Weiner is in no way immune to making the easy joke: its epigraph is from media theorist Marshall McLuhan—"The name of a man is a numbing blow from which he never recovers." There are some moments in the film that seem as if they've been tweaked for maximum effect in ways that might step over the bounds of propriety; it's hard to watch Abedin, in particular, as her marriage gets once again dismantled.
But then there's the fact that these are public figures—both of them—who are media-savvy, very used to the camera, and know exactly what it means to be in the public eye, and who just keep granting access when they could have shut it down at any moment. And the film is a rollicking, highly entertaining, very instructional cautionary tale.
So it's hard to be too sympathetic to the "media exploitation" complaint. The real tragedy of Weiner is that whether or not you agree with its subject's politics, in this messy and ridiculous political climate, you can both understand his appeal and see why he keeps self-exploiting both in his sexting and in letting the documentary happen—and, spoiler alert: it's not just Weiner who's addicted to the cameras, either.
Weiner's theatrical release is scheduled for May, with a Showtime release later in the year.
Alissa Wilkinson is Christianity Today's critic at large and an assistant professor of English and humanities at The King's College in New York City. She is co-author, with Robert Joustra, of How to Survive the Apocalypse: Zombies, Cylons, Faith, and Politics at the End of the World(Eerdmans, 2016). She tweets @alissamarie.