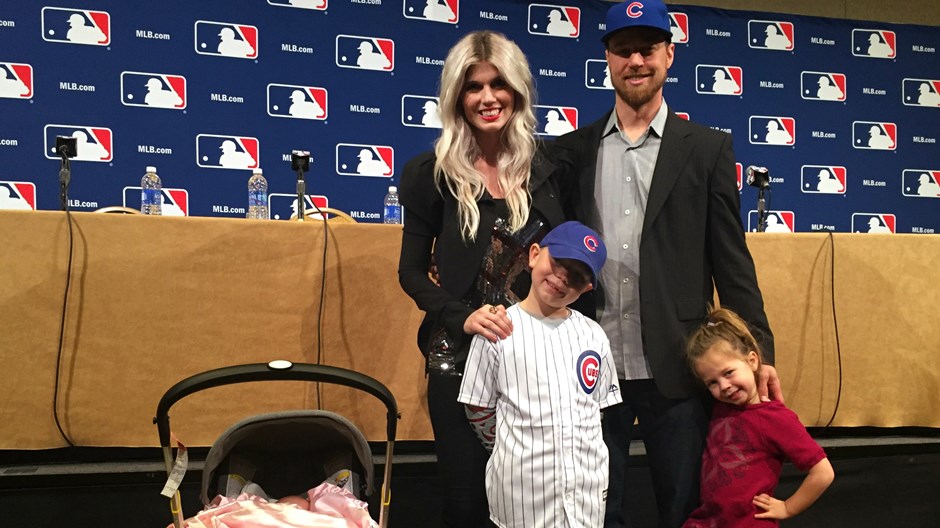 Image: Courtesy of Julianna Zobrist
When your husband and his team win the World Series, you'd think that'd be the most exciting moment of the year for your family. Or at least, the week. But not for Julianna Zobrist—wife of Ben Zobrist, second baseman during the Kansas City Royals' winning season last year.
Just a few days after the Royals took home the title, musician Julianna had her own big victory, releasing her single "Alive." And, after enduring the tension of the championship with a full-term pregnant belly, she gave birth to their third child.
The Zobrists' packed World Series week showcases the twin pressures of career and family for professional athletes—a topic that recently reemerged in the MLB. Last week, Adam LaRoche opted to leave the Chicago White Sox after the club requested he limit the time his son joined him at work. Baseball fans debated if LaRoche's family-first expectations were reasonable. Though fans have also questioned whether players should miss games for the birth of a child, the MLB became the first pro sports league to set an official paternity leave policy in 2011.
With a seven-year-old son, four-year-old daughter, and five-month-old baby girl, the Zobrists are once again heading into a new season—this time with the Chicago Cubs. Over a decade of friendship with Julianna, I've watched her family grow as she and Ben follow their careers in Christian music and baseball. During spring training, we caught up to discuss her experience as an MLB wife. She told me what it's like to maintain a marriage, manage a family, and grow in faith, all while following around a professional baseball team… and writing and recording her own music.
What do you think it says about God's timing for your family to experience a World Series win, the release of your new single, and the birth of a baby all within the span of a few days?
It speaks so much of his sovereignty and care for us, and his humor. I am thankful that at the time I found out I was pregnant, I did not know everything else that was ahead. That may have sent me into a panic. Who could have guessed we would be traded to a team that would go on to win the World Series? Who could have guessed my single would be slated for that very same time?
We landed in Nashville after winning the World Series and in less than 24 hours, I went into labor and little Blaise Royal was born, on the day my single "Alive" was released. You can't plan that stuff, but God does. In his sovereign and kind way, he knew what I could and could not handle. He had our days planned out for us and was simply asking me to trust him.
How does your music career relate to your husband's baseball career? How do you support Ben and still pursue your own God-given calling? How does he support you?
When Ben and I got married, his wedding gift to me was an 88-key MIDI keyboard. He has always been my biggest fan and has always encouraged me to be faithful to what God has called me to as an individual, in addition to the obvious and most important call God has given me in the roles of wife and mother. This has honestly not always been an easy balance. It is not easy for me to turn down opportunities in music, but my roles as wife and mother are non-negotiable. They take first priority in my life in regards to my time and my commitment.
When Ben first got drafted and we were engaged, he said, "If I commit to baseball, we need to be in it together. I don't want to do baseball if it's going to mean we have two separate lives." Ever since that day, Ben and I have implemented a six-day rule; we don't spend any longer than six days apart from each other. This means the three kids and I hop on flights every week to meet Ben in the city where he's playing. This commitment also means the kids and I relocate to whatever city Ben is playing in during the eight months of the season. We relocate to Arizona for the six weeks of spring training to stay together, and we homeschool our kiddos so we can go on the road. I schedule all of my music and speaking events around Ben's travel schedule. We both make sacrifices to be together geographically.
We fight to stay transparent with one another, to be honest even about the hard stuff, and to stay in love! This has been the greatest gift in our marriage—to be known and accepted by one another completely. No competition or fear or confusion with what comes first in our lives: first our commitment to Christ and bringing him glory, and then to one another and our family, after that come our careers.
What were your fears about your husband playing professionally? What has surprised you?
When we were first drafted we heard the statistic that over 84 percent of ballplayers get divorced by the time they are done with baseball, and over 95 percent of baseball players will either end up divorced or bankrupt after their career is done. This resulted in deliberate decisions such as our six-day rule and also hiring a team of very conservative Christian financial planners. These things are not fool-proof to the heart, though. We still struggle with greed and discontentment at times. Baseball has revealed to me that the problem of sin is universal. No one person has it any easier because they have more money or less money or more fame or more accountability or less exposure to the world. Before the cross we are all the same, in desperate need of a Savior.
On the road for eight months out of the year, we have to be away from our home church during that time. This is the worst part about baseball. The local body of Christ is such a sweet family to be a part of. Growing up in pastors' homes, neither of us realized this until we didn't have it…. What has been surprising is the immediate connection I feel with people I meet at games and airports and shows who share the same love for Christ. My heart is filled with joy and encouragement any time I come in contact with another believer.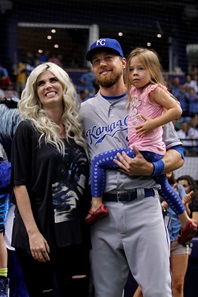 Image: Mark LoMoglio / AP
What did you pray for leading up to the World Series? How did your family celebrate the win?
We prayed desperately for the strength to handle it all with grace. We were constantly reminding each other that we need to be faithful with today. Just simply today. There were so many people and requests and chaos and plans to make that it could have been very overwhelming. So we committed to taking one day at a time, talking logistics in the morning and that's it, and then praying for the strength to be faithful with that day. When we won, Ben and I and a few of our best friends who were in New York with us stood out on the Mets' field and prayed. We stood in a circle, media all around us, fans screaming, players spraying champagne, but arms around each other, praying God would be glorified and we would be bold in our interviews. We committed the celebration to Christ and his glory. After all the interviews, Ben, of course, sprayed champagne all over me!
The Cubs is your fourth team in the past year. How do you manage uprooting your family and making a home in a new place?
I keep a very detailed calendar, and I have an assistant who helps me keep up with my very detailed calendar. I have given up trying to do it all on my own. I may have felt like superwoman in the past, trying to juggle everything, but really my pride was the only thing that felt good about it.
Baseball is all my kids have ever known, so living in Nashville from November to February, then Arizona from February through March, and Chicago April through October is normal to them. Last year, being traded in the middle of the year was slightly chaotic, but I have found that my kiddos follow my lead. So if I'm upbeat for the adventure, which is what I call any unforeseen crazy situation (trades, canceled flights, locked out of hotel room, forgot to pack underwear), then they're typically up for it too. Praise God they haven't caught on yet that "adventure" really means, "What the heck is happening? Nobody freak out."
Tell us about your new record.
The goal for my record, as it has always been with my music, is to speak honestly and transparently from my own heart and experiences. Many of my songs are more directed to women. The title track, specifically, is called "Shatterproof," and that is the common theme throughout the record. A shatterproof woman is set free from holding on to her failures and successes. Likewise, she is set free from holding on to the opinions of others, and instead holds on to the success and opinion of her Savior. A shatterproof woman finds her security, identity, and authority in the person and work of Jesus Christ.

You can find Julianna's music and performing schedule at JuliannaZobrist.com.
Catherine Parks writes from home in Nashville, Tennessee, where she lives with her husband, Erik, and their two young children. Catherine is the author of A Christ Centered Wedding: Rejoicing in the Gospel on Your Big Day with her mother Linda Strode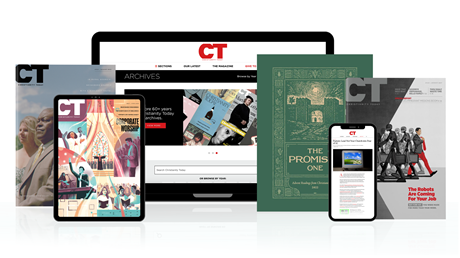 Subscribe to Christianity Today and get access to this article plus 65+ years of archives.
Home delivery of CT magazine
Complete access to articles on ChristianityToday.com
Over 120 years of magazine archives plus full access to all of CT's online archives
Subscribe Now
MLB Wife Julianna Zobrist: 'Baseball Is All My Kids Have Ever Known'
MLB Wife Julianna Zobrist: 'Baseball Is All My ...