true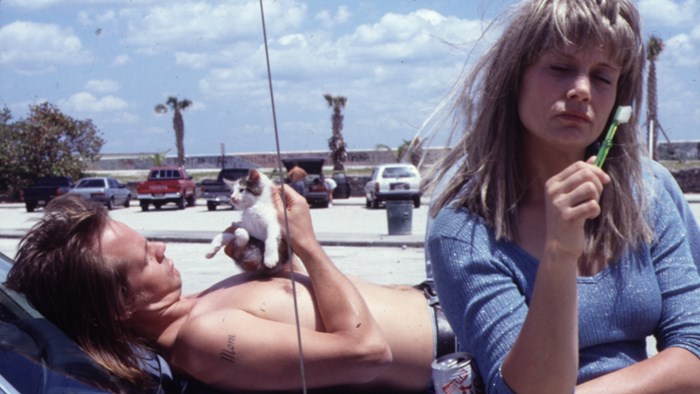 Image: Oscilloscope Laboratories
There must be a reason we keep remaking the story of Bonnie and Clyde, right? The couple on a crime spree long ago passed from historical fact—early twentieth century American criminals who robbed and killed people during the Depression—and into myth. They loom so large they're now a narrative archetype, like Sisyphus, or Romeo and Juliet.
The real Bonnie Parker and Clyde Barrow died on May 23, 1934, ambushed by law enforcement after four years on the run. Parker was 23; Barrow was 25. The historical details of their story take place during the "Public Enemy Era" (1931-1935), when criminals like John Dillinger and "Pretty Boy" Floyd captured the imaginations of Americans and became celebrities and, in some cases, folk heroes. Songs were sung. Legends were born.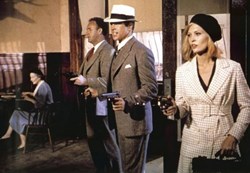 But the legend of Bonnie and Clyde transcends them all. Something about the story, the trope with the couple on a murderous, exhilarating run, has beckoned to a murderer's row of filmmakers and storytellers, inviting them to put their own spin on it and re-read the story for their own time. Musicians have told and retold the story, too, from folk ballads and country songs to a line of songs from Tupac, Eminem, and Jay-Z.
And like all good legends, the retellings interlock with one another.
In 1967, Warren Beatty and Faye Dunaway starred in Arthur Penn's Bonnie and Clyde, widely considered a watershed moment in American film history, significant and influential for its use of sex and violence. Its protagonists are seductive and exciting, anti-heroes to the last. Young people loved it and claimed it as a rallying cry for the counterculture, even as it seemed less than convinced that individuals can really exercise freedom against the constraints of society.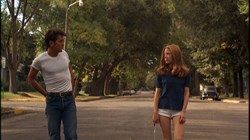 Penn's protégé, Terrence Malick, turned to the trope for his first film, Badlands, in 1973, which stars Martin Sheen and Sissy Spacek. He was inspired by a different criminal pair: Charles Starkweather and Caril Ann Fugate, whose two-month spree in 1957 and 1958 resulted in eleven bloody deaths in the midwest. But while the details of Starkweather and Fugate's spree are different, the arc remains the same: young lovers in the middle of the country on a bloody road trip that can only really have one ending. Where Penn's film is operatic and alluring, Malick's is stark and cruel. It was a sensation. In the credits, Malick thanks Penn.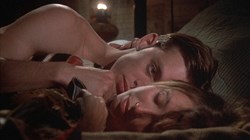 In 1974, Robert Altman took a crack at the archetype, casting Keith Carradine and Shelley Duvall in a story based on Edward Anderson's novel by the same name. (Nicholas Ray made a film based on the novel as well, the 1949 They Live By Night, which is often considered a forerunner to Bonnie & Clyde.) In a typical Altman take, Thieves Like Us meanders across its Southern backdrop, lending a deep sense of lethargy and longing to the trope. "Bonnie and Clyde were anti-heroes, but this gang of Altman's has no heroism at all," Roger Ebert wrote in his review. "Just a kind of plodding simplicity, punctuated by some of them with violence, and by the boy with a kind of wondering love."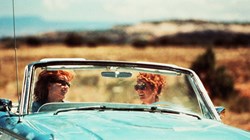 Ridley Scott shot his own version in 1991, in a film based on a script by Callie Khouri (who, interestingly, created the TV show Nashville). Thelma & Louise isn't as obvious about its Bonnie and Clyde inspirations, but the references are still there. Thelma (Geena Davis) and Louise (Susan Sarandon) aren't lovers: they're friends, but the men in their lives seem either impotent or evil, they're prompted into a crime spree—and all they have is each other. It's an archly, buoyantly feminist take, in which social restraints seem to give them no choice but to break bad. (So to speak.)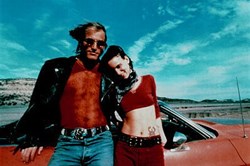 Oliver Stone returned to the same pair that inspired Malick for his bloody black comedy 1994 Natural Born Killers, with a screenplay by Quentin Tarantino. Woody Harrelson and Juliette Lewis are the criminal lovers, and Stone named Bonnie and Clyde as one of his inspirations, particularly in the film's editing. Natural Born Killers parodies TV shows and borrows on various media aesthetics. It's somewhere between a party and a nightmare, but Stone called it optimistic, a suggestion—unlike earlier takes—that it's possible for people to break free of societal restraints, even in an age of media domination.
The most recent original take on the trope was David Lowery's 2013 Ain't Them Bodies Saints, which starred Casey Affleck and Rooney Mara. (Read our feature on Lowery and the film.) Unlike most retellings, Lowery's film places the crimes in the first few moments of the film, instead choosing to focus on the fallout. The film is obviously influenced by Malick, and Lowery names Badlands and Bonnie and Clyde among his influences, alongside Marilynne Robinson's Gilead.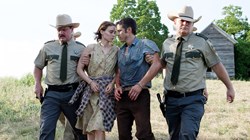 But the moral center of Ain't Them Bodies Saints feels different than its predecessors. A life of crime isn't a romantic undertaking or a hopeless scramble for meaning. After all, in the real world, the fallout from the romantic outlaw's life threatens families, parents, children, marriages. So Lowery's film instead focuses on those relationships, probing the enduring, spiritual significance of love and challenging the idea that the best thing a person can do is individuate themselves from the crowd, even if that means a life of crime. It's a challenge to the whole trope.
The same year that Stone made Natural Born Killers, Kelly Reichardt made her first film, River of Grass. A new restoration of the film releases in New York City this weekend and, for everyone at home, on Fandor. The first offering from Reichardt (Meek's Cutoff, Wendy and Lucy), River of Grass originally premiered in 1994 at Sundance, but quickly got lost, especially since Reichardt didn't make another film until Old Joy in 2006.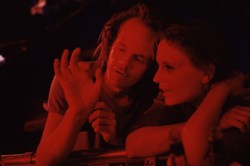 Image: Oscilloscope Laboratories
River of Grass's framing sheds some light on the enduring appeal of the trope. In voiceover layered onto shots of her childhood memories and the Florida Everglades, our narrator Cozy (Lisa Bowman, playing the Bonnie character) tells us that after her mother left, her father became religious and raised her Catholic. She'd go to confession, but "I kept four made-up sins that I used over and over again." She and her husband move into a house that's cheap because a woman murdered her husband in the bathtub, and Cozy—who is disconnected from her children and her husband, spending her days daydreaming about being a gymnast and practicing cartwheels in the living room and staring at the highways—wonders often how that woman decided to do it, and how her life ended up the way it has. When she meets Lee (Larry Fessenden), she's attracted to him because, as she says, he seems to be going somewhere.
The Everglades—the "river of grass"—are a sort of Garden of Eden after it was abandoned, isolated and inhabited by animals. But this is the 1990s, and Paradise has been paved. "They say that within two years there will be a shopping center every two miles," Cozy remarks. Characters sense there is some kind of paradise available to them, and they want to return to it; all the Eve needs is her Adam.
River of Grass is a darkly comical take on the trope in a way totally unlike Stone's comical attempt—largely because the characters at its center are so hapless that they never manage to execute the actual spree. Instead, River of Grass is about two people so in love with the idea of being criminals on the lam that they seem self-consciously acting the part, willing the events to happen so they can join the legend. "If we weren't killers, we weren't anything," Cozy says. In the end, she figures it out, inverting the trope yet again in a way that seems more radical than even Thelma and Louise.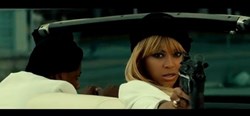 And that, in some sense, sits underneath every murder-spree, Bonnie and Clyde narrative: a disaffection with the state of things that other people accept as normal and desirable, whether it's a bad marriage or a bored life. The road trip that ensues is a journey in an attempt to regain that Eden. It's a uniquely American tale, in many ways, something nestled deep into the psyche of a country that's always been about journeys and road trips and westward expansion—and sometimes the violence that comes along with it—all in search of a Promised Land.
But it's a flipped-out negative, of course—the implication in every Bonnie and Clyde story is that in our world, perfect innocent happiness is unattainable. Instead, the characters deliberately choose to plunge into the most destructive acts possible, forming their own small universe, knowing how this has to end. .
Alissa Wilkinson is Christianity Today's critic at large and an assistant professor of English and humanities at The King's College in New York City. She is co-author, with Robert Joustra, of How to Survive the Apocalypse: Zombie, Cylons, Faith, and Politics at the End of the World (Eerdmans 2016). She tweets @alissamarie.