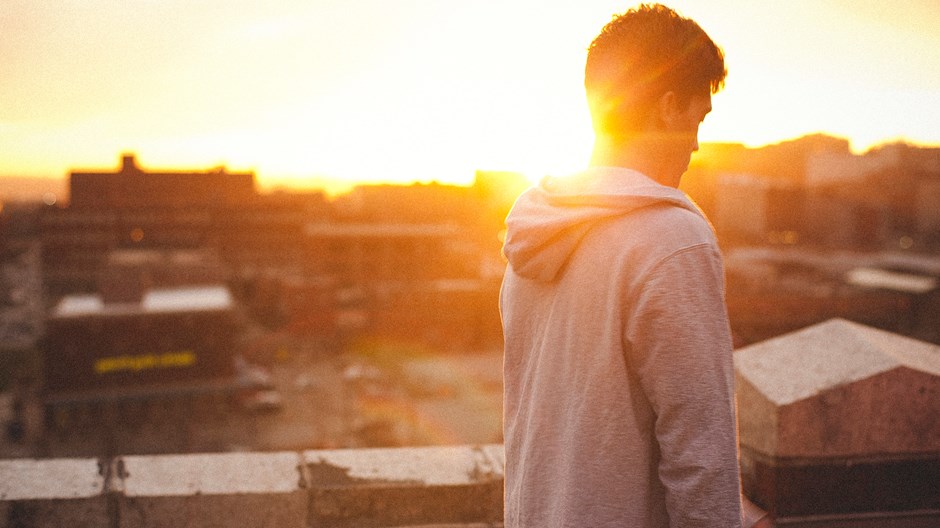 My high-school basketball coach was a classic, old-school screamer who motivated with fear and shame. His voice was powerful, but I heard it only when I did something wrong. If I turned the ball over on offense or blew my assignment on defense, practice would stop, and the shaming would begin. Red in the cheeks and foaming at the mouth, he would scream until I had to wipe the spit off the side of my face. I never really knew him outside of basketball practice, but I know he was an angry man.
Many people have a similar view of God. They believe he's a grumpy old man who has to get his way, and that when he doesn't, he will shame, guilt, and scare people to get them in line. Although most wouldn't say it out loud, deep down even many believers think of God as "the God who is out to get me," that he is waiting for us to mess up so he can meet his divine quota for punishing sin. Perhaps this comes from a particular teaching or from a bad experience with a church or a Christian, but either way, this is how many functionally view God.
When we open the Bible, we encounter a very different God. The God who delights. The God who sings. The God who saves.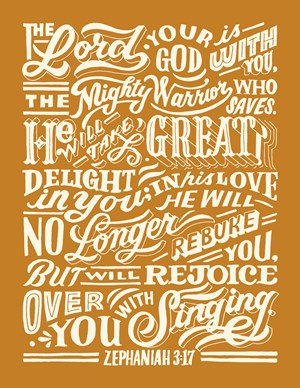 Image: Jill deHaan
The Lord your God is with you, the Mighty Warrior who saves. He will take great delight in you; in his love he will no longer rebuke you, but will rejoice over you with singing. (Zeph. 3:17)
This is one of the most inspiring and encouraging verses that you will ever read—but not in a "power of positive thinking" way. To read this passage merely as an inspirational pick-me-up would cheapen it and obscure its true meaning. To lift the verse out of its Old Testament context and surround it with clouds and doves is to miss the substantive joy and weighty delight of which it speaks. To examine the passage as a whole, however, is to understand the depth of the song and the broader story of which it is a part.
A Beautiful Song of Delight
Zephaniah 3:17 begins by declaring one of the most basic yet beautiful truths: The Lord saves. While most of us tend to focus on what we are saved from, this verse emphasizes what we are saved for. According to Zephaniah 3, not only are we saved from judgment, we are also saved for joy—God's joy.
Before we look through this window into the heart of God, let me invite readers to answer: What do you think God really feels when he looks at you? For many of us, even though we know intellectually that God loves us, we believe in our hearts that God is disappointed, angry, or even indifferent to us. Others of us know that we are forgiven but think of our standing before God only in negative terms: He's not mad at me. I'm not guilty.
Many Christians carry this perception of God because we overemphasize what we are saved from and overlook what we are saved for. Imagine if someone asked me how I feel about my kids, and I said, "I don't hate them." That's a true statement, but it's not enough. I love my kids. I delight in them. But when we think of our relationship with the Lord, too often we only think of the things God doesn't think or feel: "He's not mad at me. He forgave my sin."
Zephaniah 3:17 declares that God is mighty to save and focuses on what God saves us for. While there are many facets to what we are saved for, the threefold declaration of Zephaniah 3:17—that God delights in us, that he will no longer rebuke us, and that he will rejoice over us—is one of the most beautiful pronouncements of God's grace and love in all of the Bible.
God does not tolerate his people; he delights in us.
The first part of this declaration is that God "will take great delight in you." Delighting is an action more often associated with humanity than God, but Zephaniah paints a picture of the God who delights. God's people are not a mistake that God is stuck with because he values commitment. He does not give out his mercy begrudgingly, like Ebenezer Scrooge before the fateful visit of the three ghosts of Christmas. No, Scripture says God delights in showing mercy (Mic. 7:18). The Lord is not a reluctant giver, as if he has a limited amount of grace and has to give it out sparingly. He is "abounding in love and faithfulness" (Ex. 34:6). He is literally overflowing with love for us. God does not tolerate his people; he delights in us.
The second part of God's declaration is that "in his love he will no longer rebuke you." The Lord is a "Mighty Warrior" (Zeph. 3:17), but his power is directed by his love and his strength is always in accordance with his character. When Zephaniah says that the Lord "will no longer rebuke you," it's not that God's character has changed but that by his love, our status has changed. We are no longer under his judgment; instead, we are under his care (Zeph. 3:15). It's a declaration rooted not in shifting emotions but in an unchanging, lasting covenant.
The third part of the declaration is that the Lord "will rejoice over you with singing." This is an incredibly unique view of God. He is not the Unmoved Mover of Greek philosophy or the emotionless God of the Stoics; the Lord is the God who sings. Only a God who is creative and beautiful adds rhythm and cadence when mere words are not enough. The God of the Bible sings—and he sings over his people.
I have four daughters, ages one, three, five, and six. Bedtime is always a challenge. They want to stay up. They're not tired. But we have a nightly routine during which I sing to them. I usually hold my one-year-old in my arms and sing, and it calms and soothes her. She feels loved, secure, and safe. Zephaniah is reminding us that God is our Father who sings over us and holds us close in his arms.
A Bigger Story of Salvation
An individual song is best understood in the context of its place within the life and work of the composer or band. So it is with the song that God sings over his people. This passage comes at the end of the Book of Zephaniah, which is almost entirely about God's judgment. The book opens with God declaring, "I will sweep away everything from the face of the earth" (1:2) and unfolds with God declaring judgment on nation after nation. Then, and only then, does God declare his grace. There is a profound dynamic at work between God's justice and God's joy.
God's judgment can be understood only as the expression of God's character within the story of God's grace. He is majestic and merciful. And God's justice is not incompatible with his love but arises precisely to protect what he loves. God's hatred of sin and evil is nothing to be ashamed of. Judgment is God's just and righteous response to how sin and evil corrupts the very goodness of his creation. Everyone knows deep-down that justice is a good thing, which is why we cry out for justice when the weak are oppressed and when someone is wronged. We bristle when the guilty go free; we don't want wrongs to be ignored. God is a righteous judge, and his perfect justice is an essential aspect of his perfect character.
Further, God's holy judgment is inseparable from his intention to restore the whole creation. He is not irritable, lashing out arbitrarily against morally neutral people. The Bible is the story of a holy King restoring an unholy people and renewing his whole creation. That which God is against in judgment must be understood within the broader story of what God is for in love. Without the holiness of God, the grace of God becomes cheap. Mercy becomes dismissal. Love becomes sentimentality. God becomes Santa.
The Lord is just and joyful. He is a fierce warrior because he is a compassionate father. Throughout the Old Testament, God's justice and mercy are both boldly proclaimed. But how can a just God take joy in a rebellious people?
This tension is ultimately resolved at the Cross, where Jesus' atoning death displays the righteous character of God and delivers an unrighteous people from sin. Jesus accomplishes the great exchange, where he pays the penalty for our sin and we receive the status of his righteousness. The Cross is a constant reminder that our sin is great but that our Savior is greater. And while Zephaniah 3:17 is addressed to the tribe of Judah, it is ultimately fulfilled by the Lion of Judah. Why would Jesus endure the pain of the Cross and the shame of such a horrific death? As the author of Hebrews says, because of "the joy set before him" (12:2). Through Christ, we are saved from judgment and for joy.
A Better Soundtrack for Life
Our view of God greatly dictates the way we live. If we see God as a cosmic police officer, then we will live in fear of punishment. If we view God as a heavenly firefighter, then we'll talk to him only when we're in trouble. But if God is the mighty warrior who sings over his people, that changes everything, and not just our "spiritual" lives or the "religious" compartment of our ordered world. God's song of delight is like a soundtrack for life, but it doesn't simply match our mood; rather, it shapes our every thought and motivation. Here are a few ways that God's song of delight shapes the way we live our lives:
God's song of delight is like a soundtrack for life.
First, God's delight in us is the source of our delight in him. God is not a cosmic killjoy who is after our obedience with no care for our joy. God wants us to delight and that doesn't mean God has to restrain himself. God's delight and our delight are not in a zero-sum situation, as if for God to be praised we have to suffer. While God can be and is certainly glorified through our faithful suffering (Rom. 8:17–30), he is also glorified in our delight. Sex was God's idea. Taste buds were God's idea. Laughter was God's idea. God is a good Father who has showered us with gifts, and he is glorified when we enjoy his gifts and ultimately when we delight in him as the giver of every good gift (James 1:17).
Second, God's love turns our duty into delight. When I was a young Christian, I was motivated by guilt and driven by a sense of obligation. I read my Bible, prayed, and went to church because that's what "good Christians" were supposed to do, and because God would be upset with me if I didn't. I was as miserable as I was hypocritical. But when I finally grasped God's holy love, it changed my life. Because of the Cross, when God looks at me he doesn't see my sin; he sees the righteousness of Christ and he rejoices over me. I do not have to earn God's approval by getting my act together or building my spiritual resume. He approves of me by grace, not because of what I have done but because of what Christ has done for me. Because of God's love, what was once duty is now delight. When we are not working for God's approval but from God's approval, then the regular rhythms of the faith are gifts to receive.
Third, God's rejoicing in us today gives us hope for tomorrow. When I was a kid, I loved when my mom made cookies. After she stirred the dough, she would let me lick the spoon. It was so delicious, and yet it only increased my longing for what was coming: chocolate chip cookies. When we are caught up in giving and receiving delight, we experience a foretaste of the eternal joy that is to come. But, like licking the spoon, this foretaste of the Lord's goodness will increase our longing for the fullness of joy that we will experience in the new creation (Isa. 65:17–19).
Jeremy treat is pastor for preaching and vision at Reality LA in Los Angeles and professor of theology at Biola University. He is the author of The Crucified King: Atonement and Kingdom in Biblical and Systematic Theology (Zondervan).
Have something to add about this? See something we missed? Share your feedback here.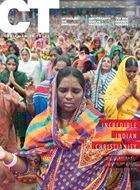 This article is from the November 2016 issue.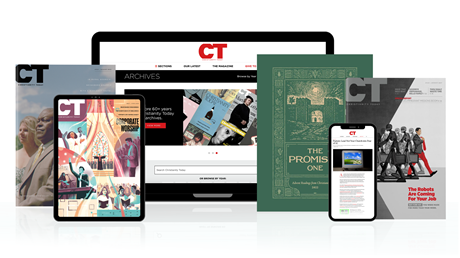 Subscribe to Christianity Today and get access to this article plus 65+ years of archives.
Home delivery of CT magazine
Complete access to articles on ChristianityToday.com
Over 120 years of magazine archives plus full access to all of CT's online archives
Subscribe Now
God Is Not Out to Get You
God Is Not Out to Get You