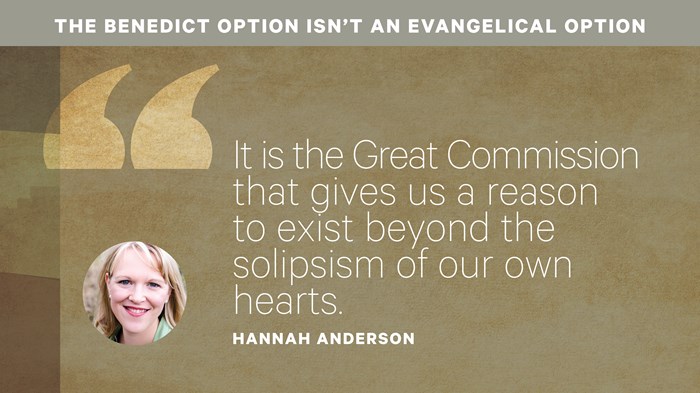 Christianity Today asked four thoughtful voices in our movement to read our March cover story on The Benedict Option and answer the following question: "In a time of weakening institutions and in an increasingly pluralistic age, what is the best way for Christians to strengthen their local Christian community?"
Rod Dreher's call for a tactical retreat to resist secularism may be a viable corrective for Christian faith traditions with a well-established understanding of corporate faith and the role Christianity plays in the common good. But for evangelicals, whose theology emphasizes the individual's relationship with God, retreat could actually exacerbate our individualism by disabling a key piece of our systematic: the call to actively and intentionally work for the good of our neighbor's soul.
In the wake of World War II, my maternal grandparents attended a small Christian college. Both came from unstable families, and The University (as we would come to know it) provided the institutional stability and spiritual formation they needed. Core to ethos of The University was a strong sense of separation from the world. This influence extended beyond geographic limits as alumni across the country subscribed to its particular vision of the Christian life, clustering in satellite churches and schools.
I attended The University and married within its network. Today my grandmother and a passel of aunts and uncles and cousins live near it.
Reading Dreher's call for the Benedict Option, I couldn't help but hear echoes of my own upbringing. I owe much to the idea of serious-minded Christians committing to a countercultural life—my faith, my education, my family, my very existence. But as much ...
1
You have reached the end of this Article Preview