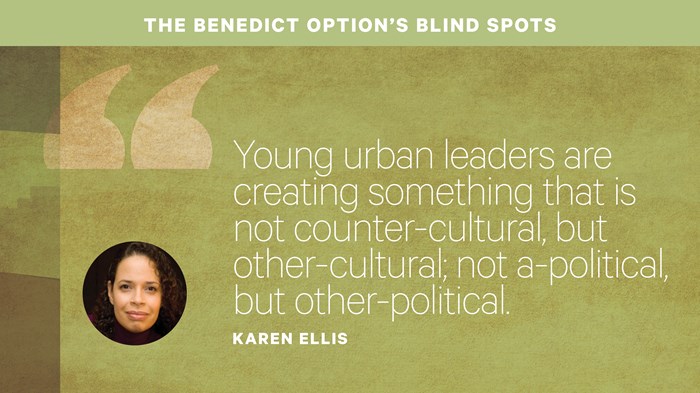 Christianity Todayasked four thoughtful voices in our movement to read our March cover story on The Benedict Option and answer the following question: "In a time of weakening institutions and in an increasingly pluralistic age, what is the best way for Christians to strengthen their local Christian community?"
The impulse of some in the church to focus inward is admirable on the surface. A desire for more robust communities committed to prayer, discipline, study, obedience, and being the church without compromise and at cost, are key to surviving a chilly—and sometimes hostile—cultural climate.
Yet as an advocate for the 250 million global Christians currently living under various levels of hostility, I've observed that inward focus is not where New Testament community ends.
While the church in America is certainly not persecuted, we are living in an unsettling era of rediscovering the place of Christianity in American society. Many historically marginalized communities wounded by false Christianity would even say that Christianity is discovering its place for the first time.
The communities I see around the globe who are most effective in navigating such waters are those who are creatively focused both inward and outward. They create robust and stealthy communities, while displaying a transformational message that's winsome to outsiders looking in.
Robust theology will yield robust communities. From a Protestant perspective, God's story from Creation to Revelation is of a Covenant God empowering his beloved to persevere through hostility leveled specifically against them. The New Testament tells the beautiful story of persevering community, faith, and creativity in the context of cultural ...
1
You have reached the end of this Article Preview