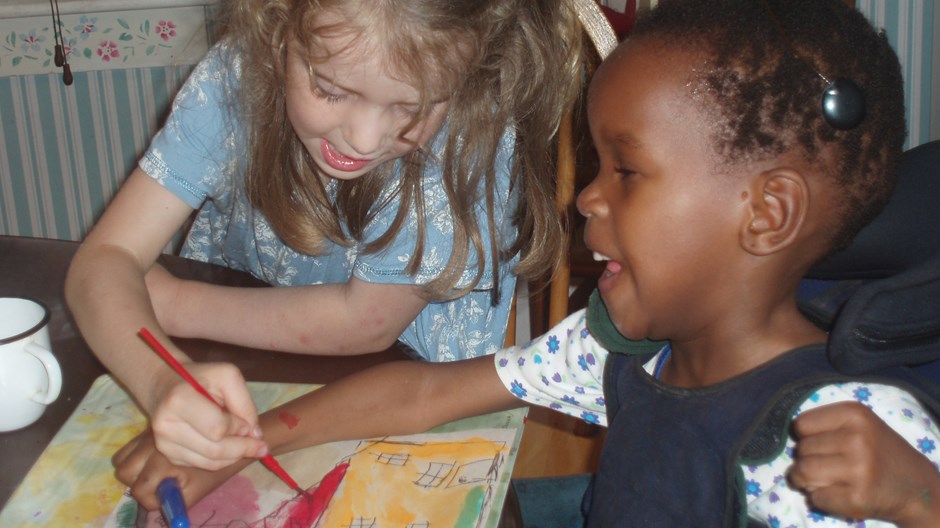 Image: Courtesy of Meadow Merrill
When my seven-year-old adopted daughter, Ruth, died without warning in her sleep from complications related to cerebral palsy, I was devastated. Not only had I lost my smart, funny, beloved daughter, my surviving children had lost their sister. Their grief compounded my own, and I worried about how Ruth's death would affect them long-term—particularly as Ruth had died in bed with her same-age sister.
A recent article in The New York Times highlighted the enduring effects of childhood sibling loss. In the article, Aaron E. Carroll, a professor of pediatrics at Indiana University of Medicine, discussed how families that lose a child often struggle with social deprivation and poor health. Even a decade after losing a child, parents (especially mothers) face an increased mortality rate. But such loss may be hardest on children, Carroll said, with preteens exhibiting higher levels of depression and anxiety and adolescents being more likely to show attention problems and anger.
Unthinkable as it may be, between 5 and 8 percent of American kids will experience the death of a brother or sister during their childhood. In addition to the emotional and psychological impact, sibling loss actually raises a surviving sibling's risk of early mortality. A study by JAMA Pediatrics, which focused on children in Denmark and Sweden, found that those who'd experienced the death of a sibling before age 18 were more than 70 percent more likely to die during the course of the nearly four decade study than those who had not lost a sibling. (The elevated risk was highest in the first year following a sibling's death, in part due to genetics as many children died of the same disease as a sibling.)
"Health care professionals should be aware of children's vulnerability after experiencing sibling death, especially for same-sex sibling pairs and sibling pairs with close age," the study's authors concluded.
Reading this, my heart shrank, particularly as negative health outcomes due to sibling loss appear more pronounced in girls than in boys, and especially when a daughter loses a sister, as did my daughter, Lydia.
Trans-Atlantic twins
Lydia was less than three weeks older than Ruth. "Trans-Atlantic twins," my husband, Dana, and I called them, because Lydia was born in Maine and Ruth in Uganda. Abandoned at birth, sent to an orphanage, and diagnosed with cerebral palsy, Ruth arrived in Maine at one year old for six months of physical therapy. Our family met her through friends and decided to adopt. Never mind that Ruth was also deaf, couldn't sit up, talk, walk or use her hands to sign—we adored her. After a year of prayer, fundraising, and a whirlwind trip to East Africa, Ruth was officially ours. I naively believed that nothing could take her away.
Dana and I had been warned against adopting a child who was the same age as our daughter. Yet, Lydia never seemed to see her sister as a rival. Even as a toddler, she heaped toys in Ruth's lap, helped uncurl her tightly clenched fingers to hold a rattle, and acted as her interpreter, one day asking from the back of the van where the girls sat in side-by-side car seats, "Does a smile mean I love you?"
"I guess so," I said, driving. "Why?"
"Then that means Ruthie loves me very much," Lydia said.
And she did.
The girls were inseparable. Lydia found the most ingenious ways to include Ruth—sitting on Ruth's lap in her wheelchair and spinning the wheels with her feet to roll around the living room, playing with cardboard cosmetics that Lydia applied to Ruth's grinning face, and decorating Ruth's wheelchair like a queenly carriage, which she pulled around the house on all fours while pretending to be a horse.
During the early years, the girls shared a bedroom. But when they turned six and it became too difficult to carry Ruth up the steep stairs of our century-old New Englander, we moved Ruth to a queen-sized bed downstairs. A couple of nights later, Lydia picked up her doll and pillow and marched downstairs to sleep with her sister.
And that's where she was, the frigid February morning six years ago, when Ruth stopped breathing in her sleep. Lydia didn't even know what had happened until Dana led her out of the room, we called 911, and an ambulance took Ruth away.
How do you get over that? Ever?
My husband and I have four additional children—all boys, one born three years after Ruth's death. Since that time, one of our children has acknowledged struggling to believe in a God who would allow such a loss. Another has disclosed times when the grief triggers overwhelming tears. Still another says little, which is no less distressing. And why should they not struggle, when I myself continue to wrestle with the physical, mental, and spiritual anguish of losing a child?
Now, in the face of worrisome statistics suggesting that the effects of sibling loss aren't likely to disappear, how are we to help our children?
Helping children heal
"Children will have different needs and different ways of expressing their grief at different ages," observed Susan Giambalvo, the director of programs and operation for The Center for Grieving Children—a nonprofit, volunteer-led program that provides free, peer-led support groups in Portland, Maine, not far from where I live. "But all children will benefit from as much safety, love, and routine as you can provide them."
In the early days and months after losing Ruth, Dana and I encouraged our children to express their grief however they needed to—through conversation, art, music, and climbing in bed with us at night. As I sorted and put away Ruth's clothes, Lydia folded and put away Ruth's doll's clothes. She galloped through the house on an invisible horse, racing her now invisible sister. And she continued sleeping downstairs for most of the following year.
At the time, I knew only one other family that had lost a child—friends whose baby had died of SIDS. But I was too encumbered by my own grief to ask how they had handled theirs or to seek help. In the years since, I've learned that my experience of isolation is common among grieving parents. Another mom, Kim Findlay, of Crystal Lake, Illinois, told me she felt similarly bewildered about how to go on after her five-year-old daughter, Emma, died in a house fire. Her surviving daughter, then an adolescent, met briefly with a school social worker but is still working through her grief 12 years later and struggles with anxiety and depression.
"There's a definite sense that if she moves on, so to speak, she'll leave Emma behind," said Findlay, who wrote about her experience in a memoir, Breathing in Ashes. "But we also talk about Emma as often as we need. We always have. We tell stories. We cry. We visit her grave. I think we've moved through that piece in a relatively healthy way."
Findlay's main support was her church, which offered encouragement, remembered Emma's birthday, and provided a safe place to heal. For some, such community and family support may be enough, said Giambalvo, suggesting that one way parents can support grieving children is to let them know that it is okay to talk with them about their sibling, how they are feeling, and what they need.
Shelly Wildman, of Wheaton, Illinois, recalled receiving no formal support 43 years ago when her 9-year-old brother, Chris, drowned at camp when she was 11. "Back in 1974, people didn't go to counseling," Wildman said. "My parents were struggling to keep it together, and I never wanted to do anything to hurt them or to bring up the pain of it all, so I mostly kept quiet."
That's a common response. According to Giambalvo, "Sometimes children are concerned about talking with their parents because they do not want to make them sad, or they don't want to be a burden on an overwhelmed parent." To keep children from feeling overlooked when a loss happens in the family, she said, "They need to be assured that they are still important."
The comfort of routine and making sure children get to do the things that are important to them are also essential, said Giambalvo. So is recognizing that each person grieves in their own way and that grief is a lifelong journey. "Call on other supportive adults to help your children when you own resources are likely depleted," she said.
Support groups, such as those led by the Center for Grieving Children, provide a safe place where children and adults can talk about their loss with peers. They also help promote resiliency and reduce feelings of isolation, grief, and loss. Such groups can be found nationwide through the National Alliance for Grieving Children.
Healing and the gospel
Both Findlay and Wildman said that relying on their faith in God was crucial in helping them navigate their loss.
"It was truly a lonely season," said Findlay, who said she dove into her faith and Scripture after the death of her daughter. "But the way Scripture came to life and how God spoke to me during those years, was healing, transforming, life altering."
Wildman, also an author, said that she is a Christian today in part because the early loss of her brother helped make the gospel real to her. During a high school mission trip to Mexico, Wildman, whose father was a farmer, shared about her brother's death.
"Your dad's a farmer and he doesn't have a son to give the farm to?" a girl asked.
"No," Wildman answered. "He was my dad's only son."
Instantly, she said, the familiar words of John 3:16 flooded her mind. "I knew right then that the sacrifice that God gave was not something to be taken lightly," Wildman said. "For who would ever give their most precious child for the salvation of others?"
Yet, in the first year after losing Ruth, I struggled to believe in God at all—let alone believe that he was good. Desperate for answers, I turned to the most melancholy parts of the Bible I could find: David's grief-stricken psalms; Ecclesiastes, in which the writer declares that life is meaningless; and Lamentations, written in the form of a funeral dirge. While few Bible stories focus on the loss of a sibling, many acknowledge our sorrow and vulnerability while pointing toward God's mercy. I clung to Lamentations 3:32, "For if He causes grief, Then He will have compassion according to His abundant lovingkindness" (NASB).
Dana and I spoke with our children of Ruth's ultimate healing—of having faith that their sister was no longer in pain, no longer struggling but in the presence of the one who would wipe away every tear in a place where there is no more death or sorrow or crying or pain (Rev. 21:4). And because of Christ's death and resurrection, we will one day be with her again.
The more I read the Bible, the more my faith grew. And, in time, happy memories outnumbered sad ones.
"Do you remember how Ruth would lick you?" Lydia asked one day.
"And I would laugh?" I said, recalling Ruth's way of exploring the world using one of the few muscles she could control.
"Yeah!" Lydia grinned.
Even as we struggle with the long-term effects of loss, we look toward the future with hope because of God's compassion and lovingkindness. And while it is important to acknowledge the ongoing and future risks associated with sibling loss and to access support, those alarming statistics are not the only long-term effects of grief.
My pain—and my children's—is a reminder of how deeply we loved Ruth. Memories of the six miraculous, challenging, and rewarding years we shared together also last a lifetime. And because of the gospel, we look forward to the day when we will be together again.
Meadow Rue Merrill is the author of Redeeming Ruth: Everything Life Takes, Love Restores. A former newspaper reporter, Merrill writes for children and adults from a little house in the big woods of midcoast Maine. Connect at www.meadowrue.com.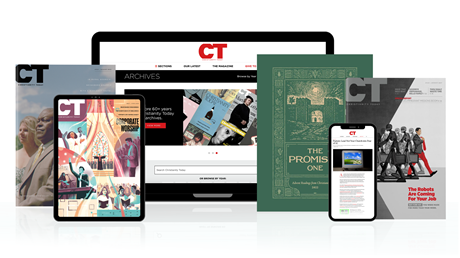 Subscribe to Christianity Today and get access to this article plus 65+ years of archives.
Home delivery of CT magazine
Complete access to articles on ChristianityToday.com
Over 120 years of magazine archives plus full access to all of CT's online archives
Subscribe Now
When I Lost a Daughter, My Children Lost a Sister
When I Lost a Daughter, My Children Lost a Sister