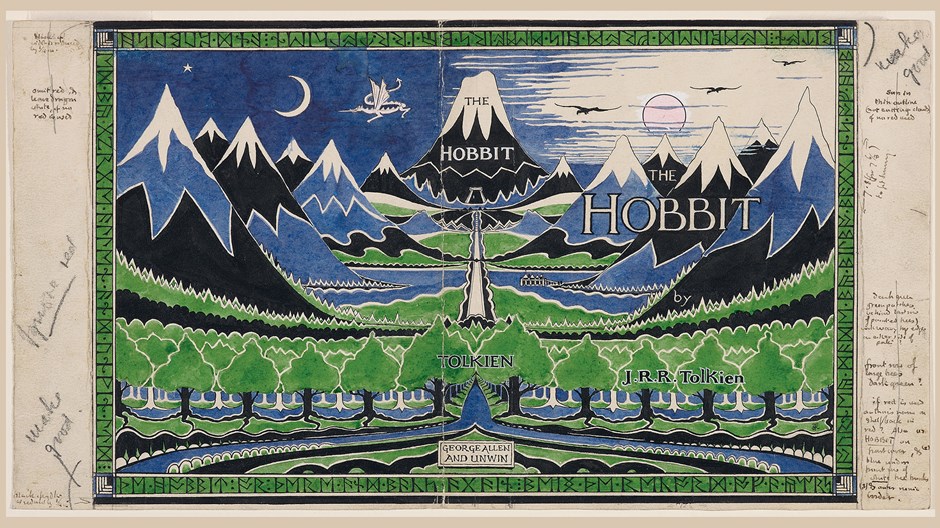 Image: The Tolkien Estate Limited 1937
Who was J. R. R. Tolkien? Nearly everyone knows him as the author of two of the most beloved books of the 20th century: The Lord of the Rings and The Hobbit. Many also know him as a member of the Inklings and a close friend of fellow writer and scholar C. S. Lewis. Fewer know Tolkien's work as a literary critic, a world-class academic in medieval literature, a linguist, an inventor of languages, and a visual artist or realize that he was also a devoted husband and father.
Much of this is captured this year in a nearly comprehensive exhibit at Oxford University's Bodleian Libraries on Tolkien's life and legacy. "Tolkien: Maker of Middle-earth" has been billed as the exhibit of a generation, and it is indeed that. But there's a glaring omission: any mention of the author's devout, lifelong Christian faith. Without that piece, we cannot have a true picture of Tolkien.
The Missing Piece
The exhibit is certainly the most well-rounded portrayal of Tolkien to date. We see his imaginative capacity expressed in nearly overwhelming abundance, and we see a tender glimpse of his childhood and of his family life with his wife, Edith, and their four children.
The aim of the exhibit, as expressed in the catalog book, is "bringing to the public's attention the fullest picture possible not just of the life and work of a remarkable literary imagination, but of a son, husband, father, friend, scholar and artist."
To that end, it comes very close but does not entirely succeed. The exhibit itself downplays Tolkien's religious commitment so completely that it is well-nigh invisible. (The book that accompanies the exhibit is much better in this regard; it includes a number of significant references to Tolkien's faith, although not showing it in as full a light as I would suggest is warranted in a book that is otherwise so comprehensive.) Yet Christianity was a constant presence throughout his life, and not just in a nominal or cultural sense: Tolkien really believed, and his faith permeated his work.
He was baptized as an infant in the Anglican cathedral in Bloemfontein. He followed his mother when she entered the Catholic Church. He was an altar boy at the Birmingham Oratory. After he was orphaned, his guardian was a Catholic priest, Fr. Francis Morgan, for whom he retained a deep respect and affection ever afterward. He was a regular Mass-goer throughout his life. He translated the Book of Jonah for the Jerusalem Bible. He wrote in his letters of the personal importance of prayer and the Eucharist. He, along with Hugo Dyson, played a crucial role in bringing C. S. Lewis to faith. Yet apart from a brief mention of Morgan's guardianship, none of this is shown in the exhibit.
There are many ways that Tolkien's Christian faith could have been represented, even in the relatively limited space available. One item already on display was a 1914 letter to Edith. The display label transcribes, from Tolkien's small and difficult-to-read handwriting, a paragraph about officer-training maneuvers on Port Meadow.
Immediately following this portion of the original letter is Tolkien's comment that the next day "I got up at 7.40 and just reached church on time, and went to Communion." Just one more sentence on an already existing display label would have given a glimpse of Tolkien's faith in practice. As it is, nearly all visitors will miss this reference entirely; I very nearly did.
Other extracts from letters could have been shown, such as the 1956 letter in which Tolkien relates Frodo's failure to give up the Ring to the petition in the Lord's Prayer "lead us not into temptation, but deliver us from evil." Or perhaps the 1944 letter in which Tolkien discusses modern healing miracles and describes the Resurrection as the "happy ending" of human history.
Several examples of his Elvish calligraphy were displayed; one could have been selected from the prayers that Tolkien translated into Elvish, such as the Lord's Prayer. Both the 1956 letter and this translation show the way that Tolkien's faith, and indeed specifically his prayer life, had an influence on his writing—exactly the kind of influence we would hope to see emphasized in an exhibit on an author.
We might also have seen a photograph of one of the churches at which Tolkien worshiped in Oxford, such as St. Gregory's on Woodstock Road, which is mentioned several times in the Letters. The exhibit display included Tolkien's pipes and hat; surely it could also have included religious items such as a rosary, a worship missal, or a prayer card.
These references, if they had been included, need not have been emphasized, but for one who knows of Tolkien's faith, the absence of any such small detail is striking.
Playing It Safe
Why might the Tolkien Estate and the Bodleian have chosen to downplay Tolkien's faith? And why does it matter?
There are several understandable reasons. The English are very private people in general. For Tolkien's surviving family—at least some of whom are also faithful, practicing Catholics—something like Tolkien's rosary might have felt too personal for a public exhibition.
There is also a small subset of readers and critics who emphasize Tolkien's faith in the wrong way. Tolkien himself described The Lord of the Rings as a "fundamentally religious and Catholic work" (in a letter that could have been, but was not, quoted in the exhibit), but it is not a religious allegory, as Tolkien himself makes very clear. When I lecture on Tolkien to Christian audiences, I am often asked: "How can we use The Lord of the Rings for apologetics?" My answer is that we should not try to use it at all. As a literary critic, I recognize that skillful analysis of literature can yield great insight—including for apologetics—but if Tolkien's work is used merely as a tool to convey an explicit Christian "message," it is inevitably oversimplified and its effect deadened. It is possible that the Tolkien Estate and the Bodleian, in aiming for a nuanced portrayal of Tolkien, wished to resist this particular type of pigeonholing and were too cautious as a result.
Then there are audience expectations. Tolkien is a hugely popular author, by virtue of his writings and also because of Peter Jackson's extremely successful films, and many of his readers are unaware or only vaguely aware that he was a Christian at all. C. S. Lewis expert Michael Ward points out that Tolkien did not make his faith obvious in his stories, in contrast to Lewis's Chronicles of Narnia, where the Christian parallels are not unavoidable but are certainly more evident.
Tolkien's first biographer, Humphrey Carpenter, who is thus far the only person given full access to Tolkien's papers, downplayed Tolkien's faith in his biography—and no surprise since Carpenter was a self-avowed atheist, resentful of his own Anglican upbringing. According to Laura Schmidt, archivist at the Marion E. Wade Center at Wheaton College, Tolkien's faith is very often left out of works of scholarship on him, as well.
The Bodleian may simply have believed, and perhaps correctly, that Tolkien's faith would not be of interest to most attendees—or may even have been unsettling or offensive.
Nonetheless, the omission matters. Put simply, we cannot fully understand Tolkien's great achievement, nor his life as a whole, without recognizing that his Christian faith was at the heart of it.
A Hole at the Heart
Tolkien himself was explicit about the theological foundation of his creative work, writing in his great essay "On Fairy-stories" that "we make in our measure and in our derivative mode, because we are made: and not only made, but made in the image and likeness of a Maker."
Tolkien's granddaughter Joanna mentions that one of his fundamental values was "his profound belief in God." Clyde Kilby, in an interview, remembered him as a "devout Catholic," and his friend and fellow Inkling R. E. Havard wrote of "the depth of feeling" of his religious convictions, noting that these were "apparent … but never paraded."
If the exhibit had portrayed Tolkien's faith this way, it would have shown a culture hungry for meaning what a fully integrated life looks like. Following Christ isn't easy, and Tolkien wasn't a Christian because it was a mere lifestyle choice. It was at the heart of who he was.
Tolkien knew suffering intimately: losing his father as a young child and his mother as a boy, growing up in poverty. As a young man, his world was shattered by the First World War; he served on the front lines, and most of his close friends were killed. Yet he did not become embittered but rather embodied a joy that was all the more real for knowing its opposite. His writings bring delight to countless readers, and they do so in no small part because they spring from a thoroughly healthy and genuinely virtuous soul. In our weary, postmodern age, we are skeptical of heroes. We are chary of praising a man's character and expect to be disappointed. Tolkien is a rebuke to our cynicism.
He is no "saint" if by "saint" we mean someone who is perfect, but Tolkien's life was one of quiet, yet heroic, virtue. A truly humble man with exceptional intellectual and artistic talents, he recognized that his own creativity was a gift from the Creator God, the ultimate Author and Artist. The Bodleian should have shown this in some way. Only if we recognize Tolkien's deep Christian faith can we hope to understand the life and work of the "Maker of Middle-earth."
Correction: This article has been updated to portray more accurately the references to Tolkien's faith in the exhibit book.
Holly Ordway is professor of English and a faculty member in the Master of Arts in Apologetics program at Houston Baptist University. She holds a PhD in English from the University of Massachusetts Amherst. She is the author of Apologetics and the Christian Imagination: An Integrated Approach to Defending the Faith. Her current book project is Tolkien's Modern Sources: Middle-earth Beyond the Middle Ages (Kent State University Press).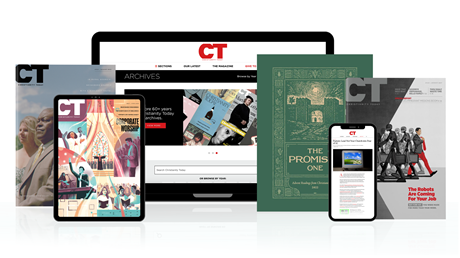 Subscribe to Christianity Today and get access to this article plus 65+ years of archives.
Home delivery of CT magazine
Complete access to articles on ChristianityToday.com
Over 120 years of magazine archives plus full access to all of CT's online archives
Subscribe Now
The Maker of the Maker of Middle-earth
The Maker of the Maker of Middle-earth