Image: Detroit News / AP
Two decades before the public learned of Larry Nassar's abuse against several hundred gymnasts, 16-year-old Larissa Boyce made the first attempt to report him. Her coach at Michigan State University (MSU), who was also a friend of Nassar, quashed her claims. The unsympathetic coach interrogated Boyce, leading her to think she misunderstood proper medical treatment for her back injury.
"I told somebody. I told an adult," Boyce said. "I told Michigan State University back in 1997. Instead of being protected, I was humiliated. I was in trouble and brainwashed into believing I was the problem."
Boyce said Nassar's abuse began after the first two treatment visits, once her parents stopped coming with her, and lasted four years. During the appointment following her effort to report him, she received harsher abuse than before. "I didn't know what to do. I was in shock," Boyce said.
She sat in her car after the visit, crumpled up her checkout sheet, threw it in the back of the car, and asked herself, "What the heck just happened?" As a teen, Boyce learned to ignore it, cope, and eventually suppress what happened during those visits, since she had been told that it was okay.
Once Rachael Denhollander spoke out against Nassar in 2016, Boyce was still conditioned to defend him. She thought Denhollander was mistaken. Encouraged to contact lawyers but unable to evoke most details of her "treatments," Boyce resolved to return to her gymnastics training arena, Jenison Fieldhouse at MSU. She walked around trying to remember specifics, which flooded back into her mind after seeing her former coach's office.
That visit was the turning point for Boyce to go public after 20 years. She gained the fortitude to combat the shame she had been experiencing, realizing she was not the guilty one. The former gymnast also wanted to demonstrate the importance of standing up for truth to her four children, ages two through ten at the time.
As a Messianic Jew, her religious ideals provided further motivation. She looked to the biblical account of Queen Esther to inspire her to stand against her enemy. One of Boyce's sisters exhorted her to model Esther's courage when she foiled a plot by the Persian king's chief minister, Haman, to destroy her people. In the story, Esther's cousin, Mordechai, urges the Jewish heroine to disclose Haman's conspiracy to the king with the words, "And who knows but that you have come to your royal position for such a time as this."
Growing up, Boyce and her family attended a Reform synagogue and a nondenominational church, and she was accustomed to observing Jewish holidays. With the holiday of Purim—which celebrates the events in the Book of Esther—soon approaching, Boyce heard these words as a direct message.
"I felt that if my story could help at least one other person," Boyce said, "then it would be worth it."
Boyce and her husband also proceeded to inform her current church, Williamston Free Methodist. They approached the pastor, Doug Bradshaw, who promptly offered support, created a prayer network and provided the opportunity for Boyce to speak before the congregation on a Sunday morning.
"I said to her, 'When you're ready, I believe this is something we have to get into the pulpit here,'" Bradshaw said. "We have to be able to address issues like this as a church."
Even though certain topics like abuse remain taboo within some multigenerational churches, Bradshaw said, he hopes his church can be a model by offering a platform for victims.
"The church should be the leader in [affirming] the value of people," Bradshaw said, "and in promoting the idea that everyone is created in the image of God. We have to be the frontline to stand up against things like sexual abuse."
Once some of the criminal investigations relent, as well as some of her kids' extracurricular activities, Boyce plans to follow up on the pastor's offer to speak.
Bradshaw hopes Boyce will find reassurance when sharing her story. "The expectation for Larissa is the freedom to be able to stand in front of a faith community and experience love, acceptance, compassion," Bradshaw said.
The pastor aims to open Boyce's talk to the entire Williamston community, only ten minutes from Michigan State University. He plans to supply resources, such as Christian counselors, for those who might be processing similar experiences.
Boyce's parents, sisters, and children have all experienced the repercussions of Nassar's years of abuse. When Boyce first heard Denhollander's public account, her body reacted before her mind could process the information. At 35, she endured shingles, panic attacks, hair and weight loss, insomnia, and nightmares. A neurologist diagnosed her with post-traumatic stress disorder, linked to the resurgence of years of suppressed memories.
In January 2018, Boyce, her father, and her husband spoke directly to Nassar and Judge Rosemarie Aquilina on the fourth day of the hearings at the Ingham County court.
"It seems very surreal that this reality is a new normal in our life," Adam Boyce said to those in the courtroom, lamenting the intense trauma that had impacted his wife and family. He has juggled full-time work as a middle and high school choir teacher with additional household duties to grant his wife the space for healing.
While preparing for her hearing statement, Boyce used her diary, which she had discovered among her gymnastics memorabilia. It described her dark state of mind at the time. She read a section to Nassar, dated January 16, 1998, when she was 17 years old.
"I feel so unworthy of living and being happy," she began.
Boyce thinks her words did not register in the mind and heart of her abuser. Nonetheless, she believes that if Nassar can truly acknowledge the pain he has caused, he can receive God's forgiveness. Boyce said the closest she could come to forgiveness was telling him, "I am releasing you to God and his judgment." She didn't want the bitterness to fester inside her.
Boyce's father, William Mitchell, also tried to push Nassar to think about repentance.
"The spiritual question for you, Larry Nassar, is not whether God can forgive you," said Michell, a pastor. "Any sin a man commits God can forgive. He is infinitely bigger than you and the entire human race. The shed blood of his only son is more powerful than all the sins that man can commit for all time.
"The real question is can you truly repent? Can you turn away from any self-justification?" Michell asked.
Michell then asked Nassar whether he was familiar with John Newton, who had worked in the slave trade. Nassar shook his head until Michell mentioned he composed "Amazing Grace."
"The only hope that possibly exists for you eternally is if you learn in the short time you have left here on earth what another despicable man learned," said Michell about Newton's recognition of his wretchedness. "You've got to learn what got him there."
Now that the testimony is over, Boyce said, she is slowly rediscovering her strength and remembering the woman God created her to be. She goes to therapy where she speaks with a counselor while interacting with horses. She has also created a private Facebook page for the survivors of Nassar's abuse, where more than 100 women communicate through photos, music, and words of encouragement.
She believes helping victims of sexual abuse has become her life's mission. Boyce has a vision of someday opening a retreat center on one of the lakes in northern Michigan, a place for survivors of abuse to experience various types of traditional and spiritual therapies.
"I want there to be opportunities to share that Jesus is the way to heal from this," she said. "We find our grace, our strength through him. He is truly the one we need to give us the peace we need to get through it."
This year, the holiday of Purim falls on the last night in February. Now that Nassar has been transferred to a high-security federal prison in Tucson, Arizona, Boyce's family sees new meaning in the story of Esther's victory over her enemy. They commend Denhollander, whom they also view as a modern-day Esther.
"Rachael was the one who made all this possible," said Boyce's father. "She is to be credited for a tenacity, a clarity, a willingness to disrupt everything to take a stand. It gave courage to Larissa and the rest of them."
At times, Boyce asks herself why it took so long for justice to be served. Boyce doubts that Nassar would have been convicted in the past. "Right now our culture and where we are with the #MeToo movement, people are finally listening, finally seeing that this is really a problem," Boyce said.
"I have to think that God has his perfect timing—obviously he hated what was happening—but now he is using it to change the world."
Deborah Pardo-Kaplan is a freelance religion journalist living in Austin, Texas. For her other articles, including a story for CT about Bible Study Fellowship, visit pardokaplan.com.
Christianity Today has also featured an interview with Rachael Denhollander and covered the responses to her remarks.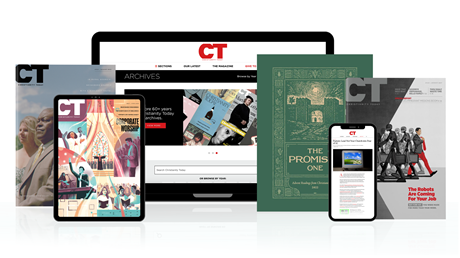 Annual & Monthly subscriptions available.
Print & Digital Issues of CT magazine
Complete access to every article on ChristianityToday.com
Unlimited access to 65+ years of CT's online archives
Member-only special issues
Subscribe
Read These Next
Trending

American Christians Should Stand with Israel under Attack

While we pray for peace, we need moral clarity about this war.

From the Magazine

I Studied Christianity with the Hope of Debunking It

A decade later, I became a Christian.

Editor's Pick

Don't Miss These African Christmas Hits

Jam out this season to highlife, Afrobeats, jazz, a cappella, R & B, rap, dance, and hip-hop artists from Nigeria, South Africa, and more.
'Queen Esther Inspired Me to Speak Up,' Says Nassar Victim
'Queen Esther Inspired Me to Speak Up,' Says Nassar Victim