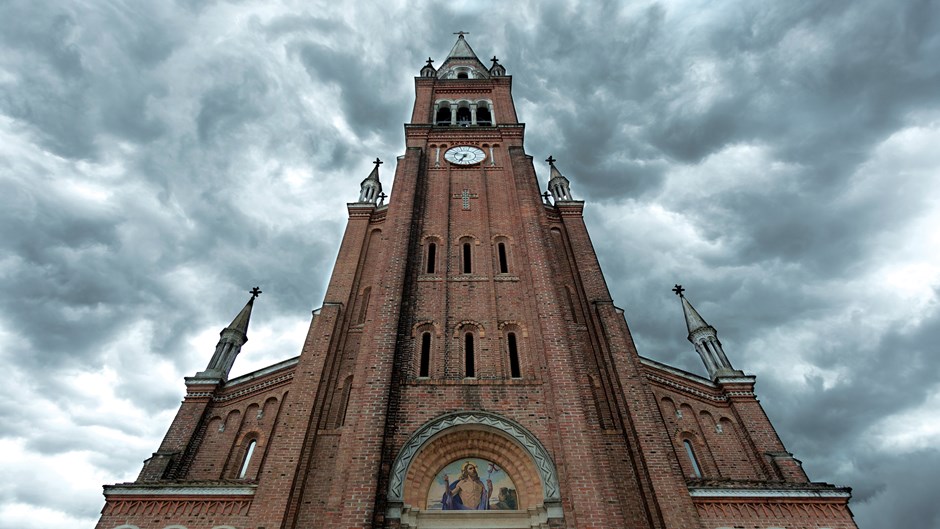 Image: operofilm / Getty Images
For the first time, the Church of England has formally found one of its leaders guilty of "spiritual abuse." The bishop's disciplinary tribunal decided this past week that Timothy Davis, vicar of a large evangelical parish church in the Oxfordshire town of Abingdon, was guilty of "conduct unbecoming to the office and work of a clerk of holy orders through the abuse of spiritual power and authority."
The same weekend, the Churches Child Protection Advisory Service (CCPAS) in the United Kingdom released a report on spiritual abuse which found that almost two-thirds of churchgoers who took an online survey (1,002 of 1,591) felt that they had personally experienced it.
The report's findings suggested more training is needed to help people recognize spiritual abuse and to equip churches to deal with disclosures. The research project was led by Lisa Oakley from the National Centre for Post Qualifying Social Work (NCPQSW) at Bournemouth University, and assisted by Justin Humphreys, one of CCPAS's executive directors.
I must admit to feeling conflicted by the increasing usage of the term spiritual abuse. As an NCPQSW research fellow, I have the utmost respect for my friends and colleagues Lisa and Justin. As a foster carer, I also know how vital it is to protect children and vulnerable adults from all types of abuse, and I greatly value the work of CCPAS in keeping safeguarding a high priority for churches.
But I also have sympathy with critics of the term spiritual abuse, as well as those who fear the negative impact it could have—both internally in the life of the church and externally in the public perception of the church.
Almost every public institution in the UK has had to face up to major problems when it comes to abuse. This is because wherever there is an asymmetry of power, there is potential for abuse. Flagship institutions such as the British Broadcasting Corporation, The Football Association, the Police, the British Army, and the film industry all have or are currently dealing with significant allegations of abuse. (Indeed, at the same time that the Oxfordshire diocese's abuse scandal was made public, a football scout and coach for Manchester City football club, Barry Bennel, was put on trial at Liverpool Crown Court for offenses that took place between 1979 and 1991 that are reported to have involved hundreds of sexual abuse incidents with many different children.) Similarly, the film industry, following the Harvey Weinstein scandal, has recently illustrated how a power imbalance can be easily exploited by abusers.
The question for me is whether or not it is helpful to categorize abuse into subsections: sports abuse; film producer abuse; or spiritual abuse. Harassment, exploitation, and abuse of power are wrong in every context, whether it is a talent scout taking advantage of a young hopeful, or a church leader taking advantage of a vulnerable congregation member.
Interestingly, the film industry's response to disclosed abuse has been the polar opposite to the line the church seems to be taking in identifying spiritual abuse as something different than abuse elsewhere. Instead of claiming a unique danger inherent in the actor/director relationship, the #metoo campaign recognized that sexual harassment anywhere was abusive. This has brought a great sense of solidarity between women and men from all walks of life.
So is there a unique risk of abuse to those involved in faith communities? Or does the risk of abuse have more in common with other institutions than is currently acknowledged?
One factor that may be identified as specific to the church is that power relationships can be legitimized, manipulated, and abused through reference to a perceived divine mandate. Of course, this is not a new problem. In fact, the term spiritual abuse has been around in the UK for about 20 years. The difficulty has always come in its definition.
NCPQSW director Keith Brown agrees. "I too have concerns about the idea of spiritual abuse being a unique category of abuse," he told me. "It needs much more careful analysis and consideration."
The CCPAS guide utilizes the following:
"Spiritual abuse is coercion and control of one individual by another in a spiritual context. The target experiences spiritual abuse as a deeply emotional personal attack. This abuse may include: manipulation and exploitation, enforced accountability, censorship of decision making, requirements for secrecy and silence, pressure to conform, misuse of scripture or the pulpit to control behaviour, requirement of obedience to the abuser, the suggestion that the abuser has a 'divine' position, isolation from others, especially those external to the abusive context." (Oakley,, L..RR.. & Kinmond,, K.. S.. (22013)) Breaking the silence on spiritual abuse. Palgrave McMillan)
While the CCPAS definition helpfully highlights the differentiating contexts and aspects of risk of abuse potential in the Christian church, one might still argue that every context has its own legitimating narratives. For example, exchange the terms Scripture, pulpit, and divine for FA guidelines, football pitch, and celebrity, and the definition would translate fairly seamlessly. This suggests to me that fundamentally it comes down to the all-too-common abuse of power.
Again, Brown agrees. "To my mind, we are really talking about coercive control and abuse of power, and these terms are well understood and used within the area of domestic violence," he told me. "As it stands, the term spiritual abuse is open to all sorts of interpretation, and thus not a helpful term; though clearly many have felt they have been 'spiritually abused,' and we must accept this and respond to this appropriately."
As well as the problems in defining the term spiritual abuse as a unique category, there are also problems that come with declaring it to be a unique issue for those of faith. While many Muslims and Jews, for example, may also be able to cite instances where they have been taken advantage of within their community, even those without a faith may feel that their "spiritual" rights have been denied, or that somebody has put undue coercion on them to believe or behave in a certain way.
Equally, which part of life is "spiritual" is another problem. Many of us have been keen to try and blow up the sacred/secular divide, and would argue that our workplaces and homes as well as churches are spiritual contexts. Indeed, Scripture argues that everything we do with our bodies has a spiritual element (e.g. Romans 12:1 (ESV): "I appeal to you therefore, brothers, by the mercies of God, to present your bodies as a living sacrifice, holy and acceptable to God, which is your spiritual worship.").
Put another way, all abuse has an element of the spiritual. I have clearly witnessed this in children who have experienced physical abuse or sexual abuse. Additionally, there is the problem that at a time when Christians are feeling marginalized, the idea that the church would create a new category of abuse that only those of faith communities can be guilty of seems like handing a loaded gun to the militant secularists and asking them to shoot at will.
Let me be clear: I am not advocating that we sweep the church's crimes under the carpet. I deal with the fallout of abuse on a daily basis, both as a foster carer and also as a spokesperson for the church in the UK. It is absolutely vital that abuse should be disclosed and dealt with wherever and to whomever it occurs. Sadly, many historic institutions—the church included—have sought to silence the reporting of abuse for fear of tarnishing the reputation or public image of those institutions. There are too many instances where Christian leaders have mistakenly thought that it was in the best interests of the church, or maybe even of the gospel, for abuse to be unreported, swept under the carpet, and ignored.
Jesus, like the prophets before him, was not afraid to call out the sins of God's people publicly. He did not hold his tongue to protect the public reputation of God's chosen people. He did not massage the public image of his disciples. Instead, he called out hypocrisy, exposed sin, and spoke truth whatever the cost—no matter who walked away from him and his message.
Exposing abuse, hypocrisy, and coercive and controlling behavior by church leaders is an important way that Christians emulate Jesus and live their theology. It is vitally important that the church operates a policy of transparency, demonstrating the intrinsic worth, value, equality, and dignity of every person. I also believe that as Christians, we ought to be willing to go the extra mile in listening to and protecting the vulnerable. So despite the risks for the church's reputation, there is something vital being modeled about compassion, humility, and honesty in the CCPAS research and its response to disclosures from church members.
This leads me to wonder: What would it look like if one outcome of this debate was an increased sensitivity to the abuse of power in our churches? How could our understanding of this controversy impact our ministerial training, our youth work, and our discipleship? How would it affect areas such as church discipline and pastoral care? Perhaps one positive outcome of adopting the term spiritual abuse could be a very welcome raised level of sensitivity and accountability in our churches.
For better or for worse, the term spiritual abuse is now in circulation. It remains currently a controversial term, and there are strong views and legitimate and important points being made by people on both sides of the debate.
If there is still time to nuance the language, I would prefer to see it recognized as part of the abuse of power inherent in all institutions or relationships. I feel it should not be given unique, special, or stand-alone status, but relativized alongside all forms of manipulative and abusive power.
But if it is too late, and the proverbial genie is now out of the lamp and there is no getting it back in, then I would suggest that we the church should take the opportunity to up our game when it comes to accountability, transparency, and compassionate care for all those whom the church has contact with—but particularly for those who have been abused or are most vulnerable to abuse.
Krish Kandiah is founding director of Home for Good, a fostering and adoption charity. His latest book, God Is Stranger: Finding God in Unexpected Places, is published by InterVarsity Press.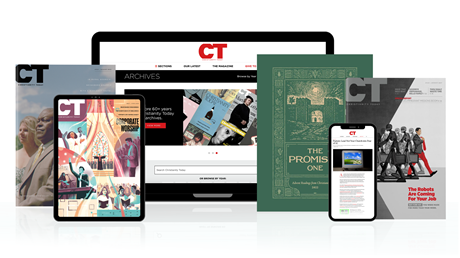 Annual & Monthly subscriptions available.
Print & Digital Issues of CT magazine
Complete access to every article on ChristianityToday.com
Unlimited access to 65+ years of CT's online archives
Member-only special issues
Subscribe
Does the Church's First Spiritual Abuse Verdict Give Critics a New Weapon?
Does the Church's First Spiritual Abuse Verdict ...