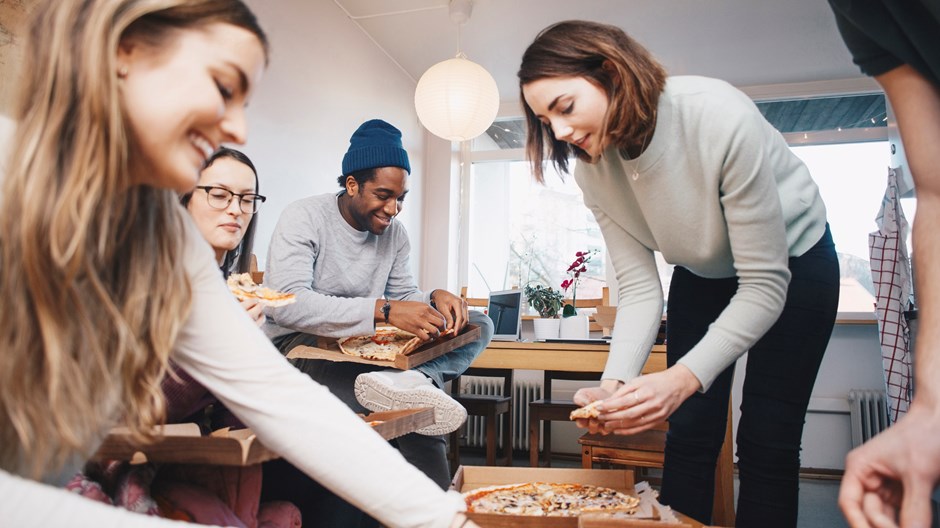 Image: Maskot / Getty
When the Emmy Awards honored Fred Rogers with a Lifetime Achievement Award in 1997, he did something that took everyone in the room off guard. The beloved public television star (and ordained Presbyterian minister) refused to make the moment about himself.
"So many people have helped me to come to this night," Rogers told the audience of celebrities. "Some of you are here; some are far away; some are even in heaven. All of us have special ones who have loved us into being. Would you just take, along with me, 10 seconds to think of the people who have helped you become who you are? Those who have cared about you and wanted what was best for you in life. Ten seconds of silence. I'll watch the time."
Those in the audience began their brief invitation for reflection with laughter. But by the time their 10 seconds were up, many were wiping their eyes.
"Whomever you've been thinking about, how pleased they must be to know the difference you feel they've made," Rogers said.
In a culture that lauds self-made success, a lasting gift of Fred Rogers's work is his subtle denial of the myth of self-sufficiency. He reminds us of what we all intuitively know after 10 seconds of silence: We arrive where we are because of God's work in our lives, manifest in the relationships in which God places and calls us.
Lives Lived Together
For the past few years, I've been working with university students at UC Berkeley to develop an integrated vision of vocation, one that refuses to bifurcate God's call on their lives from their work and relationships on a college campus or wherever their future leads. One unique aspect of our theological exploration of vocation is the insistence that calling and vocation are best understood within a residential Christian community. Living together presents its challenges, but several years in, I am now more confident that vocation is best explored in lives lived together.
Scripture and history both offer examples of God's call revealed to individuals directly, of course. At times, God's call on an individual's life challenges their community (the prophets, for example). However, discerning and living into God's call is, by and large, communal work. One reason we need Christian community to discern God's call on and for our lives is that we are mysteries to ourselves. Seeing ourselves rightly happens in community.
"I know who I am only in relation to others," theologian Stanley Hauerwas writes. "And, indeed, who I am is a relation with others."
The Quaker writer Parker Palmer builds on this idea of the relational self by emphasizing our blind spots when it comes to personal giftings. "Our strongest gifts are usually those we are barely aware of possessing," he writes in Let Your Life Speak. A sign of our greatest strengths is that we assume these gifts—be they listening, writing, or seeing patterns—come just as naturally to everyone else. It's only in relation with others that the unique contours of God's giftings in my life are revealed.
What are some of those things that come naturally to you that, with a little reflection, don't come naturally for others? I encourage students to consider. Likewise, how can we pay attention to what comes naturally to others and reflect that back to them?
"This year has convinced me of the paramount importance of human relationships," Jessica, a UC Berkeley student, shared after her first year in our residential vocation exploration. "Throughout my adolescence, I became pretty enamored by the myth of self-sufficiency. As scary as it has been at times to choose relationships this year, I've seen the ways God has brought joy and healing and richness and depth to my life in new ways through those relationships."
In UC Berkeley's hyper-competitive academic context, an environment where some of our country's brightest students are molded by subtle, insidious narratives of scarcity and individualism (there's not enough to go around; we all earn it here), Jessica's reflection is equal parts counter-cultural and correctively Christian.
Created in God's relational image, it follows that our understanding of God's call will be revealed in relationships with others. In 1 Samuel 3, the young Samuel is only able to discern God's call in the temple rightly with the elder Eli's help. Likewise, and in a helpful move away from only understanding God's call in terms of our strengths, Moses hears God's call rightly only after naming his insecurities in communication and his brother Aaron's giftings in the same area (Ex. 6:30–7:7). Here and elsewhere, God's call manifests in and through community.
"We can't address vocation without addressing our relational nature," Jessica concluded after a year of studying and discussing vocation.
For my own part, writing is something I now consider central to my vocation, though 10 years ago I was too timid to share my writing aspirations even with friends. It wasn't until my wife shared my writing with others, and I heard their encouragement to take this work more seriously, that I began to think this could be a path I was being called to pursue. But I was still afraid.
"You are a writer," Debbie, an artist friend, assured me one summer, after confessing that I didn't feel I had the right to call myself a writer until I was published. In that conversation, I realized writing was somehow reflective of who God had created me to be, of how I interacted with the world, regardless of the achievements I had or hadn't accomplished.
Where self-doubt cripples and isolates, a community that encourages us to courageously steward our God-given gifts becomes essential. If these initial affirmations encouraged me to get going, others' continued encouragement helped me persist amidst so many closed doors.
"Keep going," my great-grandma May told me at the end of her life, with directness I will never forget. "We need all you can put out." Her words came during a time when I wasn't sure where my next paycheck was coming from and I was once again doubting the path I was on. In those trying seasons of uncertainty and closed doors, when the temptation to bury my God-given treasure in fear was crippling (cf. Matt. 25:14–30), it was overcome only because of God's call to persist, heard through Christian community.
Christian community also helps us separate the sound of God's call from the voice of our own ego—which is, for my money, the greatest challenge on the topic of calling. "There are all different kinds of voices calling you to all different kinds of work and the problem is to find out which is the voice of God rather than of Society, say, or the Super-ego, or Self-Interest," Frederick Buechner writes.
Naming and delineating the voice of pride or ego from the voice of the One who says "Follow me" is another essential role of Christian community.
During a season when my own understanding of God's call had grown myopic, self-centered, and patriarchal, it was the voice of an older, godly friend, Carol, who called me back to faithfulness.
Over dinner late one summer, after my first year of graduate school, Carol asked if we had any news about when we might be expecting our first child. Knowing that my wife had been longing for children for years and that she considered motherhood central to her vocation, Carol was rightly curious. But having recently left a stable career to study theology, with no serious steady income to speak of, I was dragging my heels.
"It feels irresponsible, given our situation," I confessed across the dining room table. "Don't you think?"
"Ryan, I think it would be irresponsible not to," Carol told me in a firm voice, now leaning over the table.
When my own understanding of God's call became inseparable from my personal desires or even sources of pride, when I was blinded to my wife's sacrifice and vocational longings, I needed the help of godly friends. Those who know and love me and who are also seeking God's call are able to encourage me back to a path of faithfulness—with God and with the one I was sharing this journey.
"It was part of God's genius to incorporate us as one body," Barbara Brown Taylor writes in The Preaching Life, "so that our ears have other ears, other eyes, minds, hearts, and voices to help us interpret what we have heard. Together we can hear our calls, and together we can answer them."
From a Distance, They Saw and Greeted Them
The community that helps us hear and live into God's call isn't confined to contemporary relations. We're indebted to those who came before us, and we're asked to steward God's call for the sake of those who will come after us. The portrait of calling in Hebrews 11 and 12 offers a long-tailed understanding of calling, extending both backward and forward in time.
"All these people were still living by faith when they died. They did not receive the things promised; they only saw them and welcomed them from a distance, admitting that they were foreigners and strangers on earth," the author of Hebrews writes, after recounting a litany of the great sisters and brothers of the faith (Heb. 11:13).
From a distance. Not quite the Promised Land, but almost. The model we see in the Letter to the Hebrews is one of faithfulness to God in unfulfilled callings. For Christians struggling to see the fruition of God's call, even as they steward their God-given gifts in direct response to the needs of their community, Hebrews offers an invitation to slow down, to remember that faithfulness doesn't always mean satisfying our desires for completion, and to trust that God will use this work in ways we cannot yet see fully.
Fred Rogers's invitation to express gratitude for those who have invested in us, as well as Hebrews' reminder of God's saints who died without seeing the full fruit of their work, remind us of the vital role of those who came before us for our own call. These voices also encourage us to consider those who will one day, likely without our knowing, be nourished and encouraged by our own stewardship of God's call.
"Since we are surrounded by so great a cloud of witnesses," the author of Hebrews continues, referring to our place among God's faithful that span generations, "let us throw off everything that hinders and the sin that so easily entangles. And let us run with perseverance the race marked out for us" (Heb. 12:1).
Converging at the Kilns
On my first night in Oxford last summer, where I was attending a conference hosted by the C. S. Lewis Foundation, I received a memorable tour of the Kilns, C. S. Lewis's home from 1930 to 1963. Though I had lived in the home as a scholar-in-residence several years earlier, leading tours for hundreds of guests from around the world during that season, this was my first time receiving a tour from Kim Gilnett. A long-time partner of the C. S. Lewis Foundation, Kim had been involved with the home's restoration since that work began in the 1990s.
Walking from room to room with a half-dozen guests, Kim told us stories of the yard work and interior work done by summertime volunteers from the States, restoring the home to look as it had during Lewis's time. This labor of love took about a decade. Entering the kitchen, Kim invited us to notice the Headington Quarry tile floor, which had been covered over by a layer of asphalt by the homeowners following Lewis's death. They topped it off with green linoleum flooring.
The slow, careful work of removing the layers of asphalt and linoleum was painstakingly carried out by hand, he told us, preserving the original tile underneath.
Two years earlier, I had hoped to meet Kim at the Kilns during our overlapping stays. Just before I landed in the UK, however, Kim received news of his wife's sudden and unexpected health decline. He flew home immediately to be with her. By the end of the week, she had passed.
"Many of those who began this work never got to see its completion," Kim told us, pausing now, still staring at the tile floor.
In that moment, and many times since, I have thought of this story and given thanks for so many who have taken the time to help me get down to my own God-given foundation, without whom I would not be who I am today. I think of my grandfather whose initial response to our decision to move to England in pursuit of God's call (leaving behind work, home, and family) was to say, "That's the worst news I've heard in a long time," but who would eventually become our biggest supporter. I think of my friend David whose confidence in my writing enabled me to continue stringing words together when, with so many closed doors, I felt like giving up. I think of my wife, whose persistent faith in a God who provides when I see no way forward has buoyed me countless times. Without their vision, confidence, and investment in every way, I would not have clarity on my God-given gifts nor the courage to live into them. When it comes to my grandfather, I often wish he were still here to see the fruits of his investment. Somehow, someday, I hope he will.
This memory of pausing to stare at the tile floor in the former kitchen of a man whose writing continues to inspire so many long after his death has been a helpful reminder that we are deeply indebted to those who came before us. And those who come after us will, in ways we cannot now imagine, be shaped by our own response to God's call. Reflecting on the legacy of his work, Lewis once remarked to his friend Owen Barfield that five years after he had passed, no one would be reading his writing.
God's call comes to us in relations with the great cloud of witnesses who came before us, who surround us now, and who will come after us. Seeing ourselves as a link in this backward- and forward-facing chain of relations, gratitude is a means of hearing our relational God's call.
Ryan J. Pemberton is the minister for university engagement at First Presbyterian Church of Berkeley. He is the author of Called: My Journey to C. S. Lewis's House and Back Again (Leafwood Publishers). Follow Ryan at @ryanjpemberton.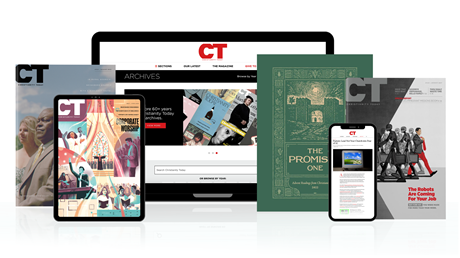 Subscribe to Christianity Today and get access to this article plus 65+ years of archives.
Home delivery of CT magazine
Complete access to articles on ChristianityToday.com
Over 120 years of magazine archives plus full access to all of CT's online archives
Subscribe Now
God Has a Plan for Your Life. But You Can't Find It Alone.
God Has a Plan for Your Life. But You Can't Find It Alone.