There's a small note pinned to my refrigerator asking me to bring ham biscuits to the church dinner. It's signed with a quick heart and a simple B. It's also two years old.
Although my husband and I both grew up in rural communities, neither of us grew up in the one where we now live, having moved here when Small Brick Church called him as pastor. We knew from the beginning that we wanted to live here long term. It was only an hour from his parents, and our children were beginning to need the kind of stability that comes from living with the same people for years rather than months. So we bought a house and started to put down roots.
But knowing that we wanted to live with this community is not the same thing as the community knowing whether they wanted to live with us. The established rhythms and distinct identity that we find so appealing of small communities also have a way of keeping outsiders at arm's length. Ours is the kind of community where children attend school in the same building their mothers, fathers, aunts, uncles, and even grandmothers and grandfathers once did—the kind of community to guard who brings the ham biscuits to church dinners. I have hope that our children will eventually be able to lay claim to it, but my husband and I will always be from Somewhere Else.
Besides being an outsider, I don't think I'm what folks had in mind for a pastor's wife. Sure, I can make pie and play the piano and wear my pearls. But I also grew up just far enough north of the Mason-Dixon Line to not know how to say "Yes, ma'am" and "No, ma'am" convincingly. I can be pretty stubborn when the moment calls for it. And my work as an author and speaker takes me away from home, if not on a frequent basis, at least a regular one. So when Bea Cundiff handed me a slip of paper with the words "ham biscuits" on it, I knew something remarkable had happened.
To be entrusted with making the ham biscuits for a church dinner felt like being asked to carry the Olympic torch, but to have Bea Cundiff entrust me with them felt like being asked to light the flame. Bea has been planning church socials for years, and she might just be the most efficient, reliable, and methodical woman I've ever met. She's everything I am not. Which is exactly why we need each other.
Just as none of us can pull off a church dinner on our own, none of us can become discerning on our own, either. In fact, as Alan Jacobs notes in his book How to Think, none of us can actually think for ourselves. Designed to live in community, human beings process information and come to decisions in "necessarily, thoroughly, and wonderfully social" ways. This can be hard to admit, especially for those of us who like to imagine ourselves independent thinkers. But the leaders we follow, the communities we're part of, and the organizations we support all play a role in shaping the decisions we make.
That's why Proverbs 13:20 predicts that "the one who walks with the wise will become wise, but a companion of fools will suffer harm" (CSB throughout). It's also why Paul calls us in Philippians 4:9 to "do what you have learned and received and heard from me, and seen in me." When Paul calls us to follow him, he knows that we will be following someone, so it's important that we follow someone who is following Christ. He's also affirming the importance of seeking wisdom through community. Even if we could think for ourselves, we'd be foolish to do so. None of us are so wise, so educated, so experienced, or so insightful as to be able to see everything clearly all the time. Instead of seeking a private experience of wisdom, we're called to seek common wisdom.

This common wisdom begins when we gather as family at the Table.
In the medieval world, Italian peasants used the idiomatic expression vivere a uno pane e a uno vino to describe belonging to the same family: "To live on one bread and one wine." When Christ wanted to teach us the goodness of finding life together in him, he used the same imagery of bread and wine. When we come to the Table, we are pursuing more than sustenance; we are seeking the goodness of belonging to Christ and to each other. We are seeking the goodness of knowing we have a place, of knowing that there will always be room for us. We are seeking the goodness of home and family and community.
I don't think we're so naïve as to expect to find such welcome in the world around us. We know the brokenness that exists there; we've lived it in our families and schools and workplaces. When it comes to the church, we long for a communion of goodness where we could—if only for a moment—be safe and secure from the world around us. But even here, the brokenness creeps. Even here we have to discern between good and evil. Even here we experience pain, confusion, loss, and rejection. In response, we often find ourselves retreating from the church, feeling guarded and withdrawn, unable to see the goodness that still exists there.
But I wonder if this tendency isn't exactly the point of Communion, and why part of testifying to the Lord's death must involve joining with those who have sinned against us and whom we have sinned against.
In coming together, we defy the brokenness and proclaim a greater, shared good. We learn to see the goodness of those with whom we "live on one bread and one wine," to know, as Paul writes, that "because there is one bread, we who are many are one body, since all of us share the one bread" (1 Cor. 10:17). This is no small thing, especially for those of us who have been harmed in churches, who have been betrayed, devalued, and manipulated by those we thought we could trust. These wounds do not heal easily, and when they do, they scar. But who better to understand this than the One who carries the scars of betrayal in his own body?
As we come to the Table, we can't help but remember that he was broken long before we were. We can't help but remember his willing sacrifice. We can't help but remember that the God who led him through the valley of the shadow of death and raised him to new life will one day prepare a table for those who come from east and west and from every tribe and tongue and nation to feast on his goodness. Surely, this God can make a way for us to dwell in his house.

Our church will be 96 years old this year, and as we do every fall, we'll gather to celebrate our time on this beautiful, broken earth. For days before, we'll bake and cook and plan and prep. We'll bring in a special preacher, and when what needs to be said is said and what needs to be sung is sung, we'll head down to a pavilion on the edge of the woods where a quiet stream trickles past.

And there, like a table in the wilderness, goodness will be waiting for us in the form of fried chicken, hash brown casserole, ham biscuits, deviled eggs, and Crock-Pot upon Crock-Pot of baked beans. We'll load our plates while we eye the banana pudding, berry cobbler, and Mag's chocolate cake with fudge icing as thick as the cake itself. And then under the sycamores and maples and oaks, on hard wooden benches and even harder metal folding chairs, we will gather together and feast on all that's good.
Hannah Anderson lives in the Blue Ridge Mountains of Virginia. She is the author of Made for More, as well as Humble Roots: How Humility Grounds and Nourishes Your Soul and the newly released All That's Good: Recovering the Lost Art of Discernment. You can find more of her writing at sometimesalight.com, hear her on the weekly podcast Persuasion, or follow her on Twitter @sometimesalight.
This essay was adapted from All That's Good (October 2018) with permission from Moody Publishers.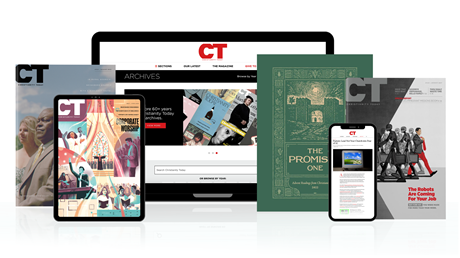 Subscribe to Christianity Today and get access to this article plus 65+ years of archives.
Home delivery of CT magazine
Complete access to articles on ChristianityToday.com
Over 120 years of magazine archives plus full access to all of CT's online archives
Subscribe Now
Breaking Bread with Broken People Brings Wisdom
Breaking Bread with Broken People Brings Wisdom