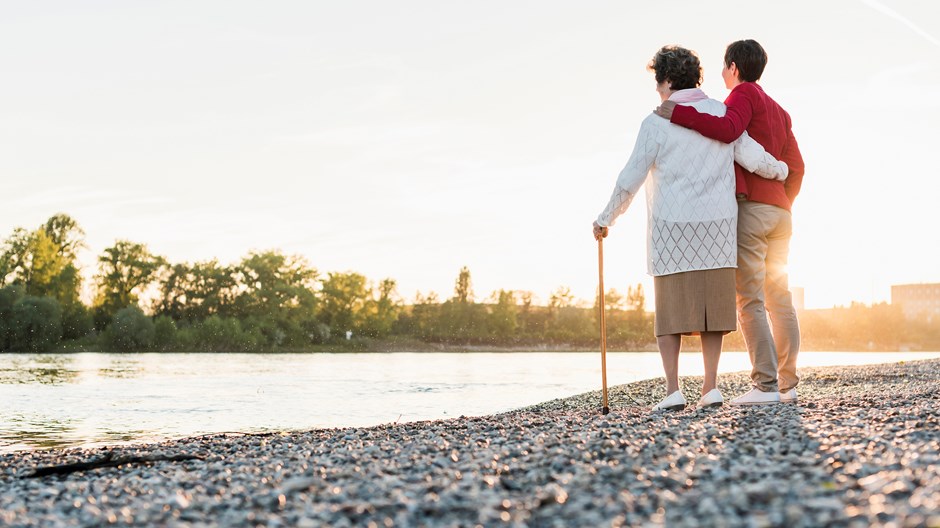 Image: Westend61 / Getty
Moments before I started speaking to a mom's group at a church, my cell phone rang. It was my cousin informing me that my father was heading into surgery after an accident. The subsequent 45 minutes were a blur. After my talk, I raced home, packed a suitcase, and drove five hours straight to the hospital in New Jersey.
My dad had fallen and shattered his femur. While in recovery, he went into sepsis. The doctor told me that, given his age and pre-existing conditions, he might not survive. Although he did make it through, he never fully recovered. Thus began my immersion into adult caregiving. My sister and I teamed up to coordinate his care, pay his bills, keep his house running, and provide the encouragement he needed to get through physical therapy. He was adamant about finishing out his life in the place he had called home for the last 50 years, so after four months of therapy, I bundled his frail frame into my car and helped him fulfill his wish.
His sudden and unexpected transition from independent to dependent affected every aspect of our family's life for the next year. I struggled to balance work and parenting with regular trips to New Jersey. Meanwhile, my husband was attending grad school, teaching during the week, and leading worship on weekends. We didn't see much of each other and when we did, we were always exhausted and one sloppy comment away from a fight. We desperately needed to connect, but there was little time or energy for in-depth conversations and sexual intimacy.
According to sociologists, this scenario is increasingly common for married couples in the Boomer or Buster Generations (born between 1945 and 1980). Because the average age for marriage has been slowly inching upward (27 for women and 29 for men, according to the US Census) and life expectancies are now just below 80, many of us can anticipate supporting two generations at some point in our lives. According to the Pew Research Center, 68% of adults between the ages of 40–59 have at least one parent age 65 or older. Of that group, 55% are already providing some form of help to both a parent and one of their own children.
Caring for family on both ends of the spectrum—growing kids and aging parents—can compromise even the healthiest marriage. For the many mid-lifers who find themselves pulled in two directions, it's imperative for us to discern how to protect and nurture our marriages as we serve our families. Here's what I've learned from my own experience:
Prioritize your spiritual and interpersonal health.
Tending to our faith looks different at 50 than it does at 30. Many of us grow weary of noise and restless activity and feel drawn to stillness in the hope of connecting with Jesus. This can be incredibly difficult when we spend our evenings going back and forth between helping a teenager with college applications and debating with our parents the merits of "aging in place." The stakes are high, the conversations are consequential, and our minds are often buzzing well past midnight. That's why it's vital to be still so that we can hear God's voice.
During those months when I was driving hundreds of miles to visit my father, the car became my chapel. Rather than listening to the news or podcasts, I often drove in silence or sang along to worship music. Those solitary spaces of prayer and reflection—infrequent as they were—buoyed my spirit and spilled over into my relationship with my husband.
Along with spiritual wellbeing, our interpersonal health also needs tending. First, we need clear boundaries. Being forthright about what we can and can't do helps our parents, children, and especially our spouse learn to respect our limitations and adjust their expectations accordingly. The goal of creating boundaries is not to make our lives comfortable or easy but to free us to do what God is asking. This means we'll be saying no to good opportunities and disappointing people in the process. (They'll get over it.)
On the flip side, it's imperative that we ask our spouse directly for what we need, whether it's something simple, like help making dinner, or a more complicated request, like a plea for empathy. In order to avoid marital resentment—which is common when roles are shifting—we need to routinely serve and sacrifice without keeping score.
Tending to our personal needs might seem out of reach. But if we want our marriages to not only survive but thrive during seasons when we're taking care of multiple generations, self-care is essential. As April Yamasaki writes in her book Four Gifts, it's "a way of life, a gift that sustains each of us as we serve God and serve other people."
Dig deep into forgiveness and grace.
My relationship with my father was complicated. I loved him dearly and appreciated the ways he cared for me and my family. But he struggled with alcohol while I was growing up, and his addiction left deep scars that followed me into adulthood.
Shortly after I brought my dad home from rehab, I sat at the kitchen table watching him hold back tears as the hospice worker explained possible end-of-life scenarios. My heart ached for him even as my own feelings of anger, loss, and resentment surfaced. I knew that God was inviting me to love my dad regardless of his failures—or his inability to admit those failures—but the process was much messier than I imagined.
As is often the case for broken parent-child relationships, healing is slow and forgiveness multi-layered. "In our parents' greatest hours of need, we can offer blessings instead of curses," writes Leslie Leyland Fields in Forgiving Our Mothers and Fathers. "No matter how difficult those hours are, deep moments of mercy and reconciliation can come, changing the course of your life, and the changing the end of their lives."
In the same way that I needed to extend grace to my dad in order to serve and love him more wholeheartedly, I also needed to receive it in my marriage. When I was commuting across three states to care for my dad, I forgot my husband's birthday, never even logged in to my sons' academic portals, and dropped the ball with my household chores. These failures challenged my self-perception as someone who could meet—or exceed—what others expected of me. They also revealed my profound need for grace. Thankfully, that grace was poured out not only through Jesus but also through the love and kindness of others around me, most notably my husband.
Look to the Body of Christ.
Coming to terms with our limitations and neediness ushers us into the place we most need to be: in community. It's only in the context of a supportive group of like-minded sojourners that we will be able to fulfill our obligations to our spouse and family members. The body of Christ is meant to lift us up when we fall down, dress our wounds when we're bloody, and speak words of encouragement to us when we're weary. By giving ourselves permission to be vulnerable and needy, we will be less likely to muddle through under the myth of self-sufficiency.

During wedding ceremonies, guests are often asked a simple but important question: "Will all of you witnessing these promises do all in your power to uphold these two persons in their marriage?" The guests then make a collective promise: "We will!" That commitment is meant to be a lifeline when we're overwhelmed or struggling to fulfill our vows. Our friends and family members are imperfect human beings, but that shouldn't stop us from freely and frequently asking them for everything from prayer support to help walking the dog. Make no mistake—the church will fail us, sometimes when we most need her. But she will also support and carry us through some of our most difficult seasons.
Although followers of Christ will disappoint us, Jesus never will. When the pressures of midlife stretch us to the breaking point, he becomes our source of strength. "Apart from me," Jesus says, "you can do nothing" (John 15:5). In Searching for and Maintaining Peace, Father Jacques Philippe drives home the point: "[Christ] did not say 'you can't do much,' but, 'you can do nothing.'"
In our flesh, we will frequently fall short. But by his Spirit and with the help of community, we can joyfully and lovingly serve our families and nurture our marriages.
Dorothy Littell Greco is the author of Making Marriage Beautiful. You can find more of her work on DorothyGreco.com or via her Facebook page. She and her husband have been married for 27 years and have raised three sons together.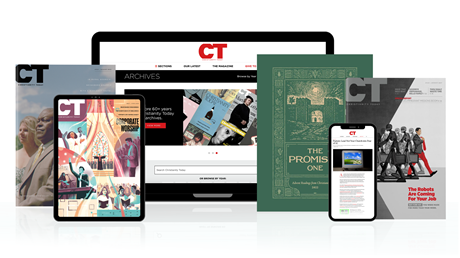 Annual & Monthly subscriptions available.
Print & Digital Issues of CT magazine
Complete access to every article on ChristianityToday.com
Unlimited access to 65+ years of CT's online archives
Member-only special issues
Subscribe
How to Stay Married When You're Stuck Between Needy Teens and Aging Parents
How to Stay Married When You're Stuck Between ...