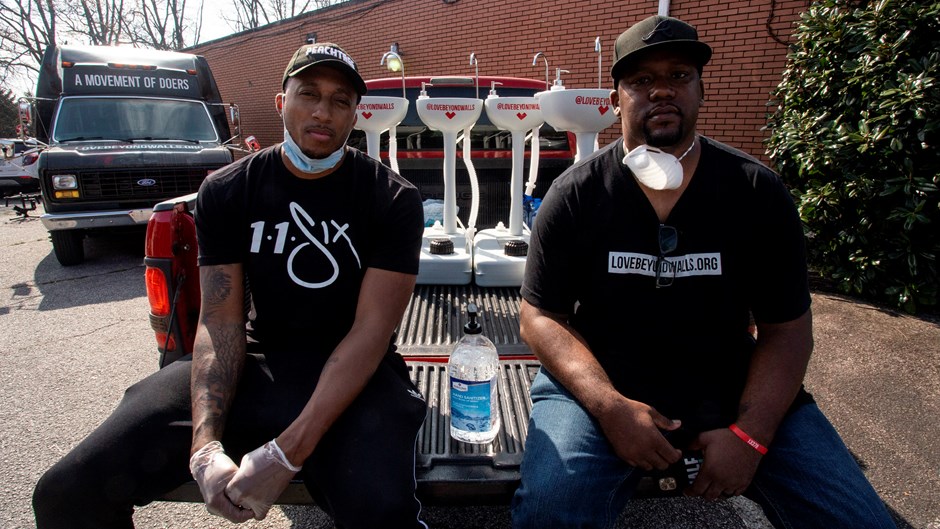 Image: Ron Harris / AP
Gearing up to drop a new single, Lecrae would normally be traveling to New York and LA, performing on talk shows and late-night TV. Instead, he's filming TikTok clips in his basement.
In between posting reports about coronavirus on social channels, swapping jokes about quarantine in group text threads, and helping out his three kids as a sudden "homeschool dad," the award-winning artist weighed whether to go on releasing new music as scheduled. With so much of normal life put on hold, is now the time to push out a new song?
"I initially was taken aback thinking about how this affected me. That's everyone's first thing: Oh my gosh, what does this mean for my life ?" Lecrae said in an interview with CT. "Then I don't know what happened, but I just sat back and thought, 'Wait a minute.'"
Lecrae reached out to a friend who runs the Atlanta charity Love Beyond Walls. On Thursday, they teamed up to install portable sinks throughout the city to help slow the spread of the virus among people experiencing homelessness. "When people living on the street don't have the means ... we should step in to wash their hands.#Setmefree #corona (my man did get a meal btw)," he wrote on Instagram. "This is not the end. #Restoration is coming."
Restoration is the name of Lecrae's album due out in May, written after a period of personal and spiritual strain led him to appreciate God's promises anew. The debut single, "Set Me Free," releases today. The more Lecrae thought about his music, the more he realized it was exactly the encouragement he wanted to share right now.
"The thing that has been consistent, even before coronavirus came, is we spent a lot of time in prayer about this project," said Lecrae, co-founder and president of Reach Records. "We all felt like this was very beneficial and needed for the world, and I think now it is obvious why in some ways that God would have put this project on our hearts and have me want to put it out."
"Set Me Free," featuring YK Osiris, opens with the familiar line from the gospel duo Mary Mary's "Shackles (Praise You)" and repeats the theme of breaking from shackles: Shackles on my feet, you broke the hold and now I'm free / Even in the darkest times, you kept your light on me.
Many fellow Christian artists, hard-hit by canceled tours and shows, have also made the decision to keep putting out their work as a way to bring hope and joy to fans.
"Social distancing doesn't mean spiritual distancing. There is no Resurrection Sunday without a Good Friday. This is Good Friday for a lot of us," he said. "We are figuring that out now, and hopefully some creative things happen in light of it."
When you announced your decision to release the single, you referenced the line from Joel about how God redeems the years the locusts have eaten (2:25). What were some of the scriptural themes that came through as you were preparing this new song and new album?
I was going through a difficult time a couple of years back where I just felt as if, "Man, there is nothing I can do to change my circumstances. God, you're going to have to do this. There are some broken things in my world and in my life—I'm having marital issues, I'm having financial issues, I'm having faith issues—and you're going to have to restore this because I don't have the wherewithal to do it." And he did just that. He led me to those verses, to Joel, where I'm remembering that there is nothing that God cannot fix, that he is consistent with mending a broken world. That's just what he does. Looking at Jonah, Jonah's life is big to me, how he was at his wit's end but yet God had a greater narrative in mind and took him through all of that pain and turmoil to bring him out on the other side, refined and better.
I'm witnessing God change circumstances that I couldn't change, and I want other people to experience that. I want people to have the freedom to say things are not like I planned them to be, and it hurts, but I trust that God is good and that he has a greater plan for this. I think about Jeremiah 29:11, "For I know the plans that I have for you," and that God has good plans for us, but there is no 29:11 without 29:4–10, where they're exiled, they're prisoners. God is saying you can have this promise, but the promise is for you because of these problems.
I think people can relate to that. Everyone has had times where they thought, "What am I going to do now? Is God going to come through?" For you, how does that mindset affect your creative process?
I was writing songs saying, "God, help me get out of this dark place," and then he was faithful to do it. I realized he is so devoted to me that that brought me joy. Even though my circumstances hadn't quite changed, there was a joy in knowing that God was walking with me through it, and that sparked a lot of creativity and a lot of desire for people to know, man, he is with me right now, he is with you. Songs just started coming and coming and coming.
A lot of times people [think differently about] someone like myself who has had some musical success—Grammys, No. 1 albums, and dinners with Kanye or dinners with Jay-Z or Selena Gomez or whatnot. I wanted to strip away all those things and say behind all that was a person dealing with insecurities, and God had to show me what really mattered.
How did the timing of writing this album correspond with your Israel trip last year?
Israel was like the cherry on top of the restorative period. I was already in a healthier place, which prompted me to want to go to Israel to continue this journey of restoration. I know the Jordan River is just water, but the reality that Jesus was baptized in this water. I wanted to trace his footsteps; everywhere he went I wanted to go. I wanted to do what he did, I wanted to see what he saw. It was so inspiring. The Bible came to life for me, and I realized that the faith I subscribe to is very real and has bearings on every aspect of my life. It fueled a fire in me like none before.
What is the tie between this album and the book you have coming out in the fall, I Am Restored?
The album is me saying, hey, restoration is available. The book is me giving you an in-depth look at the hell that I experienced and how I was able to navigate the chaos. How do we navigate political chaos, marital chaos, emotional, mental chaos? How do you navigate feeling like you're no longer connected to God and you're battling doubt in your faith? How do you come out on the other side of that? You have to talk about it. I was very vulnerable, probably the most vulnerable I've ever been. I talked about meeting my father for the first time, my marriage being on the rocks in the midst of all this traveling, and how God restored all of these broken things in my life.
What would be your prayer or words of encouragement for people who are frustrated or unhappy with the way things are right now, particularly under the coronavirus quarantine?
This is disruptive and it's not exciting, but at the same time, God is not caught off guard. There is a plan in the midst of this. It's a reminder that we were never in control in the first place, that we were never writing the story. We can trust the Author and the Finisher of our faith, and lean into him and find our satisfaction in him during this time, not in things going the way we planned. We propose, and God disposes. I would encourage us to be reminded of that. It should fuel our trust; it should fuel our faith.
I was telling my kids last night as we were walking through Mark and seeing how John the Baptist knew that he was supposed to fulfill his role in the story. He was like, "I'm not the Messiah, I'm just here to play my part in this story." So many of us, we're the main character in our stories, and something like this reminds us, "Oh, that's right, this is God's story."
How do I lean in and follow him in the midst of this? How do I serve people, how do I help those in need? … How do we find the process by which we can grow closer to God? Joseph sitting in a dungeon for years, he comes out better, he comes out refined, he comes out closer to God. After it is all said and done, he ends up very effective in God's grand story. So that's how I would encourage people. You're part of an incredible story. This chapter is not a good one, but the story ends amazingly, so just play your part.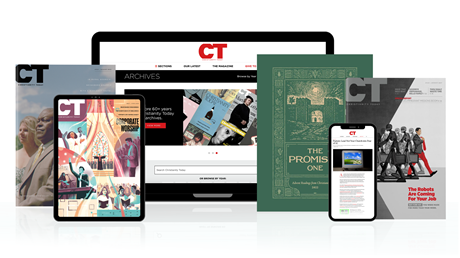 Annual & Monthly subscriptions available.
Print & Digital Issues of CT magazine
Complete access to every article on ChristianityToday.com
Unlimited access to 65+ years of CT's online archives
Member-only special issues
Subscribe
Lecrae's Coronavirus Quarantine: TikTok, Homeless Outreach, and a New Single
Lecrae's Coronavirus Quarantine: TikTok, Homeless ...