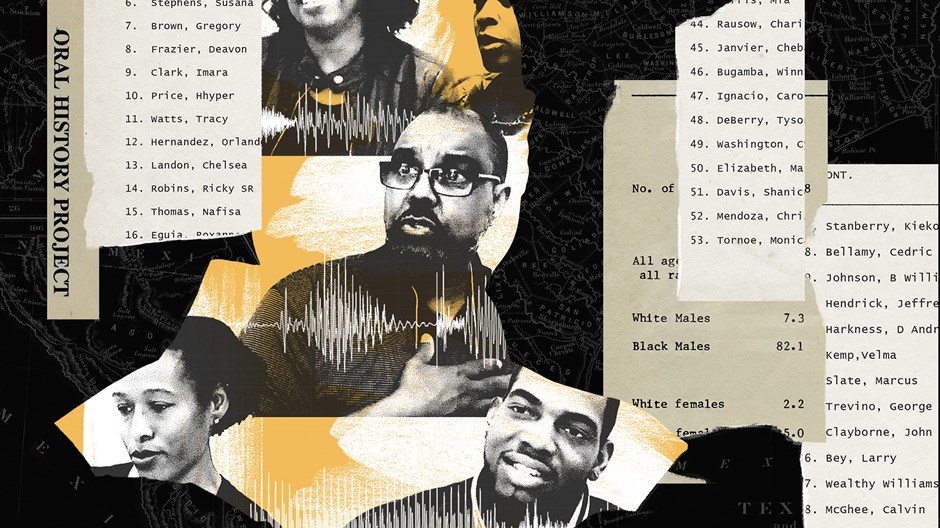 Image: Illustration by Chris Neville
Steve Miller has spent his life listening. The black Baptist pastor will approach anyone with a broad smile, and he draws out stories wherever he goes—whether he's standing in the checkout line or sitting in a movie theater. He'll gladly pray for you, as any pastor would, but he also has another mission: He's collecting testimonies of racism.
In Bastrop, Texas, the small Hill Country town where Miller's storytelling work began, people remember him as friendly and fearless. When Latrice Kellough first met Miller, the charismatic community leader reminded her of Barack Obama, if Obama wore jeans and a Kangol hat. She was immediately at ease, for reasons she couldn't put her finger on. She listened as Miller prayed for her, and then he listened as she described the racial discrimination she experienced while working at a nursing home.
Miller believes in the power of stories like Kellough's. Over the past five years, he has worked with Texas communities, churches, and colleges, recording the stories of more than 100 people of color who shared their personal experiences of racism. The pastor believes that oral history—ordinary, firsthand accounts of the not-so-distant past—will move America toward racial reconciliation. And he insists that the church, stories in hand, should lead the way.
"Racism exists because one group of people has more power than another, and that power is enshrined in personal attitudes and social structures," Miller says. "Those in power do not want to look deeply into the real experiences that oppressed groups suffer every day."
Back to the Beginning
For Miller, building bridges is second nature. He grew up in Henderson, a tiny East Texas town built on the wealth of bricks, timber, and oil. As a child, he played alongside friends of different races and classes. Some of his kindergarten classmates flew to school in helicopters, while others wondered when they would eat next.
Miller spent long days with his grandfather, a Pentecostal preacher and church planter, sitting at the soda fountain or watching him till the garden. His grandfather had a large presence in the community, and his legacy lived on after he died. When a "still, quiet voice" spoke to Miller in a college classroom in 1999, he wasn't surprised to hear from God. Part of him expected, deep down, to be called to be a pastor. He wasn't expecting what else he heard, though—the words "racial reconciliation."
He didn't know what he was supposed to do with the divine message, so he continued with his life plan. He got his degree. Went to work. Became an investment banker.
Then God troubled his sleep, Miller says. For a decade, he suffered from near-sleepless nights. Every so often, the banker would buy notebooks from Walmart and start writing. He'd jot down ideas about a new civil rights movement. He stashed them in a filing cabinet.
Eventually Miller transitioned from banking to teaching in an effort to focus more on people. Then he moved to Bastrop when a college friend—the county judge—connected him with a job in the small town's school district. In the wake of the 2008 recession, Miller, his wife, and two children put their spacious home in the Houston suburbs on the market and headed west.
Not in the Plan
When the Millers arrived in Bastrop in the summer of 2009, nothing happened according to plan. First, Miller's job fell through. That affected plans to buy land and build a home, so he rented instead. It was a dilapidated house, owned by a friend's aunt, and he agreed to fix it up in exchange for low rent.
He also learned the town was embroiled in racial controversy. He was told that the African American superintendent of the Bastrop Independent School District (BISD), a longtime employee, was forced from his job. The superintendent accepted a pay raise to move down from his powerful post. His new desk sat in the portable buildings where black employees worked, which the community had dubbed the "soul shacks." News swirled that the new majority on the school board was targeting African Americans in the district's high-ranking positions.
Again, Miller heard God call him to racial reconciliation. This time, he listened. He arranged an interview with the former superintendent. He went to Walmart and bought a brand-new spiral notebook. When Miller showed up to the soul shacks, he was himself, friendly and open, and the superintendent's story spilled out.
"I didn't go in there with a plan," Miller later said. "I just wanted to find out what happened."
For three hours, Miller took detailed notes. At the end, he had a list of 35 names of other employees affected by racism in BISD. He began calling them to see if they'd tell him their stories too.
Reporting on Racism
From fall 2009 to June 2011, Miller spent every day documenting stories of racism in BISD and working on his report. After his wife left early in the morning to coach track and teach and he got the kids off to school, Miller interviewed, submitted record requests, gathered statistics, and wrote his report at his living room desk. The former financier tracked everything with countless Excel spreadsheets, scrupulous filing, and those Walmart notebooks.
BISD employees and parents told him about all kinds of racial discrimination. Once, a Bastrop principal had gathered the school's black eighth-graders in the library and blamed them for the district's bad test scores. Longtime black BISD employees were routinely passed over for promotions. The assistant cafeteria manager at Bastrop High School was sexually harassed, verbally abused, and made to work below her rank.
Halfway through the 35 interviews, he realized the conversations could also be instruments for healing and hope. His favorite follow-up question—"How did that make you feel?"—helped interviewees process racial trauma. Watching Miller document their experiences stirred hope for change.
The work took a toll on Miller. The stress came not only from listening to difficult stories, he said, but also from fear due to Bastrop's dark racial history. Several days a week, Miller subsisted on peanuts and orange juice—"protein and vitamin C" —fasting for protection, spiritual strength, and "to keep from becoming hateful." The family's bank account dwindled, but God provided.
Miller also threw himself into community organizing, working on a plan to better serve people of color in BISD. He made TV and radio appearances. Some called Miller a rabble-rouser, even a racist. He got sideways glances in Walmart. Looking back, he isn't sure how he found the power to keep going.
"I was possessed," he says. "I was filled by the Spirit to do it. I'd wake up every day, and this is what I did all day, every day for three years."
Miller showed his dossier to the NAACP, which filed a complaint against BISD with the Department of Education. The federal agency looked into six claims. When investigators in suits arrived, things finally began changing. With Department of Justice representatives present, Miller helped negotiate diversity training requirements for all BISD students, teachers, and administrators. Soon employees of color received promotions, and several became principals. It wasn't everything Miller wanted, but it was progress.
"We did make change with those stories," he says. "People would come up to me on the street and thank me."
As he compiled a record of systemic racism, Miller carved out his role in the community as a listener and advocate—the first person you'd ring up when something wasn't right.
Yet these strides came with little support from the institutions Miller felt should be his strongest allies: churches.
A Spiritual Investigation
As he interviewed people in the school system about their experiences, Miller kept wondering about the people in the churches. Where were they in the fight for justice? How could some Christians consider themselves good on a "pious level," he wondered, "and still support some of the most devastating and horrific policies against people of color?"
Miller embarked on a spiritual investigation, enrolling in nearby Austin Presbyterian Theological Seminary. There he fell more in love with Christianity and saw how deeply God cares for the disenfranchised.
Miller concluded that "loved ones without color" — the term he uses for white people in an effort to "take the edge off" conversations about race—inflict injustice because they refuse to listen to people of color.
"The key to biblical understanding is repenting. There's never been a public apology for slavery and Jim Crow. It's the Christian thing to do, the human thing to do," Miller says. Asking for forgiveness "puts God in a place to move."
In seminary, Miller went back to his notebooks and the idea of a new civil rights movement. He mapped out a 50-year plan that starts with changing hearts, then minds. He asked himself how he could be "an evangelist of racial reconciliation" in America.
Miller reflected on the tools he already had and realized he knew what could make the difference: stories. Throughout his investigation, Miller saw how, while telling and retelling their stories, people began to heal from racial trauma—and their firsthand accounts had the power to change listeners.
Miller was ordained in 2015, and now he's following the call he heard so many years ago: racial reconciliation. Miller believes the church needs to be transformed by everyday stories of racism. So he set out to collect them—an effort involving college students, video equipment, and lots of community organizing. He called it the HBCU (Historically Black Colleges and Universities) Truth and Reconciliation Oral History Project.
The Story Collectors
Miller stood on a San Antonio college campus in February 2019 for the oral history project's third annual story collection weekend. College students, mostly students of color, ushered community members into private, nondescript rooms, where they stood in front of beige backdrops and faced video cameras. Nearly 50 residents shared their experiences of racism with student interviewers—some for 15 minutes, others for two hours.
Kimberly Holiday talked about being harassed in grocery stores after adopting a friend's white baby. Sharon Anderson described how real estate agents showed her a flood-prone property and pretended others weren't available. Tracy Watts recalled finding her son's family tree hanging behind the classroom trashcan. Patrick Hill described lying on the ground as a white police officer rubbed his boot on his face, as if scraping off gum.
There were so many stories. They took place at football games, outside a Taco Bell, in classrooms, in police cars, and at hospitals. They weren't big-ticket stories, but candid accounts of the daily grind of racism. "I want the everyday, average, common story that happens to black people that people would never think of," Miller says.
Students have filmed more than 100 stories, archived at Baylor University and posted online for researchers worldwide. The project has been supported with funding from Ashoka, the National Endowment for the Humanities, and nine Texas colleges and universities, including five HBCU institutions. Every year, several students and a professor from each college gather to document stories in a Texas town.
The day before interviews, students attend classes on subjects like racism, social movements, and empathetic interviewing, and they learn to operate the cameras. Few emerge from the experience unchanged.
"Everybody's profoundly impacted," Miller says, "from the storyteller to the student to the professor to me."
On one level, the stories serve as evidence—a "proof project" about racism. Unlike most oral history projects, however, it's designed for the community, not just the archives, providing a safe place to release stressful experiences. For the people telling their stories, the experience is often healing.
It can be healing for white audiences, too. Listening gives them an opportunity to confront the callousness and wounds within. Carolyn Helsel, one of the oral history project's advisers and a professor at Austin Seminary, said the stories can give white Christians eyes to see and ears to hear. She believes that through listening, they can learn to "talk faithfully" about race.
Listening also demands action, Miller says. It isn't passive; "it's accepting a legal responsibility to God to bring resolution."
Change Built on Conversations
The Millers left Bastrop for another fresh start five years ago. They relocated 30 miles north of Miller's hometown of Henderson, where he fixed up his late aunt's small 1940s house and turned it into the headquarters for his new vision: the US Christian Leadership Organization (US-CLO).
To many people, including his own relatives, Miller's career hasn't made a lot of sense. He's moved from finance to education to community organizing and now to ministry. But his ministry doesn't look like other ministries. To some pastors, he seems like more of an activist. But to a lot of activists, his work is suspiciously spiritual.
From Miller's perspective, though, all his disparate experiences are coming together as he builds the US-CLO and the Truth and Reconciliation Oral History Project and as he works toward the hope of a national transformation that starts with conversations. Racial justice requires changing systems, Miller says, but it starts with changing hearts. That's why he's staking his life's work on stories—which he believes can compel the church to action and change the national narrative around race.
"This is about saving the soul of America," Miller says, "and living into what we proclaim."
Sarah Holcomb is an editor at Ashoka, an international nonprofit organization, and is based in Washington, DC. Ashoka has partially funded the work featured in this story but had no role in CT's reporting.
Have something to add? See something we missed? Share your feedback here.
Have something to add about this? See something we missed? Share your feedback here.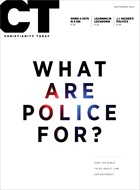 This article is from the September 2020 issue.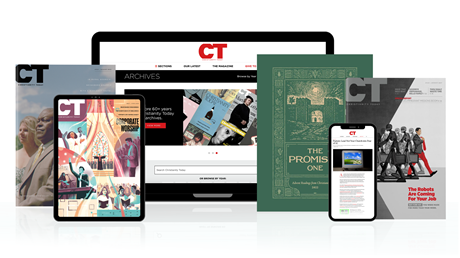 Annual & Monthly subscriptions available.
Print & Digital Issues of CT magazine
Complete access to every article on ChristianityToday.com
Unlimited access to 65+ years of CT's online archives
Member-only special issues
Subscribe
Why One Texas Pastor Believes Racial Justice Should Start with Stories
Why One Texas Pastor Believes Racial Justice ...