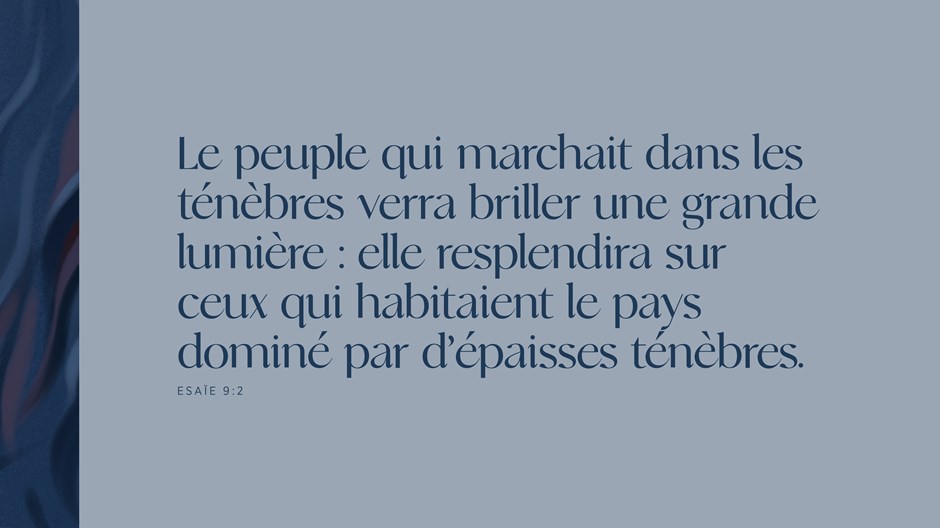 Lecture dans Ésaïe 9.1-2
Je n'oublierai pas de sitôt un court échange de SMS que j'ai eu récemment avec un ami. Il faisait le tour de la ville de New York, dans laquelle j'habite. Je lui ai demandé de me donner un aperçu de son itinéraire. Il a répondu par ce message : « mon premier arrêt sera le mémorial du 11 septembre ». La lecture de ces mots m'a plongé dans la réflexion.
Voyez-vous, bien que je sois originaire de New York, je ne suis jamais allé au mémorial du 11 septembre. Ce n'est pas que je ne sais pas comment y aller. C'est juste… eh bien… l'obscurité. Il faudrait que j'affronte l'obscurité de ce jour-là et que je me laisse rappeler les manifestations continues d'obscurité envahissent notre monde : les guerres, le racisme, les pertes et la nature si fragile de la vie. Tant d'obscurité.
Pourtant, malgré toute l'obscurité qui nous entoure, le temps de l'Avent situe notre monde dans une histoire plus vaste et pleine d'espérance. C'est l'histoire de la lumière irrésistible de Dieu parmi son peuple. Une lumière qui illumine les ténèbres individuelles et collectives dont nous faisons l'expérience ou sommes témoins. Une lumière qui guérit.
L'Avent nous invite à une attente priante, une sainte veille, une observation attentive. Qu'attendons-nous ? Une lumière resplendissante. La lumière de Dieu.
Ésaïe annonce qu'une grande lumière arrive, venue d'une source inattendue. Elle se fraie un chemin par le biais d'un enfant, le Messie. Cette lumière ne se trouve pas dans un nouveau pouvoir politique, ni dans un mouvement culturel. Elle ne se trouve pas dans une idéologie particulière, mais dans le Dieu vivant incarné. Il s'agit d'un thème important de l'Écriture, souligné par Jean, l'auteur de l'Évangile. Dans ses écrits, la lumière qui est venue n'est pas une quelconque onde électromagnétique impersonnelle. Il s'agit de la vérité stupéfiante de la manifestation personnelle de l'être même de Dieu en Jésus-Christ. Jésus est la lumière qui brille dans les ténèbres, et les ténèbres ne l'ont pas vaincu (Jean 1.5).
Ésaïe annonçait prophétiquement un jour qui devait venir. Ce jour est arrivé en Jésus. Mais nous attendons aussi un autre jour où les ténèbres seront pleinement et définitivement vaincues. Telle est la promesse qui nous est rappelée en cette saison.
Le temps de l'Avent nous rappelle que, aussi sombre que soit la nuit, la lumière est venue, et la lumière vient. Réjouissons-nous donc ! L'obscurité que vous ressentez aujourd'hui n'aura pas le dernier mot. Pas plus que le chagrin, l'incertitude et le désespoir. Comme l'a un jour dit l'écrivain Wendell Berry, « Il fait de plus en plus sombre, et soudain Jésus est né ».
RICH VILLODAS est le pasteur principal de la New Life Fellowship à Queens, New York. Il est l'auteur de The Deeply Formed Life: Five Transformative Values to Root Us in the Way of Jesus.
Traduit par Léo Lehmann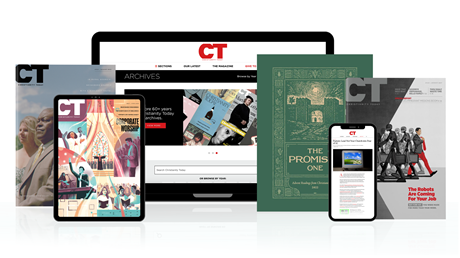 Subscribe to Christianity Today and get access to this article plus 65+ years of archives.
Home delivery of CT magazine
Complete access to articles on ChristianityToday.com
Over 120 years of magazine archives plus full access to all of CT's online archives
Subscribe Now
La lumière arrive
La lumière arrive