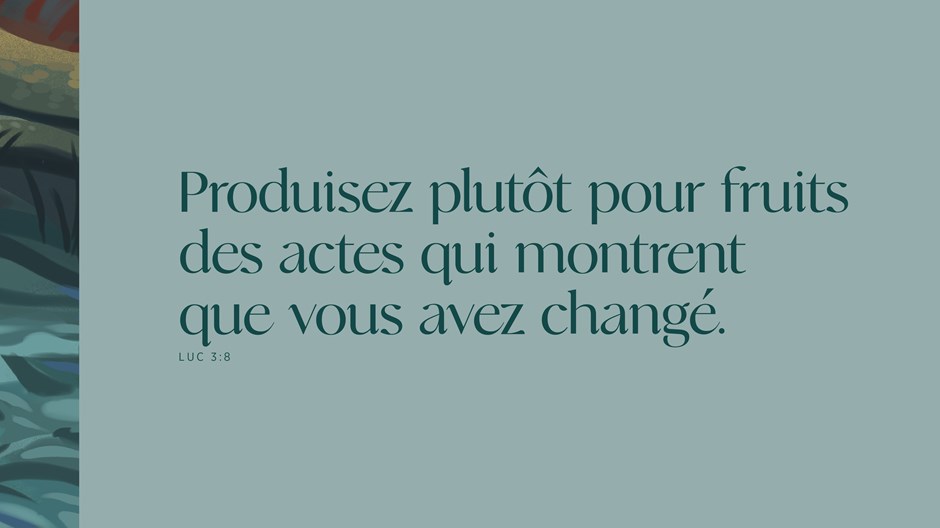 Lecture dans Luc 3.7-18
Le sermon enflammé de Jean-Baptiste sur la repentance n'est pas « l'ABC de l'Évangile » que l'on peut entendre dans beaucoup de nos Églises évangéliques. Jean ne veut pas simplement que les gens admettent leurs péchés, croient en Jésus et confessent leur foi en lui. Selon le baptiseur, la repentance initie un changement de vie. Aimer les pauvres ! Être honnête ! Mener ses affaires avec intégrité ! Il n'y a pas de place ici pour la religiosité à bon marché. Recevoir le baptême de Jean, c'est se soumettre à une purification spirituelle et morale. Et selon Luc, ce sont là des paroles de « bonne nouvelle » (v. 18) !
Obéir à Dieu a toujours été au cœur de la vocation d'Israël. Leur statut ne dépendait pas de leurs performances religieuses. Mais à l'inverse, leur identité en tant que possession chérie de Dieu constituait le fondement de leur vocation à l'obéissance. À travers la famille d'Abraham, le peuple de Dieu devait représenter Dieu dans le monde : sa sainteté, sa miséricorde, son amour inébranlable et sa fidélité. « Vous serez pour moi un royaume de prêtres et une nation sainte », dit Dieu à Moïse avant de lui donner les dix commandements (Ex 19.6). Mais Israël a failli à cette vocation, est tombé dans l'idolâtrie et a été chassé de la Terre Promise.
Bien que le peuple de Dieu ait fini par retourner dans son pays, l'occupation romaine était toujours synonyme d'exil. Ainsi, lorsque Jean parlait de repentance, de retour, cela évoquait pour Israël les bénédictions de Dieu et sa vocation — et des foules affluaient pour l'écouter.
La réponse enthousiaste au langage caustique de Jean semble surprenante. Le baptiseur n'est pas un télévangéliste de pacotille. Sa prédication ne consiste pas à apaiser ses auditeurs par des platitudes. Il ne colporte pas une morale facile et ne joue pas avec la « colère à venir » de Dieu (Luc 3.7). Il parle clairement : chacun de vous est coupable de péchés, et les péchés seront jugés. Dans notre culture imbue d'amour propre, on peut se demander qui accepterait ce franc-parler spirituel. Mais si le cancer vous ronge les poumons, vous voulez qu'il soit trouvé et enlevé. Pour reprendre les mots de Jean-Baptiste, la santé spirituelle n'est pas possible sans « hache » (v. 9).
Il y a de l'amour dans cet avertissement, de la compassion dans cette sévérité. Il y a aussi de l'espoir au-delà des efforts personnels. Dieu allait envoyer un autre baptiseur (v. 16) qui rendrait possible la véritable repentance. « Si on me dit encore et encore de me repentir, de changer, d'orienter ma vie vers Dieu, rien ne se passera jamais », écrit Fleming Rutledge dans le livre Advent. « Je n'ai pas besoin d'entendre des exhortations à me repentir. J'ai besoin d'une puissance extérieure à moi-même pour me rendre différent ». Quand le Messie viendra, il baptisera ses disciples par son Esprit et ne laissera aucun d'eux inchangé.
JEN POLLOCK MICHEL est une écrivaine, une animatrice de podcasts et une conférencière basée à Toronto. Elle est l'autrice de quatre livres, dont A Habit Called Faith et Surprised by Paradox.
Traduit par Valérie Dörrzapf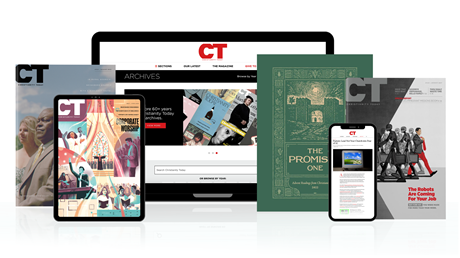 Subscribe to Christianity Today and get access to this article plus 65+ years of archives.
Home delivery of CT magazine
Complete access to articles on ChristianityToday.com
Over 120 years of magazine archives plus full access to all of CT's online archives
Subscribe Now
De sévères bonnes nouvelles
De sévères bonnes nouvelles