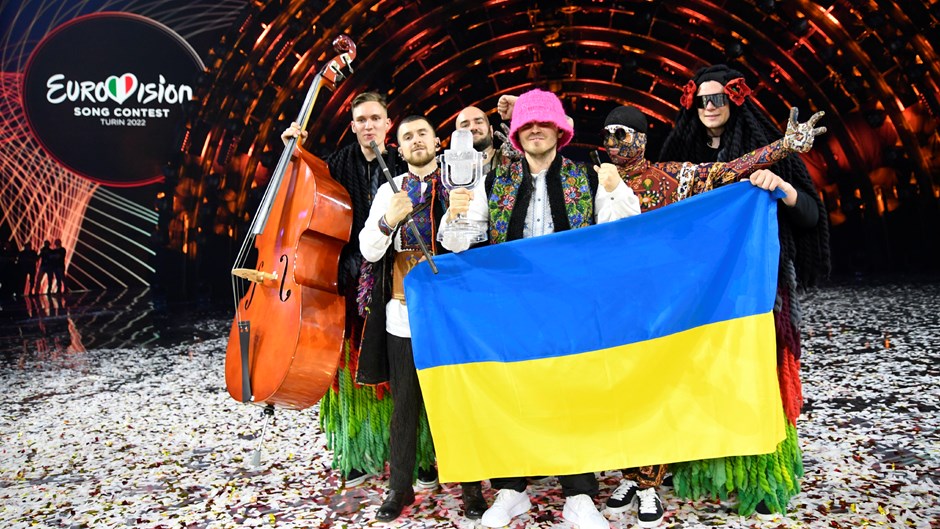 Image: Giorgio Perottino / Getty Images
Ukraine's evangelicals cheered alongside their country people and the rest of Europe last week when Ukraine grabbed the Eurovision crown for the third time. On Saturday, Kalush Orchestra took home the top honors for "Stefania" as 25 countries competed in the finals of the competition hosted in Italy, which won the event last year.
"This win makes us feel supported and gives us a certain pride of being Ukrainian with our own history and local aesthetics," Denys Kondyuk, who leads the missiology department at the Ukrainian Evangelical Theological Seminary (UETS) in Kyiv and who writes film reviews in Russian and Ukrainian, told CT.
"Solidifying our cultural identity in a time of war is a victory and this is a statement that Ukraine is not Russia and has both its own tradition and contemporary art forms," he said.
Although Kalush Orchestra wrote the song before the war, many Ukrainians have interpreted its imagery, written to honor one of the band member's mothers, to refer to their motherland.
"It serves as a reminder of peaceful times, recalling not only a family's story, but also the history of the nation itself," said Kondyuk.
Though "Stefania" includes a nod to "wisdom of Solomon," few participating songs include religious themes and the only evangelical that Kondyuk can recall ever participating was Finnish singer Nina Åström, who competed in 2000.
"I see Eurovision as an opportunity to discuss why certain bands are popular and what questions about our society we may ask, or get an answer to, if we discover the existential need people are filling with these songs."
Kondyuk's UETS colleague Fred Heumann is the rare American who closely follows the widely popular singing competition. (More than 180 million people tune in.) The head of MusicWorks International, for the past 10 years Heumann has been teaching Ukrainian seminary students and organizing conferences for worship leaders in the country.
Following Ukraine's musical victory, Heumann spoke with global media manager Morgan Lee about what made "Stefania" a hit, the emotional reactions to the win he's seen on his social media feeds, and Ukraine's 2016 Eurovision winner's surprising Christian connection.
What's your take on the winning song?
In "Stefania," Kalush Orchestra has infused Ukrainian folk music, melody and instruments with hip-hop verses. It's a catchy (in Nashville, we would say "hook-y") pop song. It certainly is not the typical EDM or Euro-pop that usually comes from Eurovision.
The song hits the right notes—nostalgia for an earlier, simpler time and for family and rootedness. The Ukrainian (and to a larger extent, Slavic) focus on motherhood is very obvious in the culture for me, and this reflects it. It's the first song entirely sung in Ukrainian to win and it's resonated with my Ukrainian friends, students, and colleagues who are scattered across Eastern and Western Europe, far from home, some having seen and experienced horrific things happen to their families and country.
"Stefania" follows in the tradition of Jamala's "1944," the Ukrainian song that won in 2016. This piece told the story of the emotional upheaval of Stalin's forced deportation of the Tatars from their homeland.
Jamala sang from a personal point of view, as a Crimean Tatar herself, with a chorus in the Tatar language, as her great-grandmother and her family were deported and some died in that forced relocation. The song fused Ukrainian folk music lyrics and instrumentation with pop, and was also a veiled commentary on the Russian annexation of Crimea in 2014.
"Stefania" follows in that tradition—very different from the Eurovision stereotype with a seamless fusion of traditional folk and pop.
How are Ukrainian evangelicals reacting to the Eurovision win?
The comments in my social media feeds about "Stefania" have been intense with pride. To them, it's a pre-victory victory in a nation racked by a hellish war, an acknowledgment and confirmation once again that Ukraine is a nation with a unique and valuable history and culture, and a moment of joy in the midst of a horrific, diabolical invasion.
I've seen memes with pink pork-pie hats [as popularized by Kalush Orchestra's lead singer] on everything, and jubilant singing at watch parties. Some have also expressed appreciation that the event allowed, or at least didn't stop Kalush Orchestra from mentioning Mariupol and Azovstal.
Even more inspiring is remembering that the nation with the winning song hosts the competition the following year. Next year in Kyiv…maybe even in Mariupol? You can be sure that Ukraine and Ukrainian evangelicals will do all they can to make that happen. May God give grace to make it so.
In recent years of the contest, have there ever been any Christian artists or songs that have gained any acclaim through Eurovision?
While I've watched more Eurovision than most Americans, I'm not aware of any Christian artists (as opposed to an artist who happens to be Christian) that rose to fame through Eurovision.
One interesting note is that Jamala's music director from her 2016 win is Andrey Chmut, an amazingly talented Baptist jazz saxophone player who has recorded with US jazz pianist Bob James and has been an instructor for us at UETS. His sister was one of my students and his band "Kvant" has performed at three of our conferences.
I love that Jamala, one of Ukraine's top pop artists and an ethnic Crimean Tatar Muslim, brought in Andrey for his impeccable musicianship and humble leadership. I also love that Jamala shows up at his Black gospel-inspired concerts and sings with them.
Have Ukrainian evangelical churches generally been supportive of the arts and artists?
Like North America and Western Europe, music is the primary art that Ukrainian evangelical churches have been supportive of. My observation is that art and artists are perceived to be utilitarian in the church context. In fact, until recently, churches mostly just sang poor translations of western songs into Ukrainian or Russian.
In my decade teaching and mentoring in Ukraine, we have pushed and trained for a resurgence in the Ukrainian voice in evangelical musical worship, in those that might be considered charismatic or Pentecostal. We have tried to encourage more artists and pastors to work and plan together and for churches not to treat music as filler space.
To what extent have evangelicals engaged Eurovision as an evangelism opportunity? What further opportunities do you see?
I can't imagine that any country in Europe would allow any song that was overtly evangelistic. Keep in mind that each participating country hosts national competitions first and the winner then represents the country in the international event. Some well-meaning evangelicals who don't understand the way it works may have tried, but certainly haven't gotten through.
I was in Kyiv when Jamala won Eurovision for Ukraine in 2016, and also when Kyiv hosted the event the next year. The best opportunity I saw to effectively represent Christ at Eurovision was when some of our UETS staff members and several of our students volunteered to work behind the scenes.
Their presence was a great opportunity to further show that evangelicals in Ukraine are not a cult, but normal folks who have seen their lives changed by Father, Son, and Holy Spirit.
Are there any new Ukrainian praise and worship songs that have been written since the war?
When I visited Ukraine last November and December, I heard new songs from the past year. As you may have picked up on, I usually visit Kyiv in May for our national Music in Worship conference, but obviously did not travel there this year.
With so many churches unable to meet safely in public, my sense is that most musical worship playlists would include songs that are familiar and known by heart—you can't use projection lyrics in an air-raid blackout. That said, I've seen poetic expressions from students and friends and have heard about a new song that has just been written that is powerful. I've asked for a copy—maybe we can share it later.
Ukraine has a poetic soul—what else would you expect when their national hero, Taras Shevchenko, was a poet? I think the Ukrainian church is teaching us and will teach us more about the place of lament in our worship.
Is there anything else you'd like to add?
Eurovision has never just been about the song. It's a competition that also takes into account the opinion of the country as well as the spectacle and the production. Having lived and worked in the UK, it was always interesting to listen to the very snarky, tongue-in-cheek commentary. You had to watch Eurovision, but you had to act as though you didn't take it seriously.
In Ukraine, watching the competition seems more a matter of national pride and identity, a coming-of-age process that showed you were just as good (and better) than the rest of Europe, or at least the "Euro-version" of Europe that lately has included Israel and Australia!
I am not a Eurovision expert, but there is nothing like it. It has to be watched to be understood at all and the over-the-top spectacle, production, staging, passion, outfits, national fervor can be a lot for Americans. Will Ferrell's very funny movie from 2020, Eurovision Song Contest: The Story of Fire Saga, comes close, and even features a medley with many Eurovision winners, including Jamala.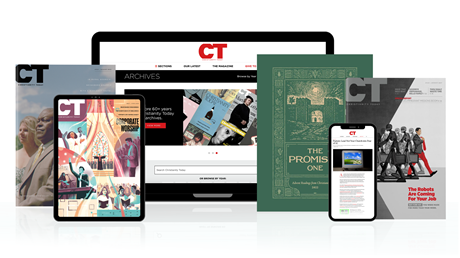 Subscribe to Christianity Today and get access to this article plus 65+ years of archives.
Home delivery of CT magazine
Complete access to articles on ChristianityToday.com
Over 120 years of magazine archives plus full access to all of CT's online archives
Subscribe Now
Eurovision Win Offers Momentary Joy for Ukrainians
Eurovision Win Offers Momentary Joy for Ukrainians